Will my boyfriend propose? Will I be moving soon? What about my raise? A baby in the upcoming year? The holidays bring up lots of existential questions and make us want to know more. This is when Anouck steps in!
"Hallucinating"... This is what all those who consult her by phone will tell you, from Juliette Binoche to a Granny or Ophélie Winter. Dates, places, events: for the 3 years to come, she sees everything (questions pertaining to love,health, jobs…), as well as what is happening around you.
Both card reader and medium, this specialists of esoteric sciences manages to communicate with the dead like in Ghost through automatic writing… In short she's going to give lots to thinks about.
To celebrate the end of the year on a high note, DO IT IN PARIS and Anouck have teamed up in order to create a free theme for you.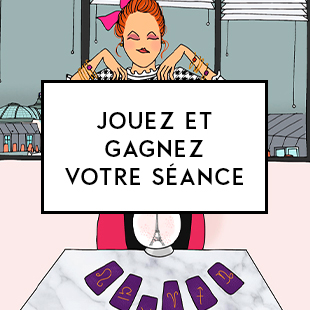 Anouck
Custom tarological analysis for 2020 (tarot sets Le Belline)
06 15 03 91 02