At the time of # zérodéchet and soaring of upcycling and flea markets 2.0 Selency way, many Insta accounts that offer second hand deco with unique pieces, shopper via DM. A very nice alternative to overconsumption.

However, there is no question of settling for bad-looking old stuff , the furniture is treated , restored and sometimes even pimped up with pretty trendy prints ! In short, owning a stylish decor in just a few DM without breaking the bank and without destroying your beloved planet is possible. Lap of Insta accounts for antiquing.
Nanah's workshop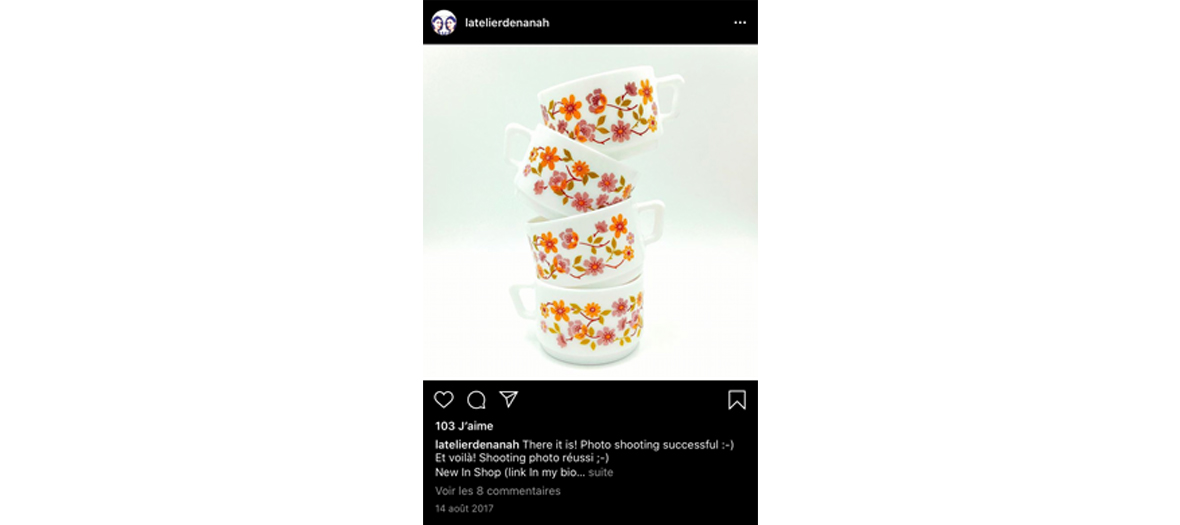 To find: 70's crockery and boudoir-style boxes.
True cave of Ali Baba of good taste, Atelier de Nanah is the creation of Alia, sister of Tahar Rahim in the city, who took up the motto of Yves Saint Laurent : " Fashions pass, style is eternal ". This is evidenced by her brilliant online flea market on which this exceptional bargain hunter exhibits her favorites, from vintage crockery to lovely jewelry and a " boudoir corner " which is full of finds such as sets of vanities (€ 31.50) and vintage perfumes (€ 27).
Crush. In addition to her antiques, Nadia reinvents the art of crochet with her highly desirable creations, starting with her jewelry boxes (€ 23.40).
Meryl Paris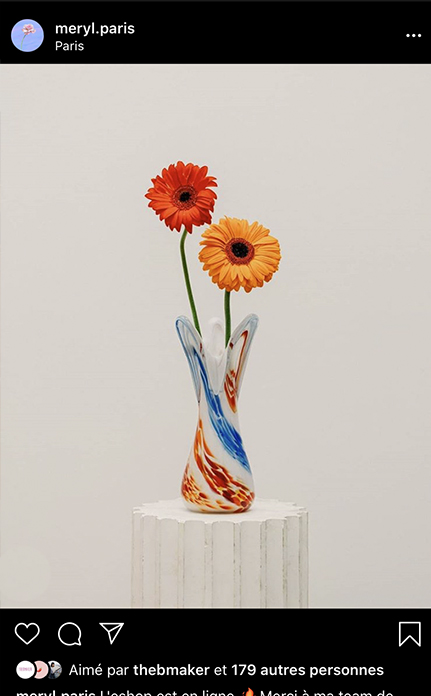 To find : cannon glass vases in such soft colors.

Meryl Paris was born from the desire to share beautiful vintage pieces unearthed around Parisian walks and other incredible journeys. Sensitive to environmental issues , Meryl Bianchetti only offers second-hand objects , selected and photographed with gentleness and talent, for a unique and poetic decoration.

Passion for this large blown glass vase (50 €) with a colorful and spontaneous pattern, the result of the manufacturing process. It's beautiful, handmade and found in France: we love it. And also, this small flowered ceramic pitcher (30 €) country house style, bohemian and chic.

Vintage from Daronne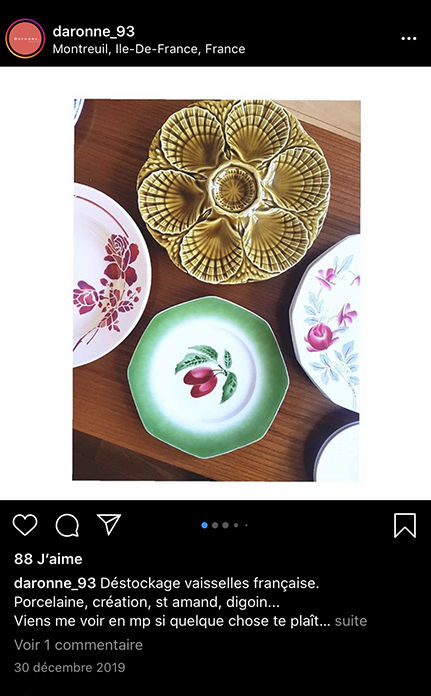 To find : colorful pieces and a collection of pretty tableware.

Daisy , the founder of Vintage from Daronne , thought of her Insta account as a joyous jumble of colorful objects and furniture cleaned and restored with a lot of love. His secret recipe? Photos pop and put in hyper scene shifted back to the vintage to date. Mission accomplished !

We fell in love with the dishes ( starting at € 2 per plate), kitsch at will, to accumulate everywhere (on the table or on the wall) for a most successful mix and match .

Psstt: Daisy and her fabulous finds will be on sale at the Collectif Court Circuit on Saturday March 14 at La REcyclerie , from 12 p.m. to 7:30 p.m. GO!

René Lachance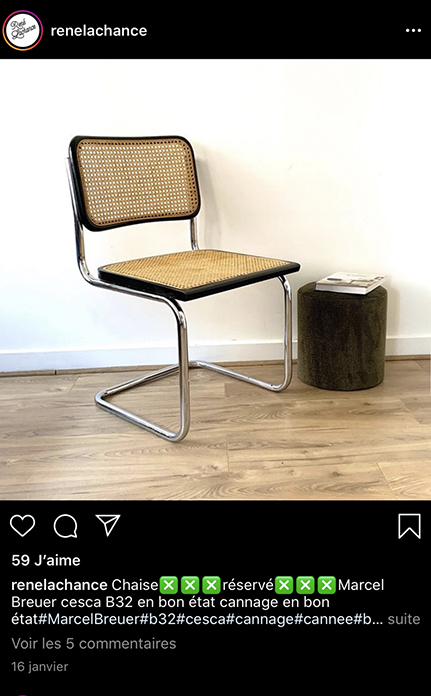 To find : the big names in design.

It is with his little hairy mascot, aka a very very cute Sacred of Burma, that René finds the most cutting- edge furniture to offer them on his René Lachance account .

Between the Marcel Breuer armchair , model B64 with armrests, the chest of drawers with compass feet and the large Art Deco mirror … There is plenty to create a chic, eclectic and hyper arty decor , without going into debt over the years to come. Joy. The only downside is that René's nuggets go like hot cakes, we're doing it quickly! Price on request via DM.

Objeto Moderno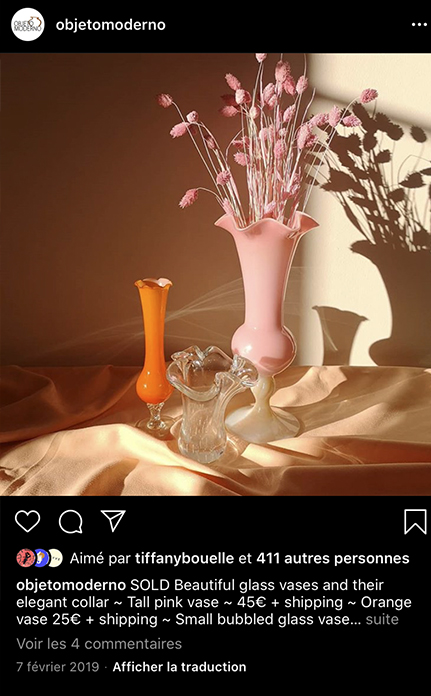 To find : the prettiest vases available.

Under the tutelage of the fabulous DA Hélène Rebelo , Objeto Moderno is the little ray of sunshine that illuminates Instagram. Sparkling pictures, minimalist scenography, textures games, shadows and lights, bright colors and objects very round ... It's about what defines the poetry of this flea Insta.

Among the beauties to shop: this candy pink vase (€ 45) and this lilac colored stemmed glass (€ 35) to store your precious jewels. Gorgeous.

Nomibis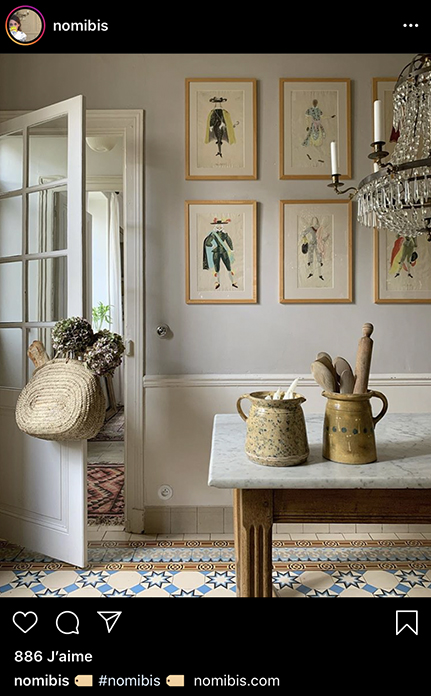 To find : the top of vintage wonderfully staged.

It is Fabienne Nomibis who is at the head of this fabulous account, Nomibis . In addition to exhibiting her superb decor , Fabienne shares her favorites of the moment unearthed from right to left, to shop in DM. A great source of inspiration for all lovers of vintage decor .

Passion for these speckled pots ( it looks like the Suuud ), these dapper turquoise bistro chairs and this faded wooden cabinet , minimalist style. And as everything starts very quickly, beauty obliges, we stay on the lookout for new posts! Price on request DM.

Return from china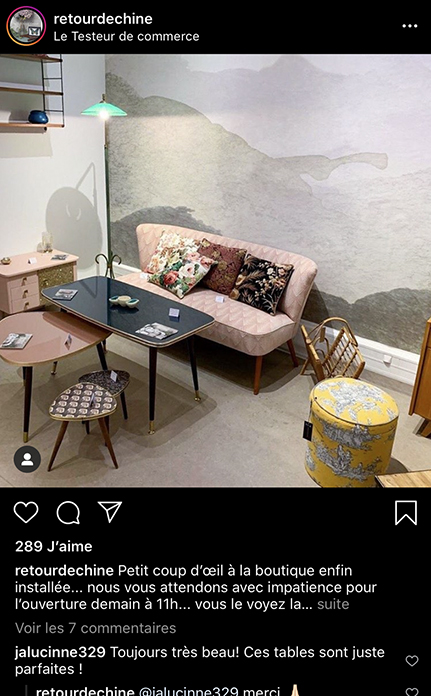 To find : upcycled furniture.
Valérie Fache has been a secondhand dealer on Retour de chine since 2009, so she knows vintage pieces well. But if his gift for finding beautiful objects is remarkable, his talent for restoring them and giving them a second life is even more so! On the principle of upcycling , Valérie takes the greatest care of each piece of antique furniture and has fun decorating them with floral prints . The result is final, we love it.

His last little nugget? A beautiful glass sideboard , completely restored, adopted in just a few hours. So we stay on the lookout to spot his new finds that go very very quickly.

The trocanteuses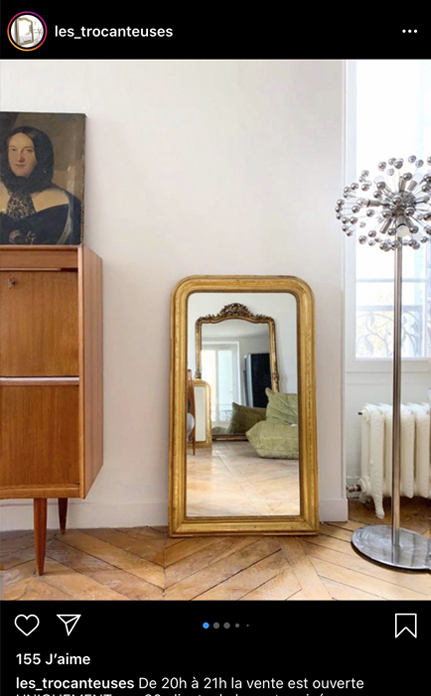 To find : the most beautiful vintage mirrors.

Les trocanteuses is the combination of Berber carpets handmade in Morocco and large period mirrors with incredible charm, at low prices. The only selection criteria: authenticity and, above all, crush.

We love this Louis Philippe big mirror in gold leaf and its beautifully worked frame that brings a chic , vintage and sophisticated touch to any apartment, no matter how small. If you have to be very responsive to shop for your happiness, new mirrors are, fortunately, regularly put on sale. Phew!

General store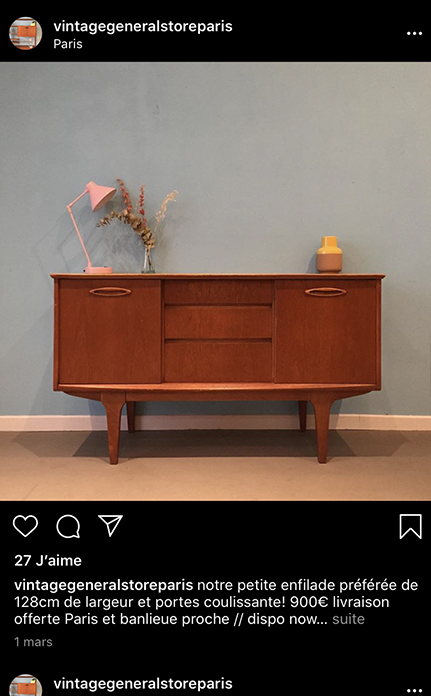 To find : sideboards from the 60s.

On behalf of General Store , there areenfilades galore, chairs vintage rattan so 70's (200 €), small bedside tables Scandinavian oak mind design (500 € the pair) and any many other guns furniture .

Passion for the baby row in teak (920 €) which gives character to its interior and for this ultra vintage refined chair (130 €). Simply perfect.

Fun fact: these are the pieces of furniture that adorn the beautiful Esther & Paul ephemeral gallery . It's worth the detour.


Also discover a selection of pretty vases and vintage and stylish e-shops to switch to slow fashion .