She is the most renowned decorator of all Paris, to such an extent her name has became a brand, signing the design of the Roch Hotel, the Victoria 1836 restaurant or the most stylish apartments of the capital. Her secret? Wagering on colour, chic, comfort and light. An insight and a small selection of pieces in order to convey the Sarah Lavoine spirit to your flat without having to call up your banker.
Daring duck blue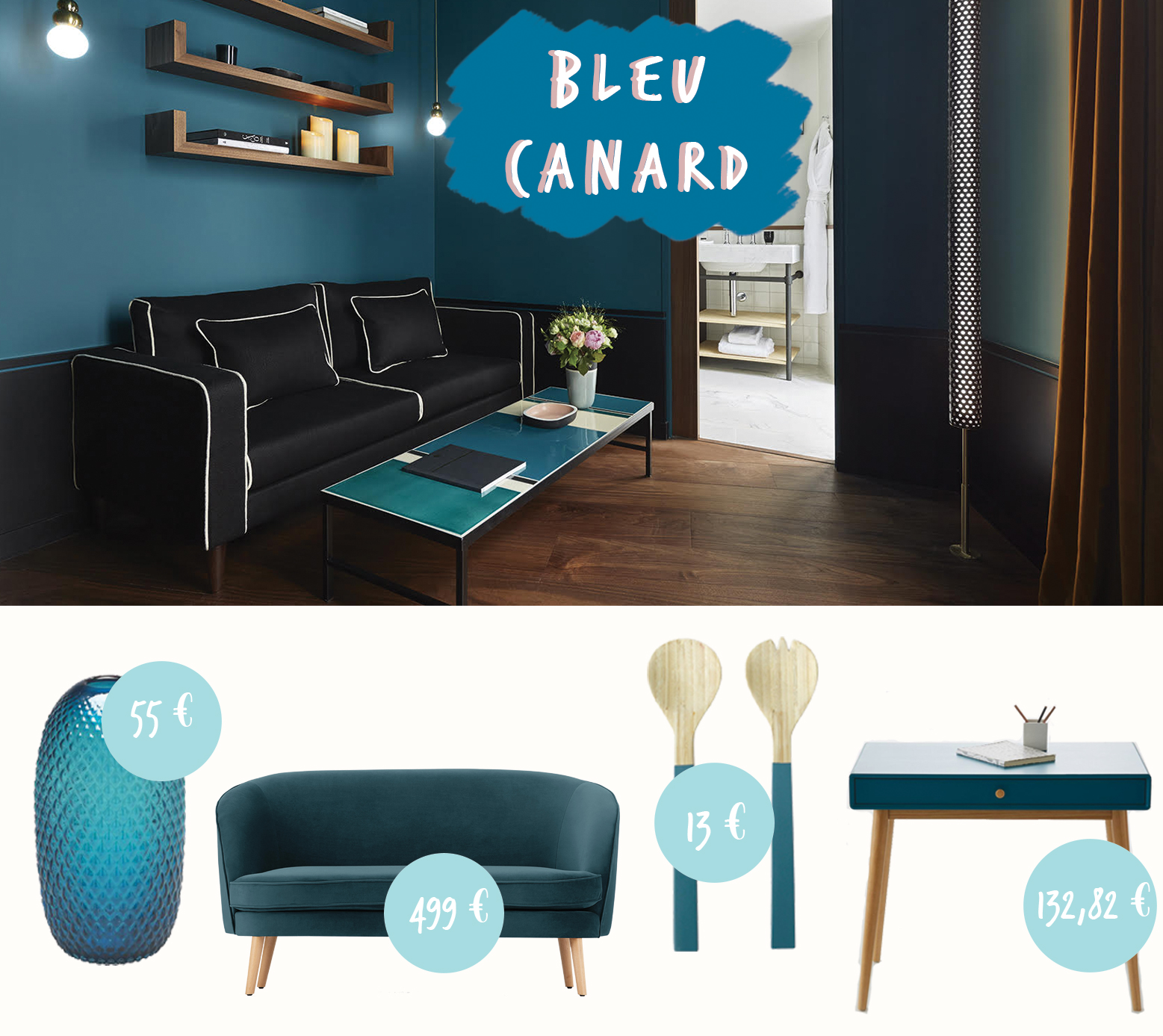 Sarah Lavoine has created her own signature blue. It's a turquoise blue with green overtones depending on the lighting. Majestic, it brings a very sophisticated touch to interiors. It can be used for a living room or a bedroom, for furniture or as a total look.
Its strong point : on just one panel or for the entire room, duck blue is a perfect colour to repaint your walls. At Farrow & Ball, go for the Vardo colour( 81€ for a pot of 2,5 litres on www.eu.farrow-ball.com). Tone on tone, a sofa in the same colour will make the decoration even deeper. However, you need to complete it with white cushions to avoid darkening the room.
Our advice: the Gertie sofa by Made, with pure lines and a minimalist spirit is a symbol of modernity. A real heart throb.
1. Vase Fest Amsterdam, The Cool Republic, €55 2. Gertie Sofa, Made.com, €499 3. Baya bamboo cutlery, Bruno Evrard, €13 4. Bureau JIMI, La Redoute Intérieurs, €132.82
Collector of poufs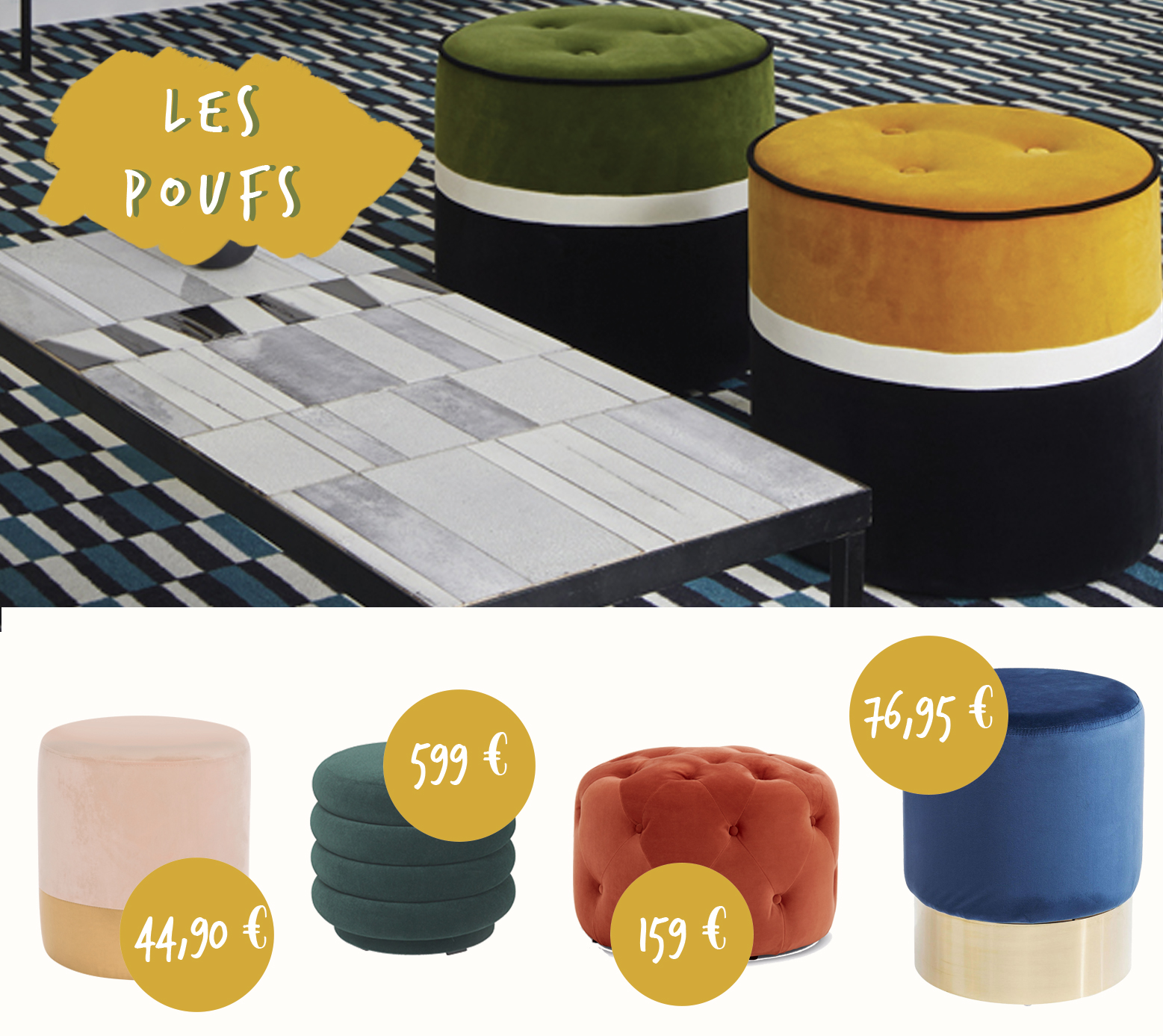 Very design, this piece also happens to be very practical and finds its place in small spaces: at the end of a sofa, in the middle of the living room, it can be used as a mini-stool, endorse the role of footstool or small extra table. In short: the discrete pouf knows how to find its place alone or as a trio.
Its strong point : a perfect way to bring a « strong » touch of colour just like Sarah Lavoine does it by opting for mustard yellow rusty orange or duck blue.
Our tip : adopt the one of Kare Design, with a brass coloured base that conveys a wowie effect to the house.
1.Two-material pouf, Jardiland, €44.90 in shops 2. Round, Ferm Living, €599 3. Hampton, Made.com, €159 € 4. Cherry blue stool, Kare Design, €76.95
Mirrors galore.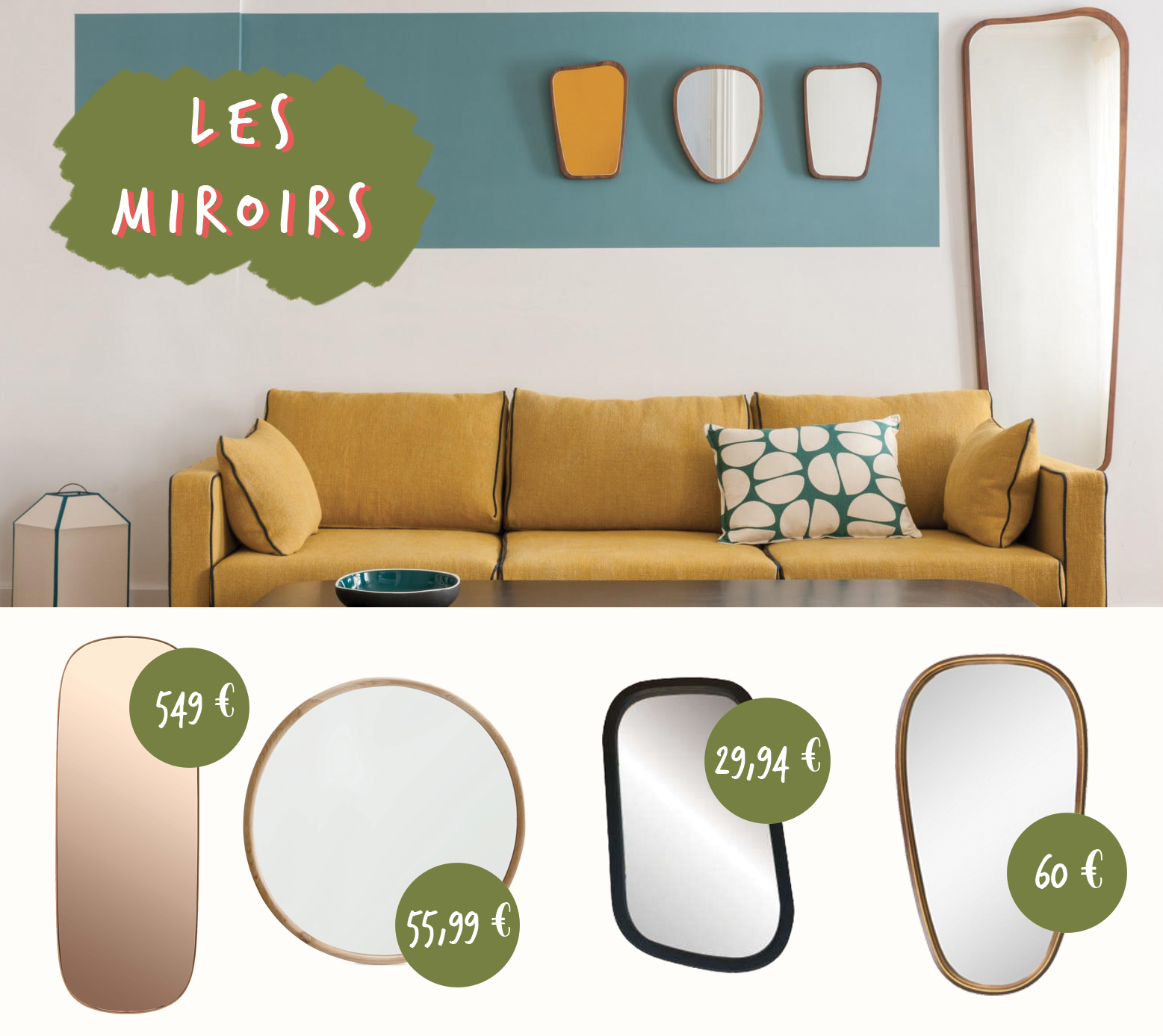 Above the sofa, below stairs, lined up or in groups, mirrors offer a perfect optical illusion for interiors that are a little small or too dark. Easy to install and not expensive, the mirror has many assets.
Their strong point: on its own it provides an extra window. It has the power to double luminosity, multiply views and make the room gain in depth.
Our advice: don't hesitate to mix shapes and sizes. Use three littles ones, then a lone like at Muuto, the Framed L.
1. Framed L, Muuto. €549 2. Wooden mirror, Zara Home, €55.99 3. Set of three vintage miroirs, Conforama, €29.94 4. Oval shaped golden mirror, Wadiga, €60
Playing with black lines.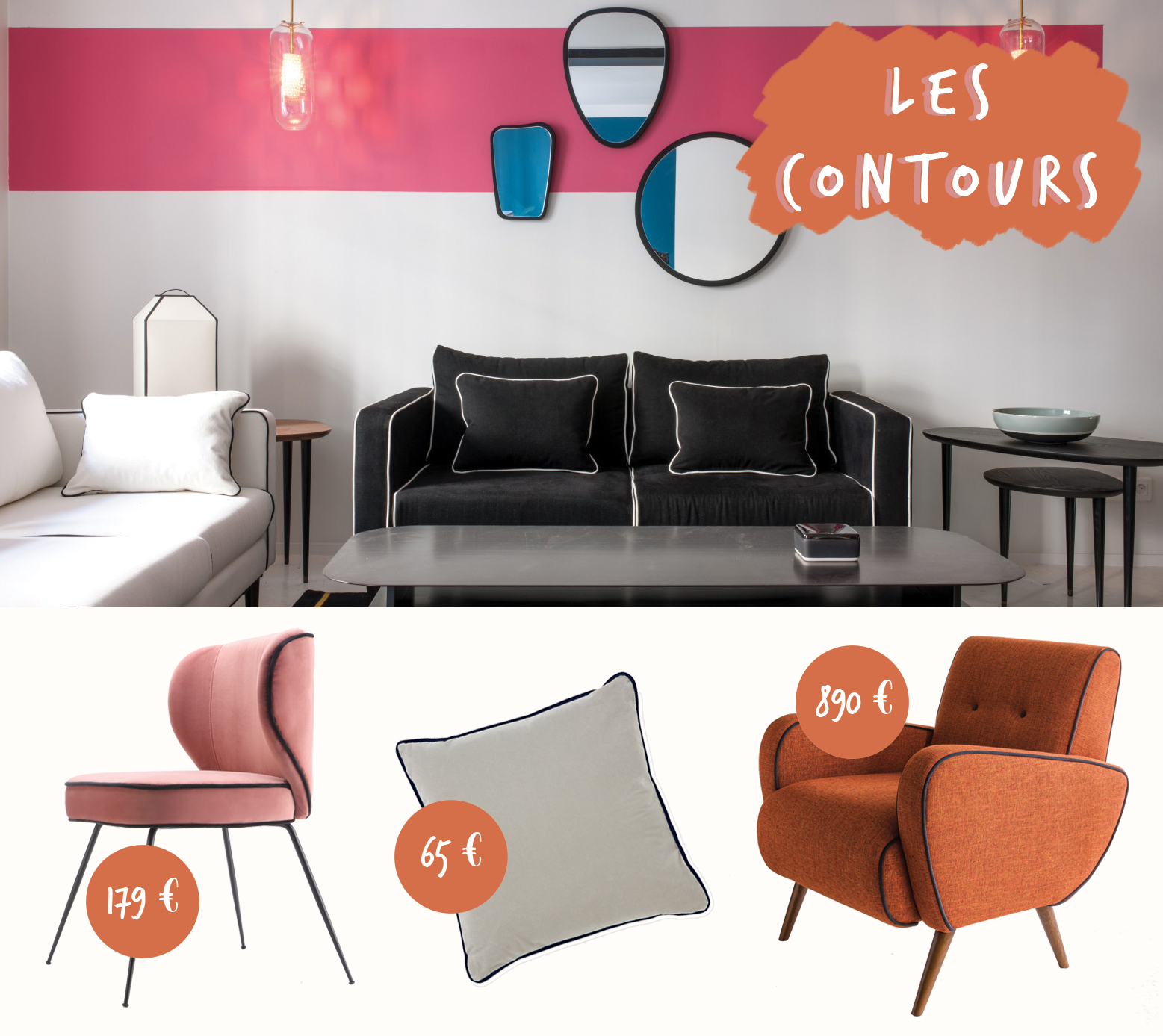 It's one of Sarah Lavoine's favourite colors that she uses to surround her objects: cushions, lamps, sofas. A perfect way of underlining the shape, enhancing it and making it more elegant.
Her strong point: black hides what needs to be dissimulated and sets off what needs to be enhanced. A trick the decorator uses for everything, including walls. In this case, opt for a colour filled with  zip, such as yellow, blue and frame the lot with black paint.
Our advice: it's super simple to imitate. Use masking tape and delimitate the strip. Then, always paint starting from the adhesive towards the wall, in order to avoid the painting from running over.
1. Wayne chair, NV Gallery, €179 2. Made About The House cushion, Made.com, €65  3. James armchair, Jardin Pamplemousse, €890
Velvet/brass, the winning combo.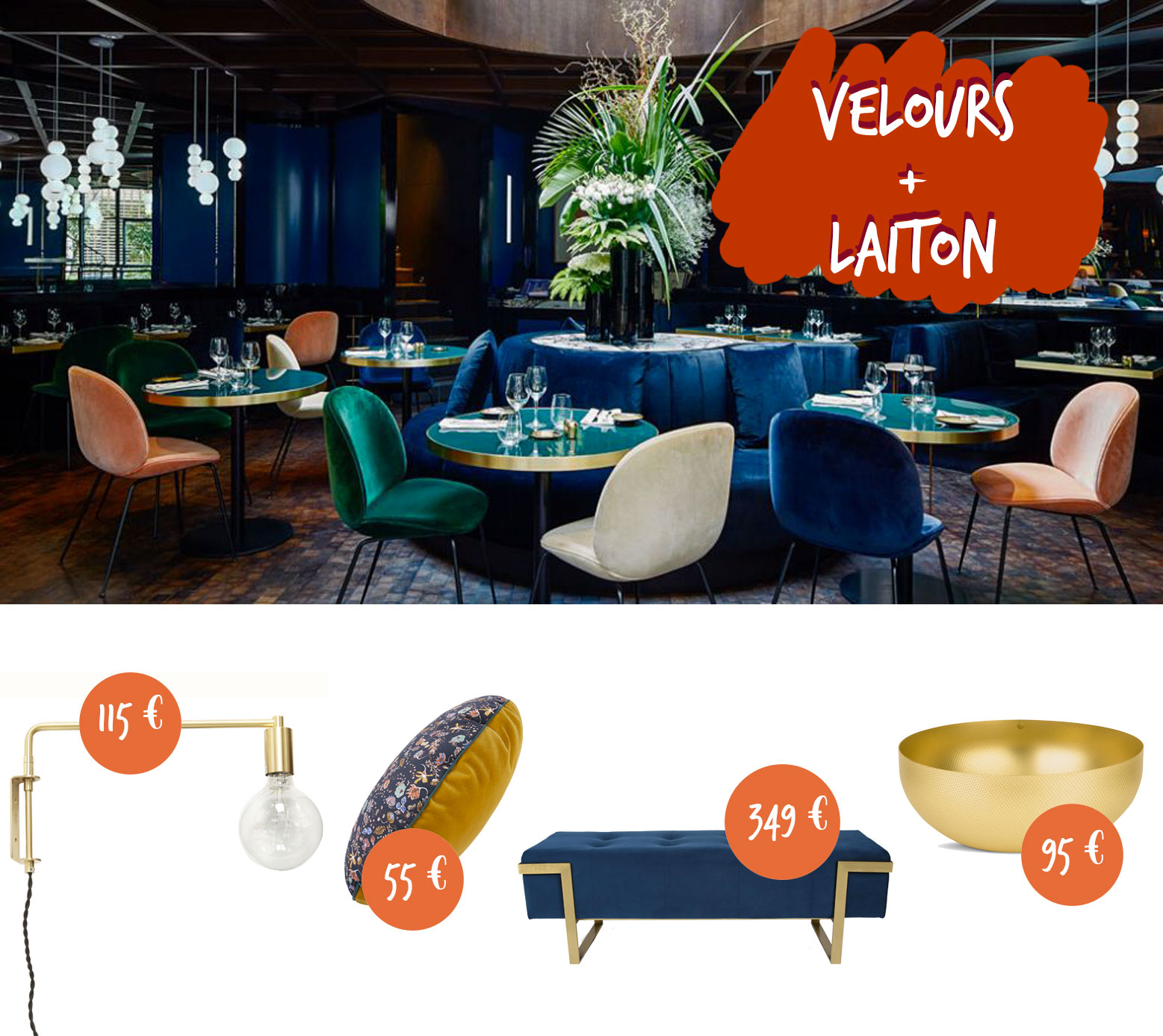 This season, you cannot go wrong if you choose velvet. It's the hot trend of the year, pretty softness in our interiors, ensured romanticism. And nothing could be more chic than mixing it with brass.
Its strong point: the best is to for deep, elegant, timeless colours, such as navy blue, burgundy or pine green. To give luminosity, add brass objects in small touches. A simple candle or a bubble lam will hot the spot.
Our tip: 2 in 1, the Vertigo bench by NV Gallery is the perfect mix and match. Art Deco ambiance guaranteed.
1. Gold luminary fixture, Hübsch, €115 2. Small round Mina cushion, The socialite family, €55, available at Bon Marché 3. Banc Vertigo, €349, NV Gallery 4. Round basket UTA17, Alessi, €95