It's the new maritime sensation in the very trendy area of the 10th arrondissement. This iodine counter keeps all his promises, starting with a far-flung décor and top bi-valves from the Frères Besson (7€ les 3) to eat while sipping a glass of white wine as though you were on holiday.
The sea at your table with a super fresh seafood platter (bulots snails, crab, pink and grey shrimp, prawns (26€), also try their fish soup just like in Trouville, inspired by Chez Jeannette (9€) with croutons and rouille sauce, Bouchots muscles, home fries (sinful!)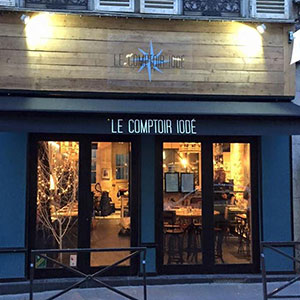 To test absolutely: cold cooked oysters (passion-ginger) and warm, bakes with camembert cheese (13€ les 4). For the final touch, an apple-pear and cinnamon crumble, « Maison Borniambuc" cream.
Also discover La Reine Mar, a trendy seafood bar in the 11th.