After the craze for steak-houses and grills, it's now the turn of sea counters to be in the running. La Reine Mer is the living proof. So come throw your anchor  (ha, ha) at Repu !
Ahoy! Founded by Grégory Areinx, a Southerner in Paris (ex pro of catering, is not run-of-the-mill), La Reine Mer is at the same time a fish shop and a very nice table. The decor has the feeling of a small fishing harbour in Brittany with its blue tiling and the painting of a redhead creature that seems to come straight out of the foamy sea. On the stalls, fish and seafood freshly arrived in short circuit thanks to suppliers sporting theaxés 100% French and sustainable card (Terroirs d'Avenir, Poiscailles).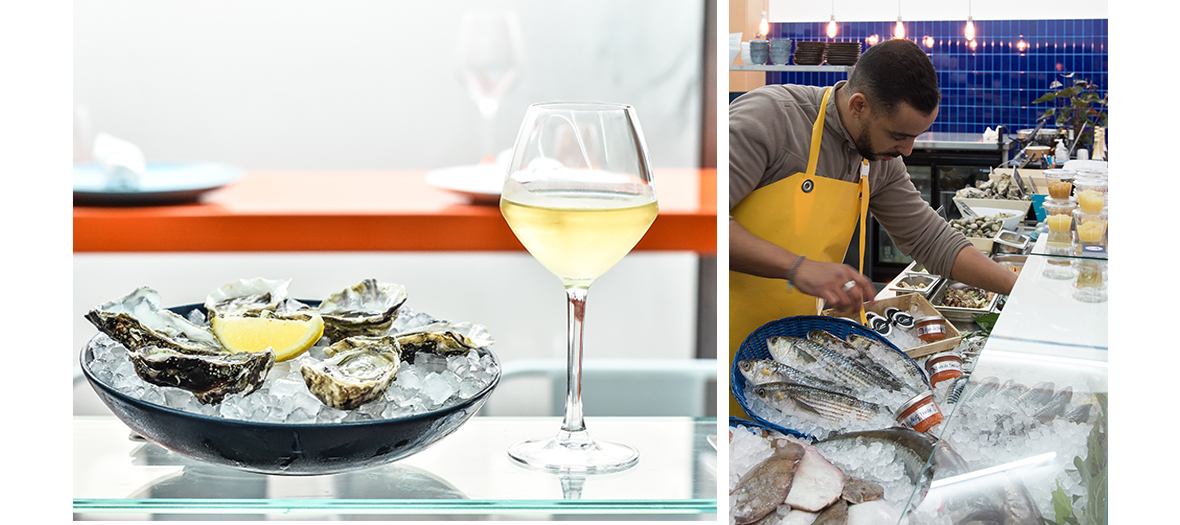 Two options. Come for lunch and nab an  addictive salad of squid and potatoes (€8 ), "Sandfish" spring rolls pimped with raw fish (€11) or house smoked salmon (€13). And why not go home with the catch of the day for dinner?
In the evening, sit in high chairs facing the wide open kitchens and observe the brigade preparing under your eyes minute dishes such as  wedge soles in nut butter (€10), crunchy green asparagus from the Landes (€8) or a delicate baked  turbot, escorted with courgettes and the first baby tomatoes (€24 ). To be washed down with a nice glass of wine, naturally (Mâcon-Loché €7.50 , Muscadet €5.50).
Friday is aïoli day! Each day has a theme, with each rendezvous conceived depending on the catch of the day (tataki, risotto, surf/turf). You will want to come back and taste everything.
Open  Tuesday to Sunday from 10:30am-9:30pm.
Also discover oyster bar, a home delivered seafood platter.