© Sophia van den Hoek
© Sophia van den Hoek
Introducing Le Grand Café d'Athènes - the most sought-after Greek restaurant in Paris. Behind the stove the Filakia team delivers impeccable Mediterranean cuisine on the Faubourg Saint-Denis, in line with the growing trend of Greek restaurants in town.
The beach is never very far...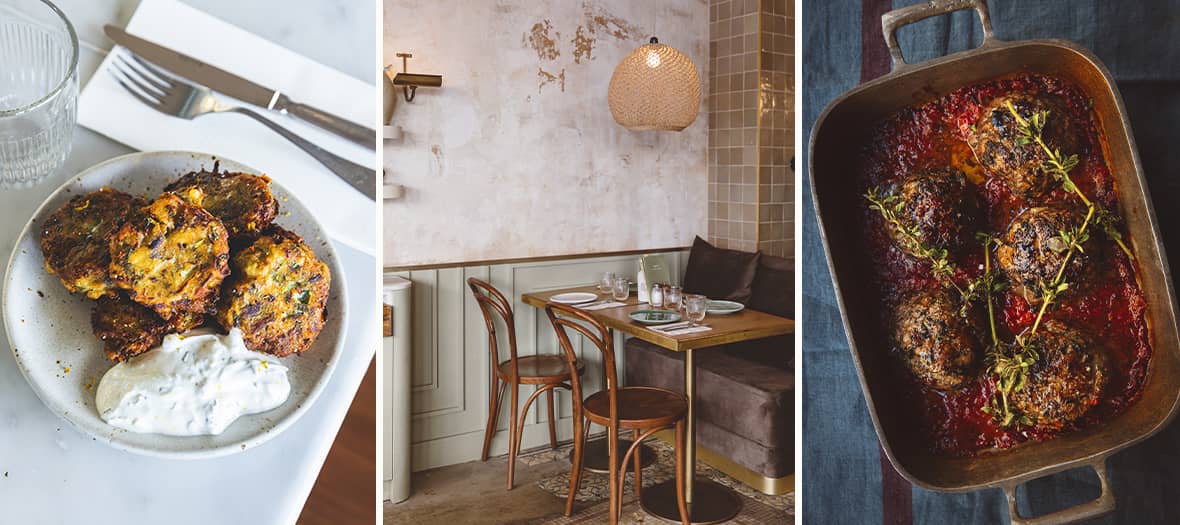 The idea of Chloé and Benjamin was born from a simple fantasy which did not exist in Paris: finding all the animation and delights of Antiparos taverns and holidays in Greece with a typically Parisian atmosphere.
Check out the equation of coolness = the best Greek salad of Paris + super colourful plates made by a small Greek artisan + nicknacks picked up in tag sales + very attentive service—all in a stylish atmosphere, designed by Studio Parisien. In short: the holiday must we all dream of!
Greek mama cuisine … but better !
You are at the best Greek in Paris. And with reason. CheffeChloé Monchalin (trained by Pascal Barbot, Joël Robuchon, Michel Troisgros) signs a series of small signature dishes to be shared around a magnum of rosé, a bottle of good natural wine, a sparkling lemonade or a Greek-style Spritz. Mamma mia!
Normal, Chloé has nabbed all the family recipes from her Greek mother-in-law, sourced with the best Greek products. And the result is tops.
Highlights of the menu include kolokithokeftedes, zucchini fritters with feta and fresh herbs (€10), halloumi fries from Cyprus with pepper tomato confit and fresh thyme (€14) or a spring dakos salad with marinated cherry tomatoes, green asparagus, grilled spring onions, Kalamata olives, capers, olive oil, feta and fresh oregano (€18). The most exciting find is Papou's Biftekia, the best dumplings you'll ever taste, to be dipped in a peppery tomato confit and served with lemon confit potatoes (25 €). A masterpiece.
Street food junkies will love the legendary pita breads, also available to go, including a version with dumplings and fries (€18) or a veggie one with roasted seasonal vegetables, grilled halloumi, tzatziki and fries (€16), to be paired with a refreshing homemade iced tea.
An outstanding menu
A terrific salad (€10), tzatziki from outer space (€5), amazing olives, fab courgette fritters, grilled lamb chops "by the kilo" as a group (€70 per kilo), and let's not forget the good old kebab sandwich or its veggie version (€18), mussels with spicy tomato sauce (€13), melt-in-the mouth squid in a potato salad (€13), crunchy fries, or feta psiti (€7)and baby mint that transports you on the spot to the beach.
For dessert: the frosty Greek yogurt (€10) might make your head spin, just like the "loukoumades" (€12), these famous hot fritters to be dipped in a chocolate sauce.
Must-try lunch menu
Perfect for budget-conscious diners: a weekly lunch menu (starter, main course or dessert for 25€) to watch out for every Monday, on Instagram: fresh salads, parmigiana or polenta with mushrooms, frozen desserts, etc.
The all-inclusive option that will delight every palate.


74 Rue du Faubourg Saint-Denis, 75010 Paris - 01 74 64 65 46
Open daily for lunch and dinner.
You may also want to check out Jolia, Dalia's new festive little sister table and Omar dhiab's highly anticipated first restaurant.