Overbooked working-girls and those traumatized by last-minute dinners check this out, the Lion grocery store will soon be your best friend !
Result of the encounter between Sophie, ex-gardener and foodie and Philippe, ex-cameraman, wild about image and? , this pretty healthful boutique respects the environment.
While the first part of the boutique is for green thumbs, the second one spreads out lengthwise, along a counter filled with authentic unusual products: home-made soups («le Rebloch' aux lardons», 8 euros), Dolphin chocolate (5 euros), old-fashioned candy, liquorish sticks, crafter oil and vinegar…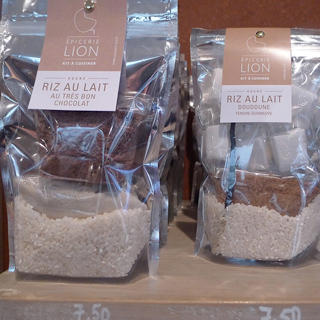 But the real musts of the boutique are the ready-to-cook sweet and salty kits, sine-qua-non solution of last minute dinner parties: cèpes mushroom/nut risotto (9 euros); coral lentil/coconut/curry soup (7,50 euros); grumpy bear cake (ours mal léché) (8,50 euros); French-Cancan rice pudding (8,50 euros warm preparation (5 euros)…
We like : the risotto with dried tomatoes, pine nuts and basil (7,50 euros). Sooo good !
The must : Ariaké broth, included in all the salty kits !