Remember his name! Accustomed to the great restaurants ( Lasserre , L'Abeille , Pavillon Ledoyen ), the former chef of Loiseau Rive Gauche Omar Dhiab opens his eponymous table near the Place des Victoires .
His signature ? A cuisine that is frankly in tune with the times, allowing the memories of his childhood spent with an Egyptian dad and cook to express themselves. All in an Art Deco atmosphere designed by the studio of archi' Hauvette and Madani . It smells like the star...
Mediterranean gastronomy
Rare are the Parisian gastronomic tables that smell so good of the sun! At lunch, we automatically opt for the three-course menu (€58 including addictive appetizers and sweets ) giving pride of place to seafood, always pimped with the perfect condiment with oriental notes and the sauce that goes well: marinated sea bream with lovage condiment ; monkfish , turnips and a spiced citrus reduction; warm oysters , cauliflower and toasted brioche condiment … Psst: don't miss the naughty " croq sweetbreads " from Grenoble, a little treat to slip in before your main course (€20).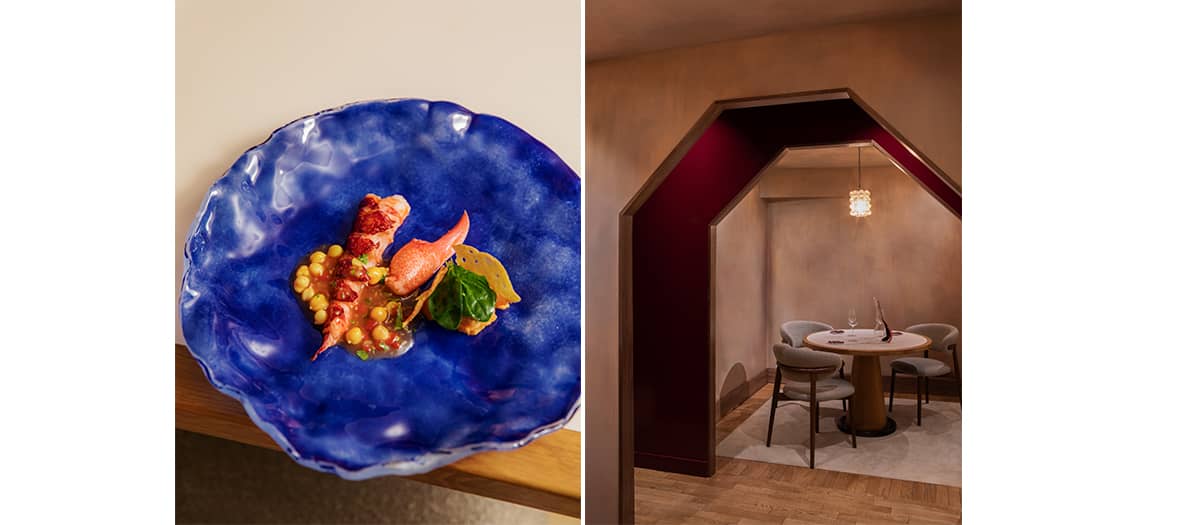 The ultimate joy for gourmets: the pistachio and grapefruit crazy dessert or the roasted pear , sorrel and shortbread , before ending with a very soft café latte accompanied by its semolina cake with orange blossom (the chef's madeleine ). Mmmh… You can still smell the fragrant grains in your mouth.
Note: the excellent wine list promoting small farms, like the memorable Pouilly-sur-Loire from the Caroline Bain estate (bottle €80).
The art of refinement
A perfectionist in the extreme, it was unthinkable for Omar Dhiab to serve such elegant dishes on minimalist tableware. As a result, we dream of copying at home the art of the table designed by the chef himself, from yellow and orange Murano glasses to blue Limoges porcelain plates , for a look that is as chic as it is Instagrammable.
Open Tuesday to Saturday from 12:30 p.m. to 1:30 p.m. and from 7:30 p.m. to 9 p.m.
© Virginie Garnier
© Adel Fecih


Also discover Otto: a little piece of Japan at Mouffetard and Fouquet's inaugurates its winter dinners