It was the most highly awaited restaurant opening of the season. After the success of Girafe, Loulouand Monsieur Bleu, Paris Society, Laurent de Gourcuff's group does it again. Opéra Garnier finally has the festive table it deserves with Coco.Everyone in Paris is racing over there. Make your reservations.
The new dining room of Opéra Garnier
At the time of its inauguration in 1875, the Parisian elite made the opera its center of revelry and the arts, symbol of the existing frenzy of the Grand Boulevards… At the time, Charles Garnier had already imagined creating a brasserie to have dinner after the show... This project never saw the light of day.
150 years later, the Opera finally has the dining room it deserves. A spectacular and off-the-wall decor under the helm of interior architect Corrine Sachot, a young very promising talent, highlighted by vegetal designer Thierry Boutemy, who knew how to integrate a luxurious vegetation at the heart of the old Opera stones...
A Great Gatsby decor
To give a finishing touch to this ostensibly glamour setting, nothing was left by happenstance. The place is designed to make heads spin, aiming to make Paris and its upscale clients dive into the universe of the Roaring Twenties, in a typically Fitzgeraldian opulence and lightness.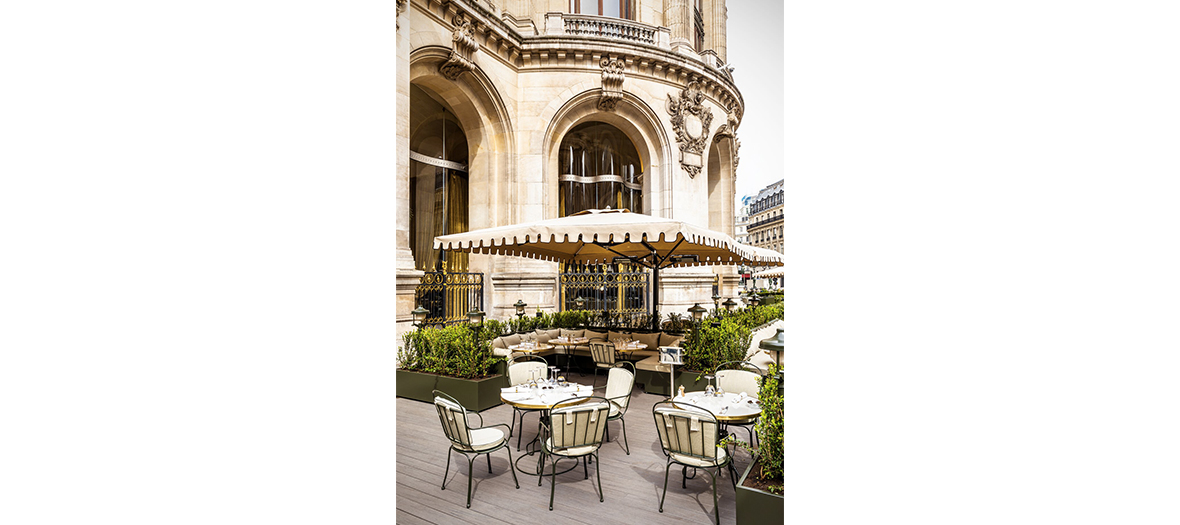 No more codes in order to reinvent the atmosphere. No DJs set, nor play-list, a piano bar and a group of musicians set the tone all evening, while mixologists bustle at the bar. Another singularity of the place: a real garden, a protected oasis amidst the urban frenzy,where one has lunch in the sun and dinner under the stars...
A very socialite table
A socialite table, belongs to the one who appeals to everyone. Chef Julien Chicoisne (formed by Frechon) plays a clever repertoire on the kitchen piano, appealing to large appetites as well as twigs...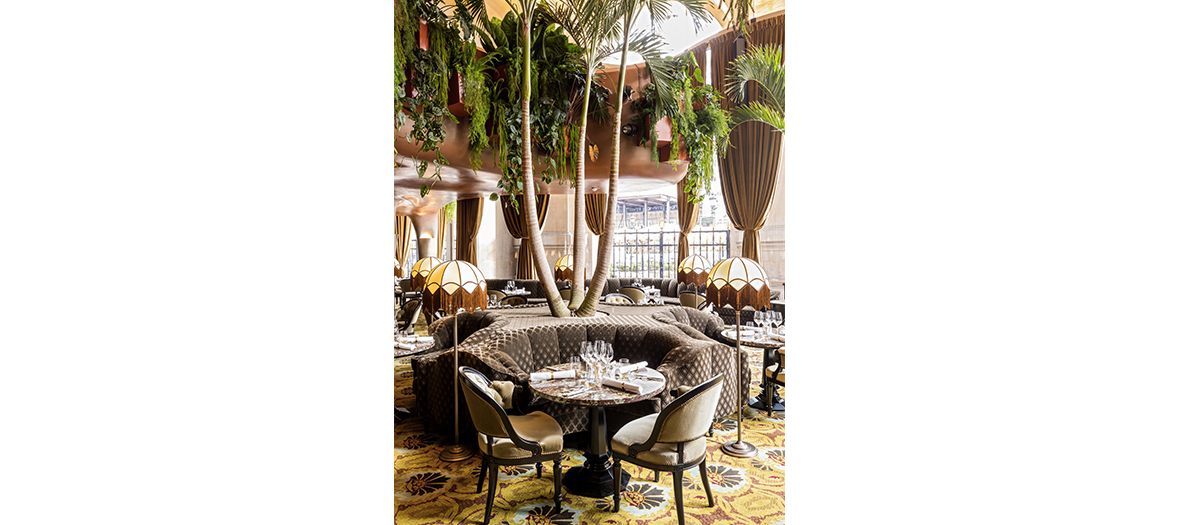 Smoked heart of salmon (€28) tempuras of seabass and shrimp (€16) green asparagus with mimosa sauce (€20), Angus sirloin tip from Argentina and mashed potatoes (€42), raw tartare of beef filet with or without caviar (€25 or 55) or a nice artichoke.
On the desert chariot, pastry chef Kevin Lacote lives up to the occasion: coconut shortbread and chocolate, spring puffs with raspberry pistachio (€14), an Opéra (€16) ... Other highs: chocolate churros or the giant fruit cup for 4 persons (€48).
Breakfasts fit for royalty
Thought out like a living place, a real one, Coco happens to suit early birds as well as night owls. Ideal for business breakfasts and morning meetings, here, "breakfast" is king with good coffee, eggs (€10), power-bowls (€12), croissants and raisin buns (4€) or then buttered bread and jams (€7). Yum.
Open every day from 8:30am until 2am with valet parking.
Also discover our 5 favourite bouillons restaurant to be reserved and Mimosa, The mediteranean table by Jean-François Piège