It's the sexiest and expected opening of October. The favorite chef of Parisians Jean-François Piège takes possession of the kitchens of Mimosa , his new Mediterranean-inspired restaurant nestled in the heart of the Hôtel de la Marine , just in front of the Café Lapérouse ... on the other side from the courtyard, directly from the Place de la Concorde . An embellishment with the airs of a seaside vacation.
A wahou decor signed Dorothée Delaye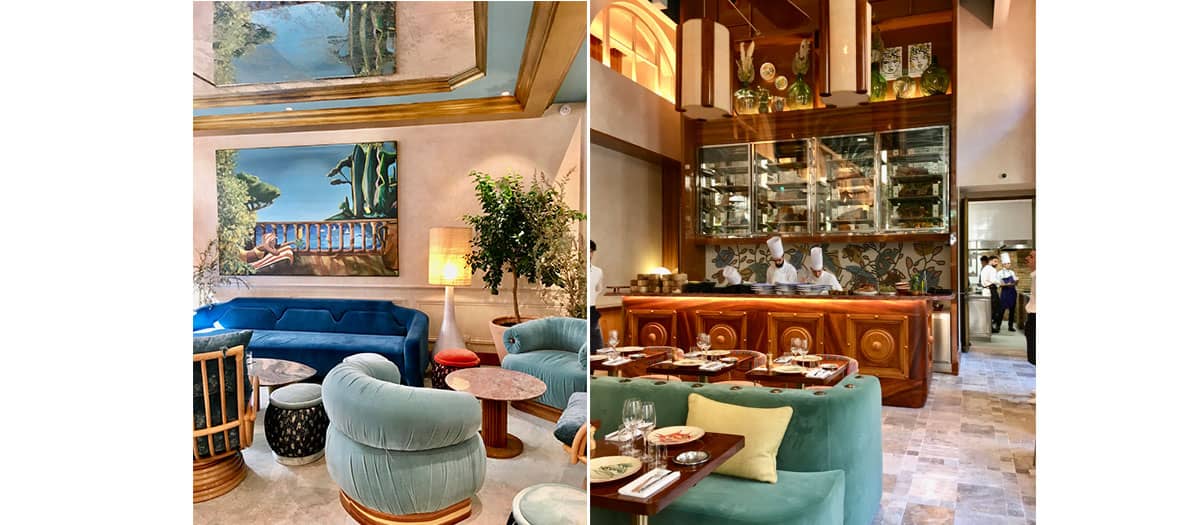 We owe him the Sookie and La Planque hotels as well as the decor of superb Parisian apartments. Dorothée Delaye (whose decorative favorites we have collected here) was chosen by the Moma Group to pimp this immense and very high space, calling on French craftsmen to recreate nautical codes with a ceiling like the hull of a boat, pieces in shiny mahogany Riva style , propeller suspensions and aged mirrors… but also a comfortable and elegant place when installed in the large green sofas and striped velvet chairs facing the small open kitchen.
Special mention for the fish dishes signed Datcha , the handmade wall lights, the large fresco by Justine Rossetti as a window open to the Mediterranean or the large blue armchairs, on the bar side, to sip a mimosa: the signature cocktail, of course.
Place in the sun by Jean-François Piège
Emperor of the modern brasserie ( À l'Épi d'Or , La Poule au Pot ), unconditional of the French terroir and obsessive of the good ingredient, Jean-François Trap brilliantly tries his hand at seaside cuisine with obvious mastery some products. It must be said that the wood-fired oven in the kitchen allows its lobster and fries (the dish to order absolutely) to adorn itself with an absolutely insane smoky taste.
Among the other goodies: vegetable fritters with Giusti, spinach salad, sea bream gravelax, cucumber vinegar, red tuna horseradish-coriander, eggs mimosa bottarga, plain or tarama, blue lobster aioli and fries, the " most beautiful fish peach "(the chef loves working with rarely used fish) and fondant fennel.
Eternal greedy, Jean-François Trap also does not skimp on desserts with a pineapple surprise, pomegranate, lemon balm, a divine panettone pudding, orange blossom ice cream or cabbage and cabbage fritters and an ice cream. Italian. Mmmmh ...
Reservations recommended at reservation@mimosa-rueroyale.com or at 01 53 93 65 52
Also discover the Café Lapérouse , the other and the Hôtel de la Marine, a small Versaille place de la Concorde