Better to be there outside of rush hour, either very early or very late. Bouillons, these very popular restaurants during the Belle Époque , allowed butchers to sell their less noble pieces of meat with dishes in sauces and marrowbones, which delighted the forts of Les Halles like night owls ( Colette , Cocteau , Proust or Apollinaire were crazy about it…).
3rd millennium version, this gives rise to ultra-trendy XXL institutions where you arrive without a reservation to feast on rogue dishes at ridiculous prices, and drink good bowling without breaking the bank! Overview of our favorite, tested and approved addresses.
Republic Broth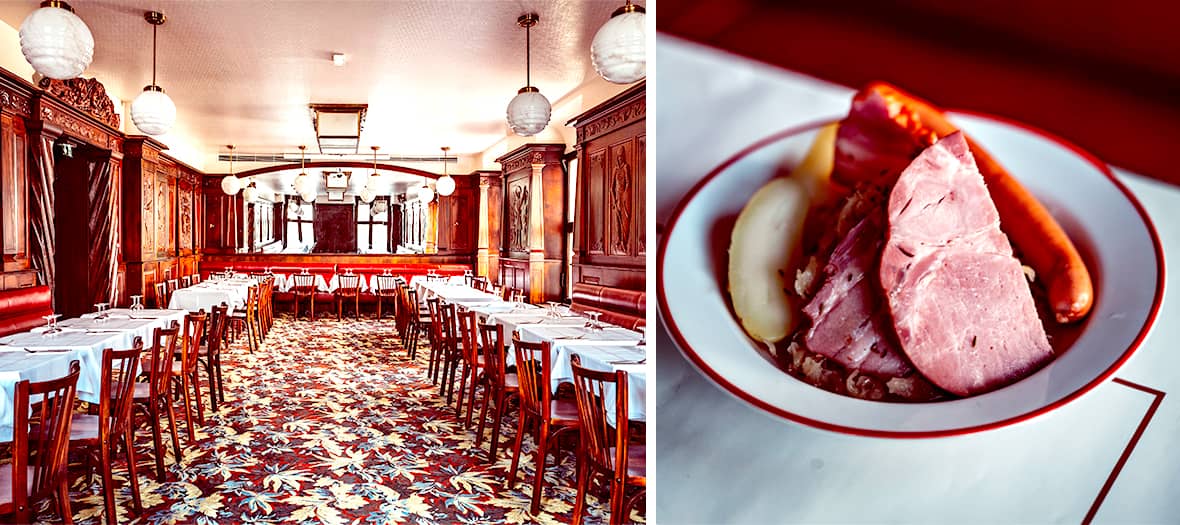 The place: more than a broth, it is THE place where you meet all of Paris, from the big names in fashion to Maïwenn, including the most popular directors and actors of the moment. After the success story of Bouillon Pigalle , the coolest restaurateurs in Paris are doing it again with a new address in Répu , in place of the legendary old brasserie Chez Jenny. No cut and paste, you can imagine, this is not the kind of house. The Lafont firm has rehabilitated the so 1932 atmosphere of this legendary address: sculpted woodwork, marquetry, revolving door, thick carpet, blown ball lamps ... Other breaking news: the possibility of privatizing lounges on the 1st floor to celebrate your birthday (25 people ) or outright a marriage with that of 120 place settings.
To be tested: since we are in the old Alsatian cult brasserie Jenny , we can of course find a good sauerkraut (€ 9.80) or its marine version (€ 11.90), oysters (€ 6 per half-dozen) , a flood of mayo eggs (€ 1.90), leeks vinaigrette (€ 3.40), mashed sausage (€ 8.90), steak and fries with pepper sauce (€ 4.50), profiteroles (€ 4.50) ) or the Black Forest (€ 4.50) and Bloody Mary (€ 6).
Bouillon République , 39 boulevard du Temple, Paris 3rd
© Benoit Linero
Petit Bouillon Pharamond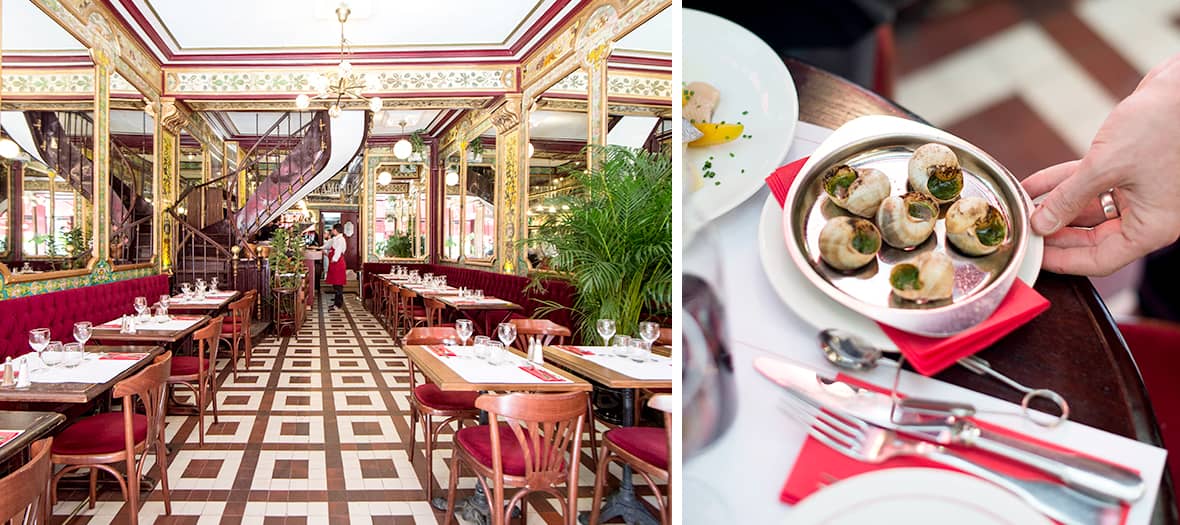 The place: a tripière institution in Les Halles , Le Petit Bouillon Pharamond is reinventing itself with Benjamin Moréel and Christopher Préchez at the helm (Café de Mars, Lefty, Little Georgette, John Weng, Le POD). Nestled in a three-storey half-timbered building stretches what the Belle Époque signed most charming: large mirrors, red velvet benches, wooden stairs, painted mirrors, mosaics, gilding and glass paste. Without forgetting the joyful terrace on a lively square in the Ventre de Paris.
To be tested: there are of course the iconic dishes of the bouillon cuisine, all homemade on site with French meat, organic eggs and charcuterie sourced at Olivier Brosset : egg mimosa (€ 1.90), snails (6, 90 €), foie gras (€ 7.90), macaroni casserole with truffle (€ 7.50), whole roasted sea bream (€ 12.50), Camembert (2.90 €), tarte tatin (4, € 50), to be washed down with a glass of Côtes du Rhône (€ 4). So it's hard to get more than 25 € per person while eating really, really well.
Continuous service noon and evening, every day
Le Petit Bouillon Pharamond 28 rue Pierre Lescot, Paris 1er
Petit Bouillon Vavin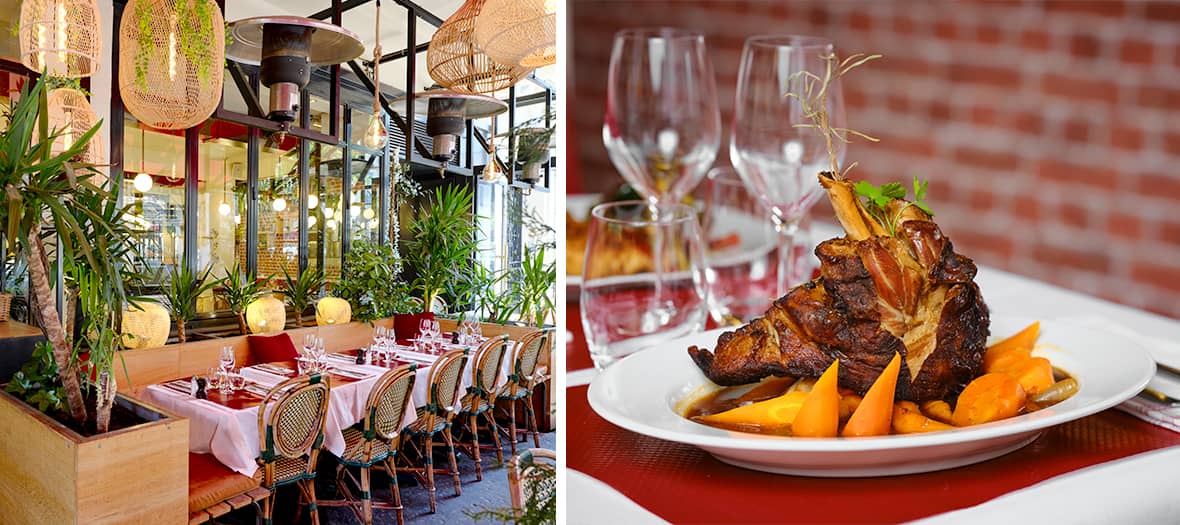 The place: perfect to sit down after a movie nearby, the most recent bouillons contain the codes that have made their historical fame (red benches, white tablecloths, dishes at mini prices ...). With inevitably - new address obliges! - special attention to 100% homemade and local products, and even a small vegetable garden on the large heated terrace, very pleasant for lunch.
To try: c elery remoulade haddock shavings (€ 4.20), marrow bone fleur de sel (€ 3.90), radish with leaf butter (€ 2.70), butcher's piece on the grill, homemade fries ( € 11.20), sausage with a knife with mustard sauce, homemade mash (€ 11.80), crayfish linguine, Armorican sauce (€ 9.80), apple pie (€ 4.30), profiterole with homemade chocolate sauce (€ 4.50) and poured wines (€ 6.50 per half).
Open 7 days a week from 12 noon to midnight without interruption
Le Petit Bouillon Vavin , 119 boulevard du Montparnasse, Paris 6th
Chartier broth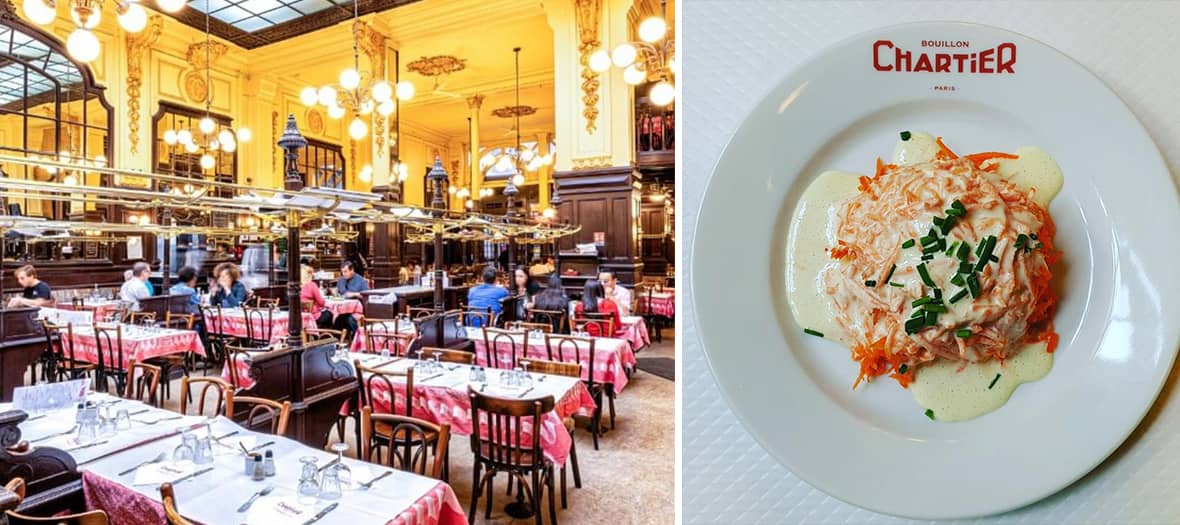 The place: a true Parisian myth opened in 1896 by two brothers and now run by the queen of the brasserie Nathalie Godeau (ex-Vagenende, Bouillon Racine), Chartier bouillon is the oldest and most famous of Parisian broths, including the dining room. magnificent is classified. It must be said that its atmosphere bears witness to the Belle Époque with its napkin drawers for regulars and the hat racks above the tables. Applause for the dexterity of the waiters, quick to scribble the bill at high speed on the paper tablecloths.
To try: f ilet of herring, apples in oil (€ 3.80), pork muzzle and vinaigrette (€ 3.80), celery remoulade (€ 2.70), pike quenelle, shellfish coulis (8 , 50 €), spaghetti bolognese (8.70 €), roast free-range chicken, fresh fries (9 €), rocamadour (2.60 €), rice pudding (2.60 €), whipped cream (3.20 €) ), decanter of Chardonnay IGP d'Oc (€ 6.80).
Open every day from 11:30 am to midnight without interruption.
Bouillon Chartier , 7 rue du Faubourg Montmartre, Paris 9th
Pigalle broth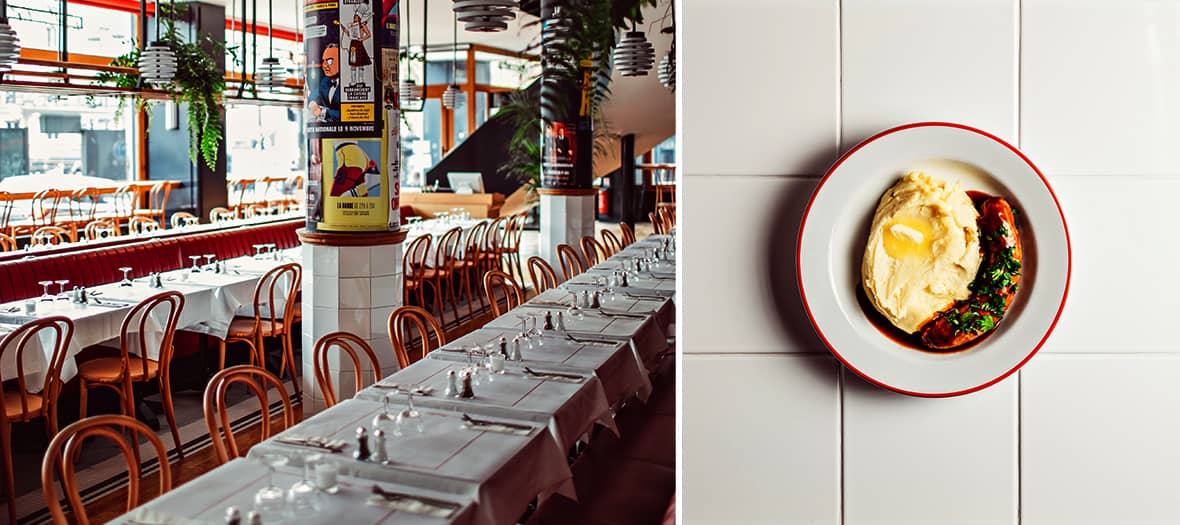 The place: l a family Moussié (Janette, Brasserie Barbès, Providence Hotel, The Mansard) hit hard with Bouillon Pigalle , who signed in 2017 the ultra-trendy return broth, now popular gourmet sores Paris and continues to practice the same ultra rickety price policy and the rogue dishes required, as well as crazy sourcing products. Special mention for the huge heated terrace with 100 seats with a view of Pigalle. The dream.
To try: organic eggs mayo (€ 1.90), celery remoulade (€ 3.40), Comté cheese (€ 1.80), cheese bread soup (€ 3.20), mashed sausage (€ 11) , steak and fries (€ 10.50), calf's head with gribiche sauce (€ 11), whipped cream (€ 2.90), Paris-Brest (€ 3.50), rice pudding (€ 2.80). Drinks are poured (translation: by the glass € 2.90, € 8.80 a quarter of white or a red jeroboam at € 35). Each table has its head of row and the bill is paid with the cashier ...
Bouillon Pigalle , 22 boulevard de Clichy, Paris 18th
© Benoît Linero
Also discover Madame rêve café, the new chic brasserie that attracts all of Paris and Phénice, Yoni Saada's table in the 9th district