Jackpot! Not the type to let great opportunities pass, the Rosa Bonheur team is expanding its herd with a brand new XXL tavern in the heart of the Bois de Vincennes . A taste of the holidays on a real island surrounded by water the size of a football field with music, Camargue barbec and pétanque court . In short: the dream spot for chilling with friends.
The subscribers to repeat weddings have inevitably already attended a fiesta at the Chalet de la Porte Jaune , a superb 19th century hunting lodge. It is in these premises that Rosa Bonheur has installed her mismatched tables, her Ricard parasols and her garlands under the trees. At the water's edge, everyone grabs a chair here, over there a pint of white pressure (€ 8.50), a Spritz (€ 12) or a Campari Tonic (€ 10). Others arrive straight after having taken a small boat trip , the rallying point of which is glued to the Rosa - but depends on a separate service.
On a picnic table toast a bunch of hip thirty-something, their dogs at their feet. Opposite, a little girl is playing in the sand and, further on, the smart kids who arrived early take to the pétanque court. Rosa Bonheur à L'Est is definitely establishing itself as the cool haunt for families and groups of friends in the area, from Saint-Mandé to Vincennes via the South-East of Paris. Because, in addition, its giant terrace can accommodate a thousand people at once joined by Line 1 or RER A, and in a really easy way.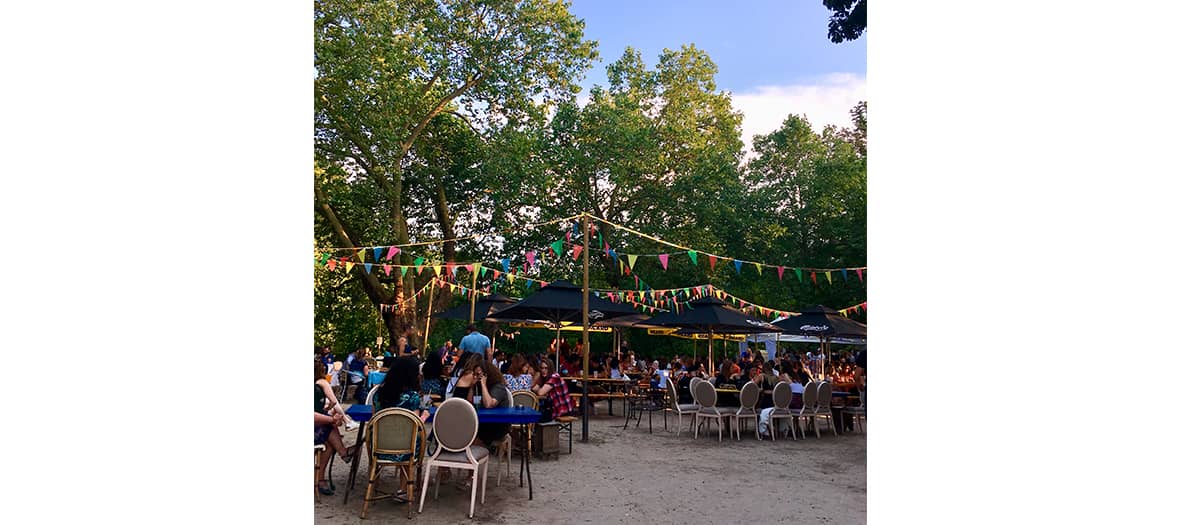 Mimi, the owner, wanted to make this new address a return to her Camargue roots. In addition to the friendly welcome (try to arrive in off-peak hours to avoid the queue), you'll be tempted by the wood-fired pizza stand (Bresaola 15 €, Reine 14 €) or the specialities of Maison Cianni Marcos: La Tielle, a pie topped with minced octopus and spicy tomato sauce (16 €) or the Pissaladière, a shortbread tart with pickled onions and anchovies (14 €). You'd think you were in Sète, but this is Paris...
By bike: a bike park awaits you in front of the entrance, after enjoying a bucolic stroll in the woods.

By line 1: get off at Château de Vincennes then catch bus 114 for two fast stations (Porte Jaune stop) or 20 min on foot.

By RER A: get off at Fontenay sous Bois then 8 minutes on foot.
Open Wednesday and Thursday evenings from 5 p.m., weekends all day until 1 a.m.
Also discover Super sounds and super food at Superflu and The news rooftops to discover this summer