© Laura Strauss
Delicious plates and a cool fiesta atmosphere with DJ sets in a stylishly retro-influenced setting? That's the concept of Superflu, born from the mind of Jean Baptiste Andrau, formerly of Stéréo (Paris 9th), which ticks all the boxes and offers, in the Lamarck area, an audiophile dining experience ready to keep us awake all night. Let's take you there!
A lively and vibrant hangout
Located on Marcadet Street, Superflu stands out with its white 70's storefront and retro-futuristic decor designed by Jean-Baptiste Andrau, the restaurant's owner and former architect. Everything here is homemade, right down to the plates specially designed by the boss's mother. In this cutting-edge sound destination, you'll find a pristine white room, colorful neon lights, and an inner courtyard that promises extended aperitifs. The team, with smiles on their faces, exudes the same good vibes as the retro-house playlist playing in the background. As soon as you arrive, you'll notice the vinyl records and turntables that will allow you to digest your dinner right on the dance floor…
© Laura Strauss
Nothing but good sound!
With its concrete reflection decor designed to propagate sound and ensure excellent acoustics, Superflu is a favorite spot among musicians. After 11 p.m., the terrace closes, tables hang on the walls, and the restaurant transforms into the perfect nightclub to get your guests moving under the colorful neon lights. To honor its retro artistic direction, DJs mix with vinyl or on turntables directly at the bar, which are already available on-site. Coming this month: Blasé, Mont Saint, Baz, Pablo Alto & Baker, Rasec Mirror & Axel AMC, Wondja... It's going to be massive, we tell you!
What do they serve?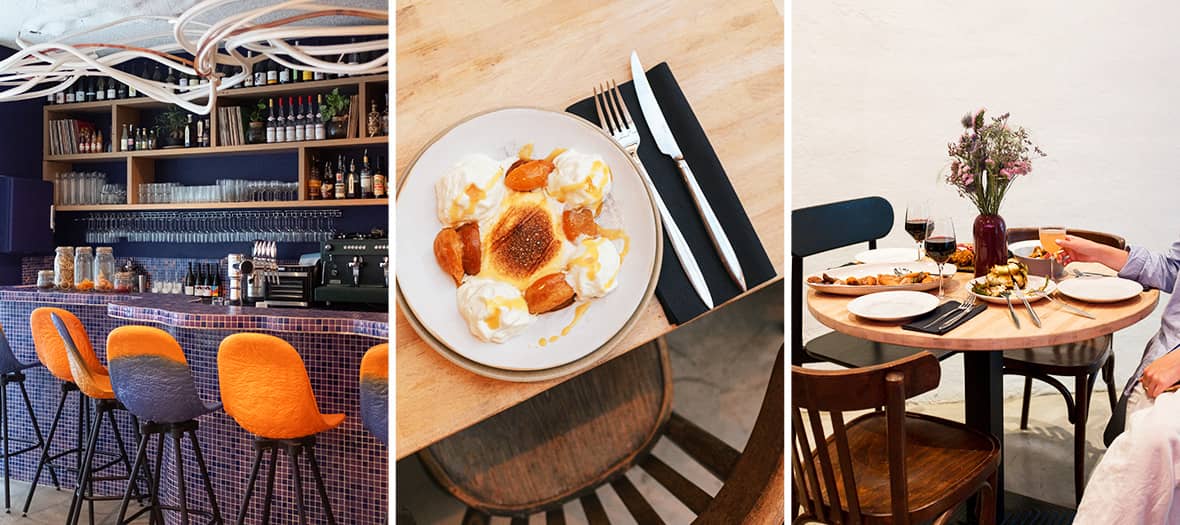 At Superflu, you'll find homemade dishes reminiscent of a cozy home-cooked meal, perfect for sharing with your date or group of friends. On the menu this summer, they offer a sourdough focaccia with fresh goat cheese, honey figs, and Parma ham (€12), gravlax of sea bream with dill cream, beetroot, raspberry, and vodka (€15), and perfectly tender potatoes cooked in duck fat with a spicy twist (€7).
To maintain their commitment to quality and freshness, the concise menu offers only two desserts, but they are absolutely exquisite. If you can't decide between the chocolate caramel tart and the roasted apricots with a duo of meringues, go ahead and have both! To accompany your meal, you can enjoy a refreshing Spritz al Melone, a variation of the Venetian cocktail made with melon liqueur, or a glass of "petnat" (short for "pétillant naturel"), which refers to natural sparkling wines that are all the rage in the best Parisian wine cellars.

Superflu is open from Tuesday to Saturday, from 6 pm to 2 am. For more information and reservations, you can visit their website.