Yallah, hop on board for a real Moroccan experience in a neo-médina spirit with pop colors. A skip and a hop from Opéra Garnier, « Fine Lalla ? », literally « where is Grandma », revisits traditional cuisine in good and sunny fast-food mode.
Very appetizing stewed dishes, ready-to-eat, to be nibbled on while at the counters in a chic and gourmet souk spirit. Very practical to have a good meal without extending your lunch break.
The only decision you have to make is choosing between caviars of eggplant, courgette, pepper, savory tajines (chicken with prunes; glazed lemon; marinated fish) and the must-have couscous (chicken with veggies: chicken with onions), with the traditional mint tea.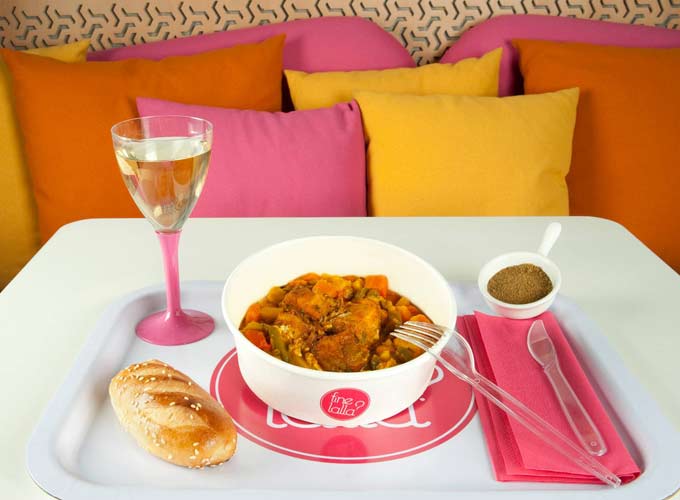 If you are really in a hurry, go for their tajines nestled in Vieneese bread. Street-food with a Moroccan touch. Chicken with prunes sandwiches; grilled chicken skewers; courgettes, eggplants; and our darling, the meat-ball sandwich… Yum!
And for dessert, farmer cheese with date topping and gazelle horns pastries with orange blossom, that should deffo « make the Kasbah rock ».
Tip top: everything is available there, as take-away or even delivered (in the 1st, 2nd, 3rd, and 4th arrondissement).
Tajine 9€, Couscous 11€, Sandwich 5€