A long wooden counter, red velvet banquettes and waiters in aprons should always be a sure sign of quality: Bistrot Belhara is an authentic cozy little bistrot right up our alley.
With its very laid back ambiance and reasonables prices, Belhara is ideal for a lovebird dinner or for a night out with friends.
Thierry Dufroux, a native from the Basque region started out with Ducasse (no less), and decided to open his nugget at the heart of the Gros Caillou.
35 € for diner allows you to pick from a complete menu, (starter + dish + dessert) amongst a wild array of enticing recipes. The menu changes depending on the season and the Chef's mood.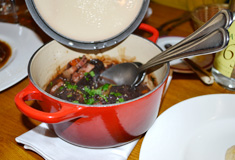 Vintage is chic, spread the word. For starters, go for the foie gras confit, sweet bread terrine with morels. Continue with a beef sirloin tip or sweetbreads, fab! Or choose to fall into the STAUB pot, with braised pork.
Don't miss the rice pudding, absolutely astonishing. Unless you are more of an apple pie person, or the famous Belle-Hélène, a desert with pear, chocolate sauce and whipped cream.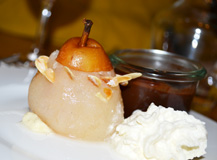 We also like: coming for a casual lunch (24 € starter + dish or starter + dessert).
Tops: the bistrot is open on November, 1st for lunch and dinner.
Open every day except on Sundays and on Mondays.