Courrèges in the spotlight ! Imagine a small deluxe snack at the heart of a deluxe boutique  next to avenue Montaigne with Alain Ducasse as chef and  anti-bling prices!
If André Courrèges initiated a real fashion revolution mode by launching the mini-skirt and pants for women, he was also one of the first to combine fashion and food in his boutique on rue François Ier.
Since its recent takeover by two advertizing moguls, Jacques Bungert and Frédéric Toloting, the cult label is back in the running.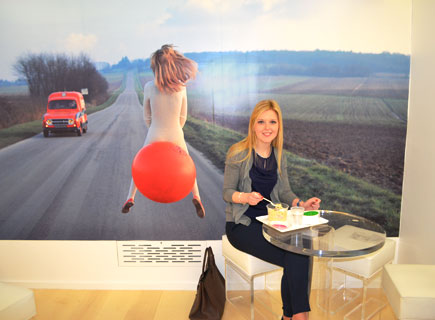 To wit, the Café Blanc that has just reopened its doors. Son look ?  A very 60's decor that combines plexi and the immaculate white, signature of the couturier !
Hard to resist the shrip pasta in a chic Asian spirit(9 €), classics such as  coquillettes noodles with ham and truffle, a York ham grilled sandwich (5 €). The lemon pie (4 €) is divine not to mention the Paris-Brest, special kudos for the chocolate tart (4 €) prepared with chocolate from the chef's factory.
To be noted, everything can be taken away.
Tops : breakfast with coffee, fresh fruit juice and viennoiseries pastries (7 €), to pack in a little energy before a day of shopping.
Formulas starting at 10 €
Open Monday to Saturday from 9 am to 6pm