We're familiar with food and wine pairings, wine and cheese pairings, and even food and cocktail pairings. But what we love are surprises. So when we heard in our earpiece that Yann Couvreur, aka the favorite pastry chef of Parisians, had taken on the challenge of a pastry and cocktail pairing with St-Germain®, our excitement went through the roof.
So, off to the Marais district at Yann Couvreur's shop on Rue des Rosiers (our favorite), where the St-Germain® Counter is set up until October 7th, a completely unique gourmet event featuring four pairings that unite pastry and the French liqueur made from wild elderflowers.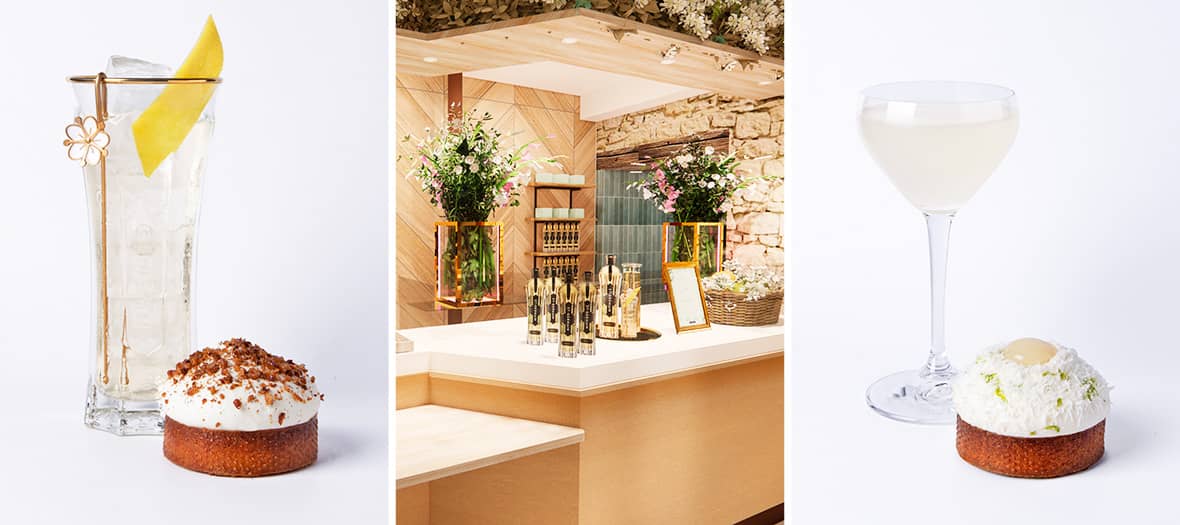 From Wednesday to Saturday, from 8:00 PM to 10:30 PM, the St-Germain® Counter becomes a highly feel-good place for gustatory experimentation, offering surprising pairings. It starts with the specially created combination for the occasion: the Miraflore cake (€8.50) and the Fleur de figuier cocktail (€10). On the plate? A St-Germain® soaked baba wrapped in a luscious blue vanilla chantilly cream and topped with a mirabelle plum compote (in other words, a delight), which you savor while sipping on the Fleur de Figuier cocktail created by St-Germain® ambassador Lucie Noppe, made with verjus, St-Germain® liqueur, Noilly Prat dry, and fig leaf-infused gin.
Another delightful discovery: the perfect harmony between the signature Isatis tart with almond cream, roasted pecans, and praline (a favorite of regulars) and the star cocktail, St-Germain® Spritz, known for its great sweetness.
Prefer something exotic? Go for the duo of coconut and lime tart and the Parisian Daiquiri for a one-way ticket to Havana. And to bid a gentle farewell to summer (but not too quickly), the Fig & Walnut tart complements a St-Germain® Autumn Spritz, in which Lucie Noppe adds pear cider and ginger ale.
It's safe to say that there was an instant connection between these two, and it's no surprise. What could be better than a 100% French liqueur with a floral and fruity recipe, without any artificial flavors, to captivate the discerning taste of Yann Couvreur, who uses only seasonal ingredients and creates desserts with perfect balance? It can be said right away: this harmonious meeting is a success.
The St-Germain® Counter, open from Thursday, September 7th to Saturday, October 7th, from Wednesday to Saturday, from 8:00 PM to 10:30 PM. Explore the world of St-Germain® liqueur at boutique.stgermainliqueur.fr.
ALCOHOL ABUSE IS HARMFUL TO YOUR HEALTH. PLEASE DRINK RESPONSIBLY.