Right off the place de l'Etoile, this new bar-restaurant is the annex of the excellent nearby Pages restaurant. Scrubbed walls, filament bulbs, mural slates, a decorating style borrowed from the Eastern part of Paris that stands out in this posh area.
Result: in the evening, you come to sip sassy cocktails, organic beers and natural wines, with a sumibiyaki, the famous barbecue revisited by Teshi, the Japanese chef. Squid from Galicia, Spanish belly of pork, Challans duck, all charcoal grilled, to be shared or not. Absolutely unique.
At lunch time, surf on small Asian pleasures such as the donburi, mackerel marinated with miso, fried chicken or the must-have wagyu burger. High flying beef that comes straight from Japan, nestled in an ultra plump bun.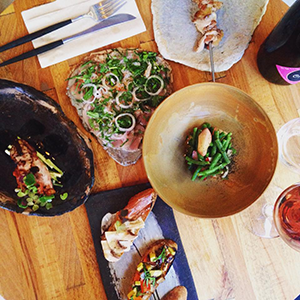 Tops, it opens bright and early for breakfast.
Plates between 3€ and 40€, wagyu burger 15€, cocktails between 8 and 10€.
Open Monday to Friday 8am to 3pm and from 5:30pm to 1am.
Also discover Baba, a new trendy cocktails bar in the Marais.