To put an end to « hold the onions please» or added cheddar that make servers surly when it comes to  changing a recipe, at b&m they are 100% personalizable.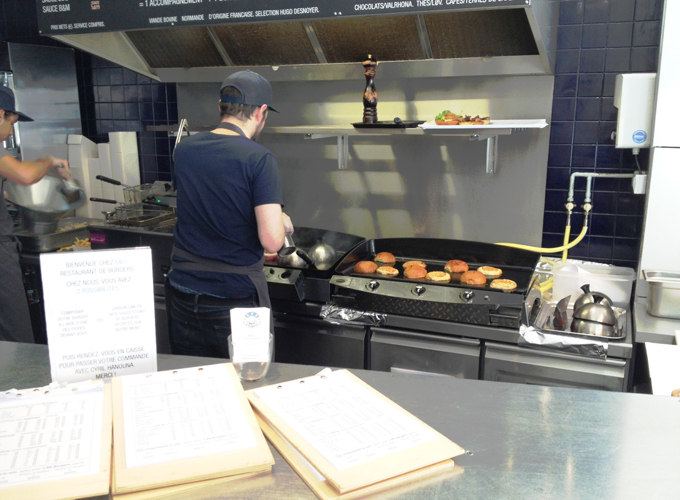 How to customize your own DIY sandwich? Nothing could be easier thanks to the order chart next to the counter that allows you to tick off you ingredients. A fast-food lottery, except that here you win each time!
Cheddar (British), bacon (crispy), lettuce (ruffled), tomato, onion, pickle, pimento (really spicy), avocado, cream cheese… Millions of combinations possible to be twisted with a series of sauces (ketchup, mustard, mayo, pepper, BBQ), solo or blended. Special kudos for the B&M house sauce (ketchup, mayo, Cayenne pimento, honey) perfectly seasoned, a killer. In short, a customized result for an haute couture burger.
As sides, there again, you have the choice between a feel-good salad or crispy fries. Bravo to the spice jars on the table, to sprinkle on the fries and replace the ketchup.
We like: a carefully elaborated base with golden brioche buns by American gal Rachel, who is also in charge of desserts (cheesecake, tart) and meats selected by star butcher Hugo Desnoyer.
Tops: the spacious designer space and the service.
Starting at 6,95 € for burger. Noon formula (burger+side+drink) starting at 11,35 €
Open Monday to Saturday from noon to 3pm and from 7pm to 11pm, Sunday from noon to 3pm.