A curiosity that has remained the prerogative of veggie girls until now , 100% vegan sushi is the new phenomenon in vogue. No offense to compulsive piscivores, sushi 2.0 now replaces fish with vegetables accompanied by colorful condiments or crunchy tempuras . This is the concept used at Bloom , a brand new vegan sushi house located in the 17th bourgeois. We tested the whole map...
The place
Directed by an inspired quartet including the founder of Sushi Shop Dominic Bujold , Bloom is revealed in a solar decor signed StudioLouisMorgan ( Naked Burger , We …). The interior, all in curves and variations of wood and recyclable wool panels, gives this place an atmosphere that combines the sophistication of Japanese culture with the arty Californian vibe that makes everything much cooler!
The avant-garde of vegan sushi
Originally from Mexico, chef Christian Ventura is embarking on a veritable vegan conquest through his original and dazzling food epic. Passionate about yoga , spirituality and Japanese gastronomy , this eclectic figure of modern cuisine dedicates his career to ethical tableware , and inspires a new way of sublimating sushi while preserving the marine ecosystem. Between demanding research, extraordinary know-how and an anthology of master sauce recipes fiercely guarded by the chef, Bloom is now asserting itself as the new table not to be missed.
An ethical and vegetal delight
To start, we dig into some Japanese-style tapas (mushroom tartare €10) before moving on to the starter: a delicious soba salad (€16) made up of soba noodles, mesclun, baby spinach, red cabbage, mango, carrot, grilled pepper, edamame, cilantro, fried ramen and peanut vinaigrette sauce.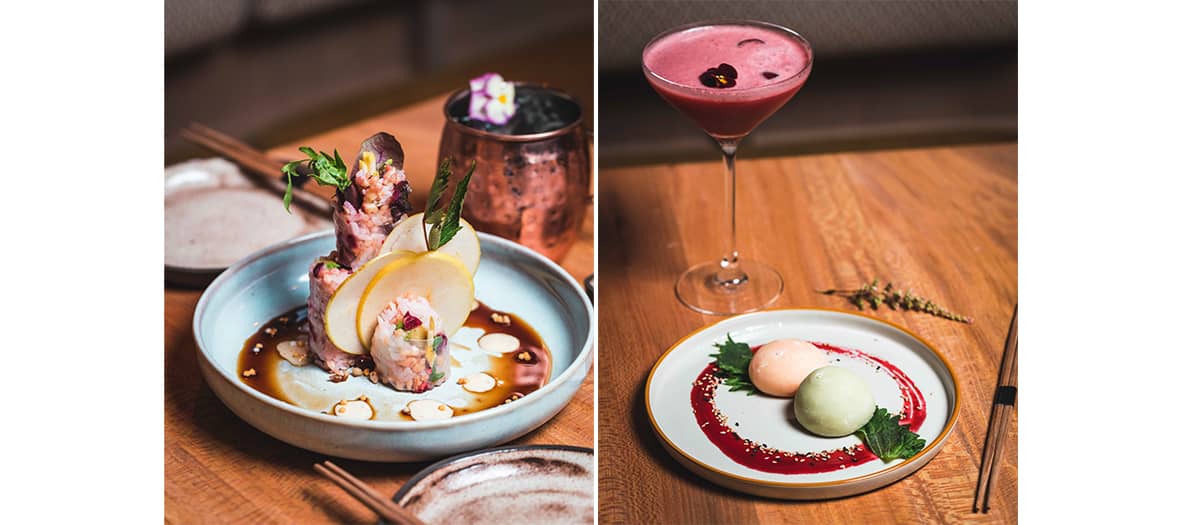 To follow, delicious Enoki spring roll maki with enoki mushrooms, daikons , apple, mango and ponzu sauce (€11 for 6 pieces) or Hosso maki with tempura oyster mushrooms and truffle tartar sauce (€7 for 6 pieces). The Californias are served by 8 (between €9 and €12): special mention for the Dragon eyes (sweet potatoes, asparagus and spring onion tempura, grilled peppers, avocado, spicy pesto sauce) and the Philadelphia ( zalmon sashimi, vegetable cheese , dried tomatoes, cucumber, avocado, capers and yuzu sauce) before trying some Futomaki (between €9 and €12 for 5 pieces) with an eloquent name ( Popeye with spinach, oyster mushrooms, fried onions and pesto sauce, Paradise with soy leaves, shiitake, spring onion, red peppers, avocado and sun-dried tomatoes).
For dessert, just try the unmissable iced mochi with matcha green tea, chocolate or passion fruit (€4 each), or finish off in style with a delicious hazelnut cake (€8).
Bloom , 99 rue Jouffroy d'Abbans, Paris 17th, open Tuesday to Saturday from noon to 2:30 p.m. and from 7 p.m. to 11 p.m.

Also discover These 8 restaurants that we love have opened their grocery stores and Where to have lunch for less than 10 euros?