Installed in the emplacement of Caffé dei Cioppi, this small new age caffè is the new feel-good spot to come enjoy a breakfast as though you were on a Roman holiday.
At the helm? The delicious Sardinian Stefania Melis, who already worked here, has taken over the place.
Result? A new trendy and authentic decor (checkerboard floors, scintillating counter) and eats that have a real Italian feel. Here one meets all the Italian gangs of Paris and the mundane foodie set, starting with Simone Tondo, chef of Roseval and boyfriend of Stefania...
On the program of breakfast festivities: fab croissants stuffed with custard, jam or chocolate. Add a few sips of an unctuous capuccino (3,50€) and you will be transported to her native island.
At noontime, move on to the tomato paccheri (18€), or red mullet with fennel, orange and pistachio (20€).
We adore: the tuna bresaola to share (14€).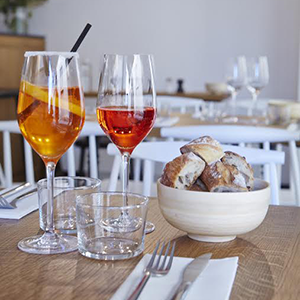 Open Tuesday to Saturday from 9am to 9pm.