It's the coolest venue of the moment. And the Alsace region is treating!
To celebrate summer and sustain the post-lockdown wine trade, Alsace wines have imagined a game contest with, at the key, lots of gifts to win. Everything we love.
Take a screen shot of your summer cocktails
To participate in this game, whip out your smartphones! The goal is taking a stylish photo of your next happy hour in summer time mode. One single condition: the snapshot must represent a glass or an Alsace wine bottle. Easy...
Now is the moment to immortalize your favourite scene: an improvised spritz with a Crémant d'Alsace on the terrace. An evening with the gals knocking back glasses of Riesling in a trendy wine bar. A drink in front of the sunset with your new flame. A nice little muscat to sip while nibbling on finger sandwiches during a chic picnic or a bottle of Gewurz' for a perfect mix and match with oysters facing the sea face. Just invent your own story.
How to participate?
The principle is very simple. To participate in the game contest, just download your photo on the site alsaceregale.com.
At stake: incredible presents to win each week on the theme of œnotourism. Check it out: an electric bike, a wine-trip around Alsace, a wine cellar and other very amusing lifestyle moments to live this summer.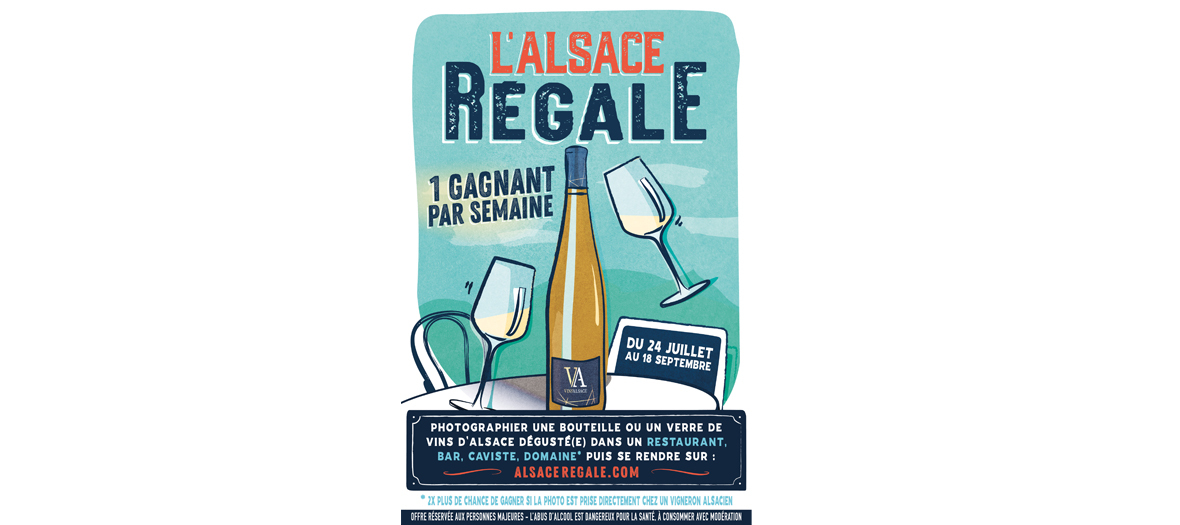 Do you feel like doubling your chances to win? Take your photo in the cellar of an Alsatian wine producer… Cheers!L'Alsace régale, from the 24th of July to the 18th of September
*Offer reserved for adult persons. Excessive drinking may damage your health, drink with moderation.