L'As du fallafel is an institution. More than that, it is a historical Parisian monument.
And actually, you even have to queue up sometimes for at least 30 minutes to bite into « the best fallafel sandwich in the world" according to the owner and his regular clients … Because basically, this delicious kosher specialty is the equivalent of our baguette ham-butter sandwich.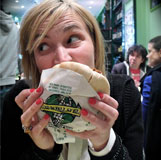 Many people even say that in Tel Aviv or Jerusalem, they don't make a better one. Even Lenny Kravitz, when he comes in Paris, considers it his favorite snack.
This street food quite unlike any other really has a magical taste. First, there is the « mythical  » and authentic character. There are also the fallafels, these little balls  of fresh chick peas, made all day long. But it's maybe its divine white sauce or the perfect quantity of veggies crudités…A killer.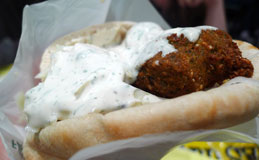 To stay or to go. The must ? Enjoying eating it in a secret garden.
Open every day from noon to midnight. Closes Friday night and all day Saturday.
Also discover the best rolled pizza in Paris.
© Karl Hab, © L'as du fallafel