Upgrading the essentials of kids, that was the claim of Vanessa Naudin and her companion Florian Denicourt who created Jojo Factory , a new label of highly stylish satchels, suitcases and accessories with a boutique at 24 rue Charlot, in the Marais .

Obsessive of color, Vanessa, mother of Oscar 7 years and Thelma 3 years, creates her collections with the same method that she decorated her apartment in the 9th or her country house in the Perche … The opportunity of us unveil its decorative and colorful inspirations which are the signature of Jojo's successful universe.
How did you get the idea to create Jojo with your boyfriend?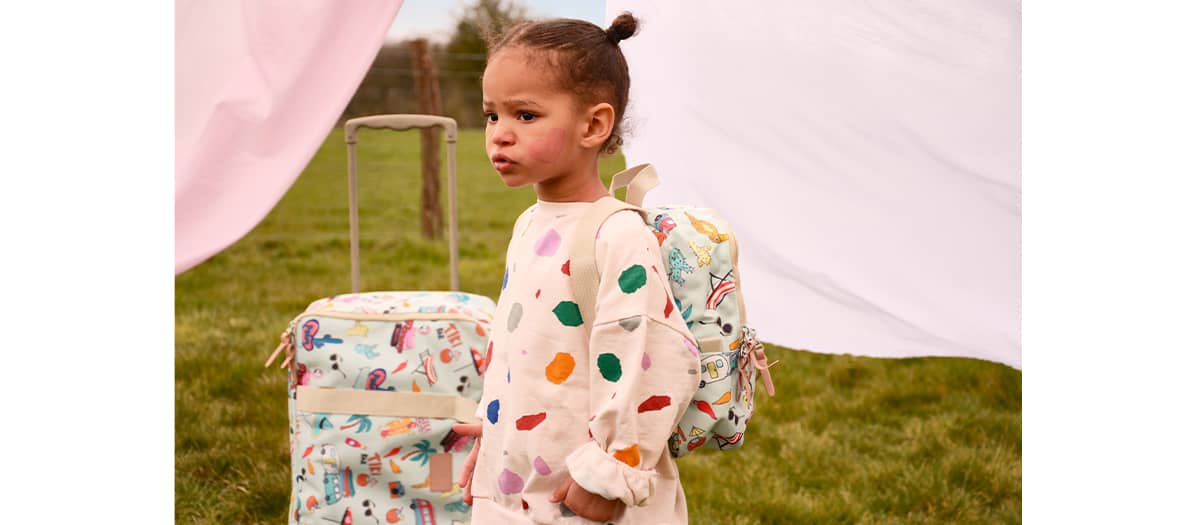 The idea came from the lack of proposals in store when my son Oscar was born. My boyfriend, Florian Denicourt , is a designer and also a bag obsessed. On the one hand, we realized that the manufacturers of satchels always make the same dinosaur and unicorn print. It's depressing ! On the other hand, the cool clothing brands with which we liked to dress children do not offer accessories or almost ...
A label was therefore devised with kits, wheeled suitcases, briefcases, bags, storage in short, all the children's material. As a family, I like that everyone has their own gear. With Marie Courroy , we imagined a collection in collaboration with the anniversary prints of her clothing brand. Modetrotter : holiday suitcase , toiletry bag , small bum bag, backpack and mother-child caps. I love it !
How do you manage your days?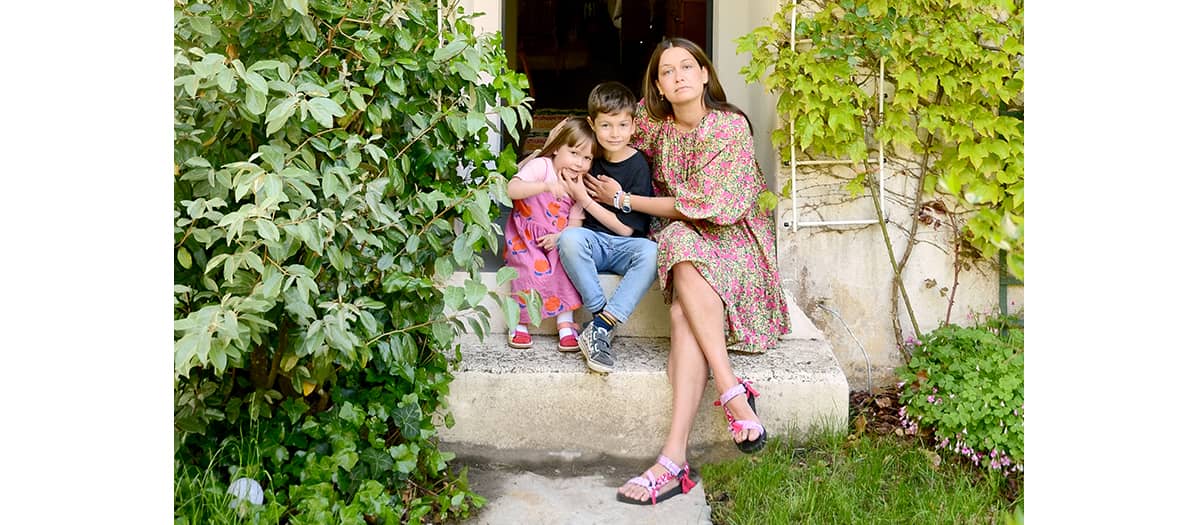 In normal life, I work in the boutique-office with my boyfriend rue Charlot , in the Marais . I take off at 4 p.m. to pick up the children from school and we go home, to our apartment in the 9th arrondissement. I manage the homework, the bath, the wine, the dinner. After the bath, we sometimes rebound but I try to distinguish it well, enough to take a break between personal life and business.
I hate parks. And next to my house, it was either a horrible little square or the Tuileries. After 3 years I didn't want to anymore! I came to the conclusion that a country house would not be refused. Suddenly, the weekend we rush into our new house in the Perche that we bought just before confinement. I know, it's not very original, but the children ride horses, paint on the walls, I invite friends over for the weekend and it's ideal for family lunches.
How did you find the house of your dreams?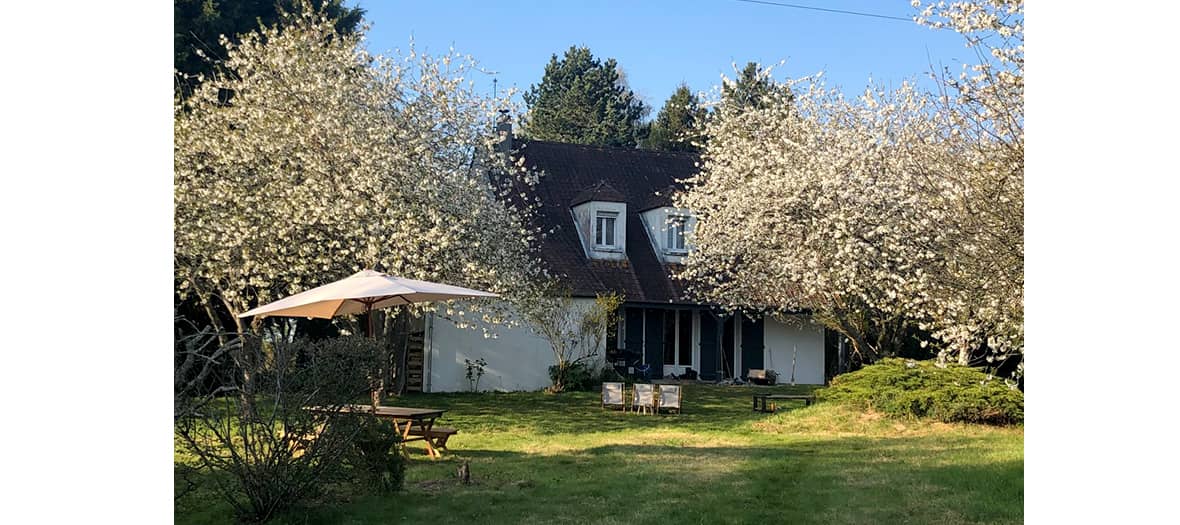 We bought it on a whim. It is one of the first that we visited. I immediately saw myself thanks to the large garden and the good condition of the house. Honestly, I didn't feel like I was leaving for years of waiting and hard work.
To decorate it, we did as for our collections. We spotted pieces that we liked and then built the rest of the moodboard around with my favorite colors: blue and pink from Farrow & Ball . Never change a winning team !
How did you furnish the house?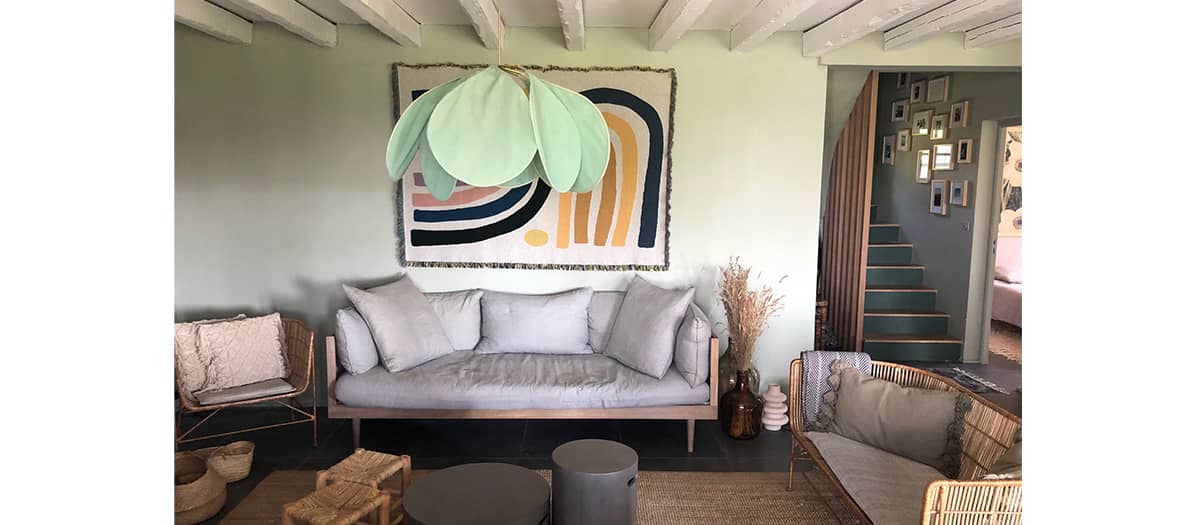 Usually, as soon as it opens, we go to the flea market in Bellême in Le Perche to find THE nugget before everyone else. But when we disembarked during confinement, we had to do with the means at hand. I would like to hunt for wonders on Leboncoin like everyone else ... Me, I can not! On the other hand, I found (a blind) sublime glasses on Selency , I love the site's proposition.
We have rather furnished new with House Doctors for high chairs and the rattan sofa , small tables and linen sheets rose at AMPM , suspensions of at Georges Store and Mrs. Stoltz of SlowDown posters and a large fresco of plants of Ellie Kashman design .
How did you choose the colors for your apartment in the 9th?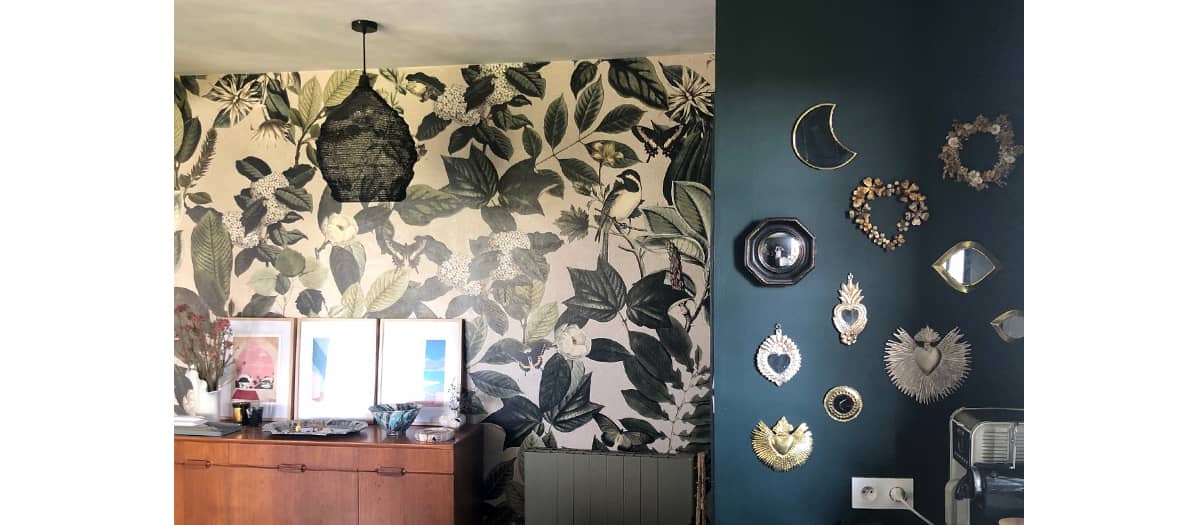 I have an obsession with blue. I first painted a first wall in celadon blue from Farrow & Ball before repainting them all. That was the starting point for choosing and then declining all the other tones of the rooms in the apartment.
Oval blue in my living room, a pink setting plaster in my kitchen, which I put back in the country house , blue gray for my entrance and a Teresa's green for the kids' room.
What bias with the furniture?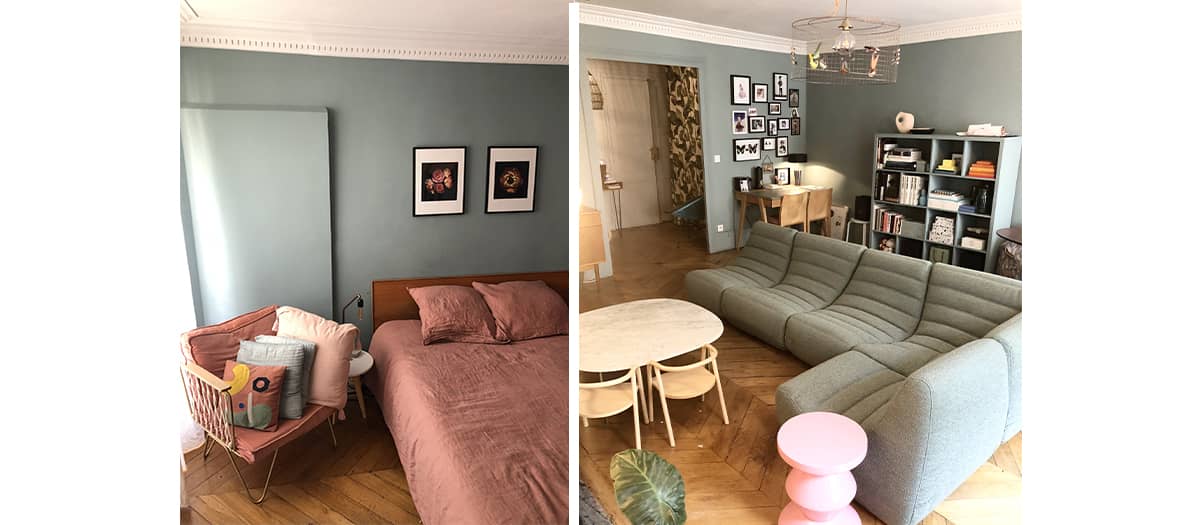 When we moved, we kept a lot of things that we had found over the years like my 1950s sideboard , my retro wooden armchairs, which I find on decoration sites like Bobidavintage.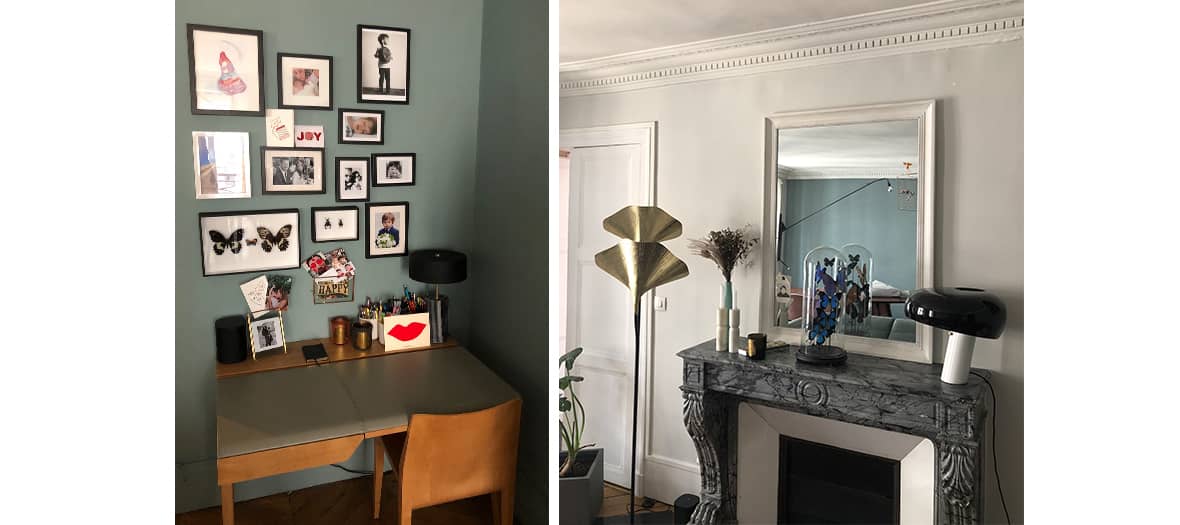 Then: we invested in some very beautiful pieces to give the apartment a bit of character, such as a Saparella sofa at Cinna , an Honoré armchair , a pink Pols Potten stool , an aviary pendant lamp by Mathieu Challières , a lamp Snoopy Flos , a light Kare Design , a composition of butterflies , a Habitat wood and leather desk ...
Your last decoration obsession?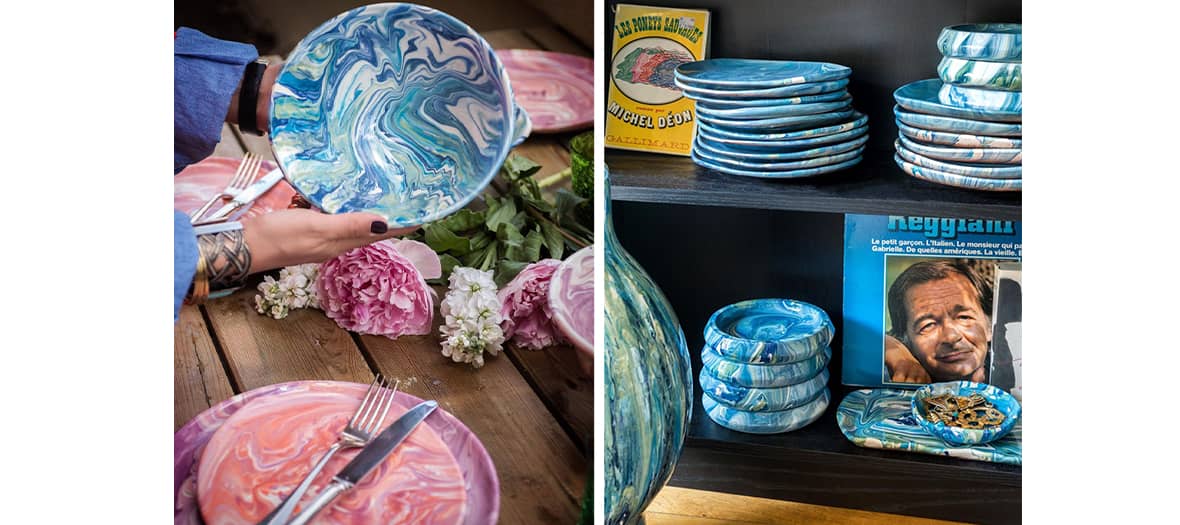 I am completely obsessed with the dishes, the plates, the glasses, the vases… My guy does not follow too much. My latest crush: Ines Olympe Mercadal who has just launched her ceramic brand.
How does the children's room look?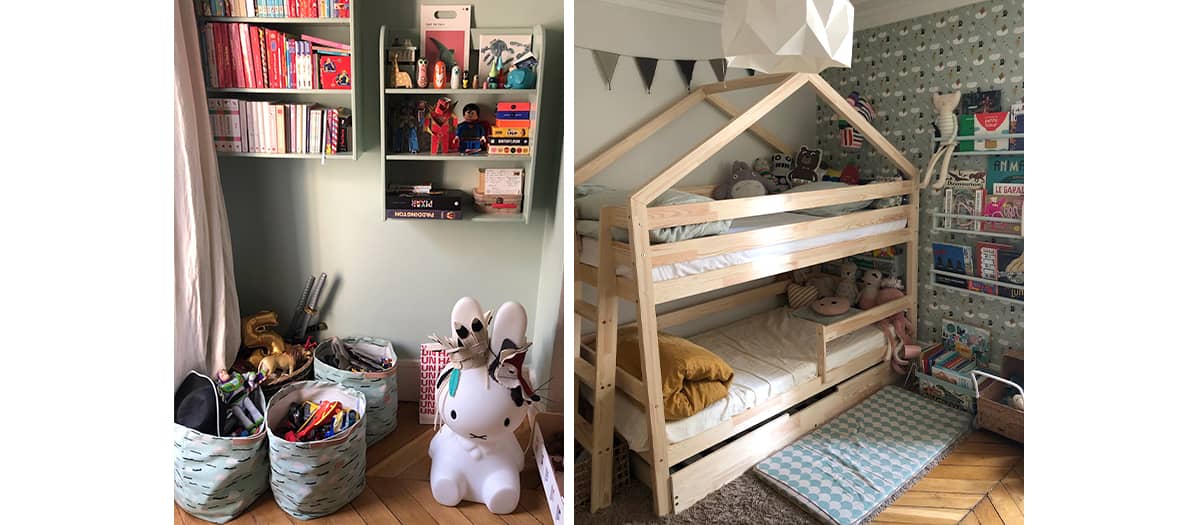 Since they share the same room, I went for a mixed color with a Ferm Living wallpaper , a cabin-style bunk bed and Flexa shelves .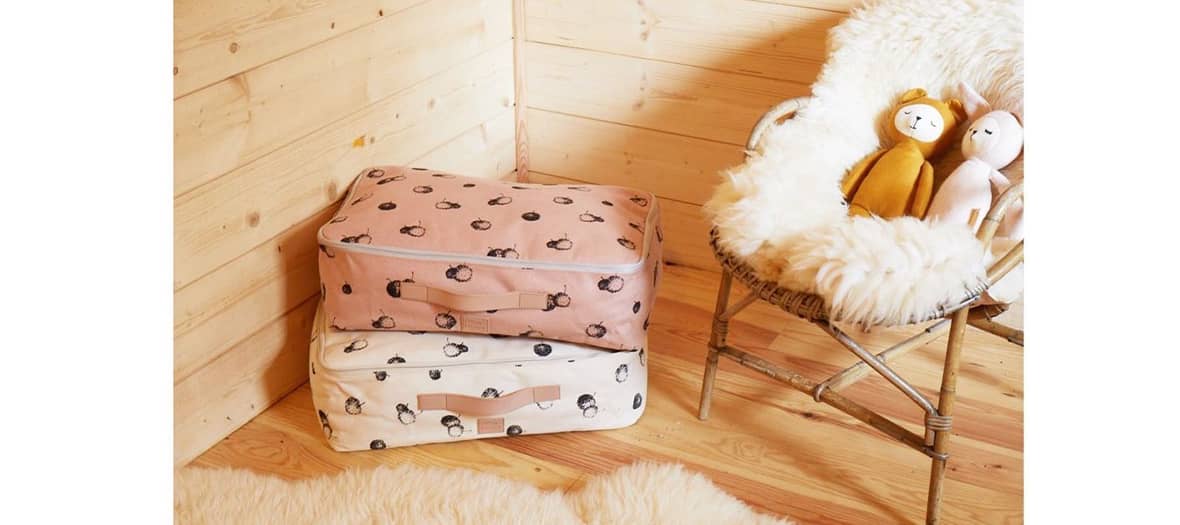 As I am completely obsessed, I created Jojo toy bags with a robot bag , soft storage cases that zipped to put the sheets. In addition to being stylish, it goes in wardrobes and under beds.
Is it mission impossible to combine your good taste with the ugly desires of children?
I found the solution ! Take the posters: they can display whatever they want in their garden hut in the countryside where Thelma draws. From the outside it is very pretty, but inside it is the cave of bad taste!
Afterwards, I'm OK for all the disguises which, in essence, are in bad taste with synthetic, sequins, yucky colors… My son is drooling in front of a Spiderman backpack and my daughter on the Frozen backpack … C ' is no, but I can let go on a small accessory like a pencil case.
Jojo Factory, 24 rue Charlot, Paris 3e
Also discover Debongout: the decorative boudoir for vintage addicts and the favorite sites of decorators .