After just the first bite, Camille was totally addicted to cinnamon brioches, typical of Scandinavia and to the cinnamon-roll, their US offshoot. An obsession that encouraged this young mother to open her own bakery exclusively dedicated to these diabolic rolls. Breads with a briochée snail-shaped dough, that she reinterprets in her own way.
In addition to the classic version (pecan nut, maple syrup, cinnamon), the rolls come in four sweet flavors (apple, apricot, banana chocolate, cinnamon) as well as salty (ham, onion, preserved tomatoes, olives, pesto goat, roquefort). And to complete the menu, you can add a soup, farmer cheese and veggies or a very yummy house muesli with organic teas (special kudos to the cherry plum) and natural fruit juices.
We like: soft pastries prepared in-house by the wonderful foodista, presented under glass bells on the counter of this small tea salon, a tad kitsch with its serendipity style.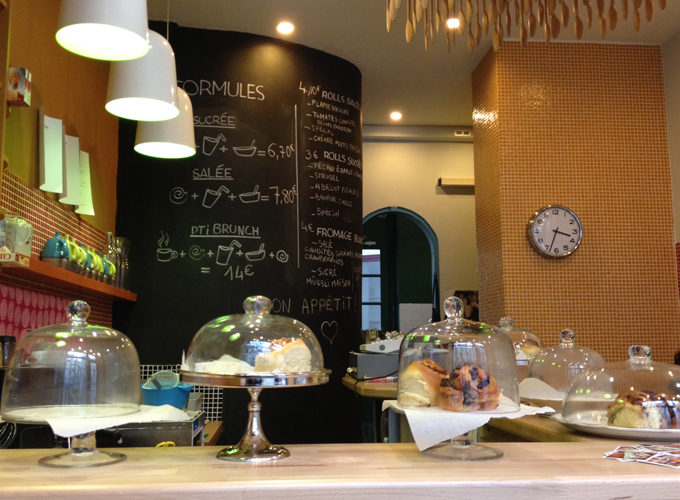 The must: bite into them when they are still warm, glazed with Philadelphia…A killer.
Tops: the brunch  formula offered every day with two rolls (sweet and salty), a warm drink, a cold drink and farmer cheese (14 €). Let's roll !
Tuesday to Friday from 8h45am to 7pm, Saturday and Sunday from 10am to 7pm.
Sweet formula (a sugary roll +drink+farmer cheese muesli) 6,70 €, salty formula (a salty roll,+drink+farmer cheese veggies) 7,80 €.