Lost in the middle of the avenue de Ségur, this nouvelle address is creating the buzz in the posh 7th. Normal, it's really delicious...
On deck: Paul-Arthur Berlan, brilliant candidate of Top Chef, has imagined a southern enclave where he concocts a cuisine with a holiday feel inspired by his origins (Carcassone).
Concretely, the result is a season-driven menu featuring top-notch products with generous, ultra-refined and unpretentious dishes. Everything we like!
To be tested absolutely: the crab meat canellonni, curry mayonnaise, spicy guacamole(12€), breaded egg with cèpes mushrooms (12€, fab !), wonderful sweet breads(29€), a lemon meringue pie (9€) to die for or the Paris-Carcassone (9€) that challenges the traditional dessert from Brest.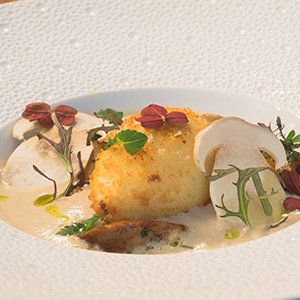 We adore: the super cozy updated decor, that does not fall in the trendy clichés: Eames chairs, bare bulbs, orange velvet...
Opening hours (mon-fri) from 11:30am to 3:30pm and from et 7pm to midnight.
Also discover Bistrot Rougemont, the new star bistro on the Grands Boulevards.