It's the story of a winning trio, who wanted to renew with the bistro tradition of the Grands Boulevards, with a resolutely modern twists. Old-hat you say? Except if the decor and the plate are really quite different from all the older brothers in the area, reviewed a hundred times by food critics.
Hugues Barretieri has just opened a hot new address, with the help of an inspired decorator and a top chef. A very chic Art Deco spirit, gourmet plates with "savours of yesteryear", ultra sourced products and a joyful ambiance—a really cool spot to come with a gang of friends.
A furiously Parisian decor
A successful combo of brass-velvet, tropicool tapestries, a neo Art Deco ambiance signed Virginie Friedmann that will make the nearby eateries green with jealousy. And actually, green is the dominating colour here, one the one side a reminder of the Wallace fountains, on the other, the chairs scattered around the Luxembourg gardens, with a floor in double  marble as chic as it is decadent. A pleasing and soothing UFO.
A very gourmet cuisine of yesteryear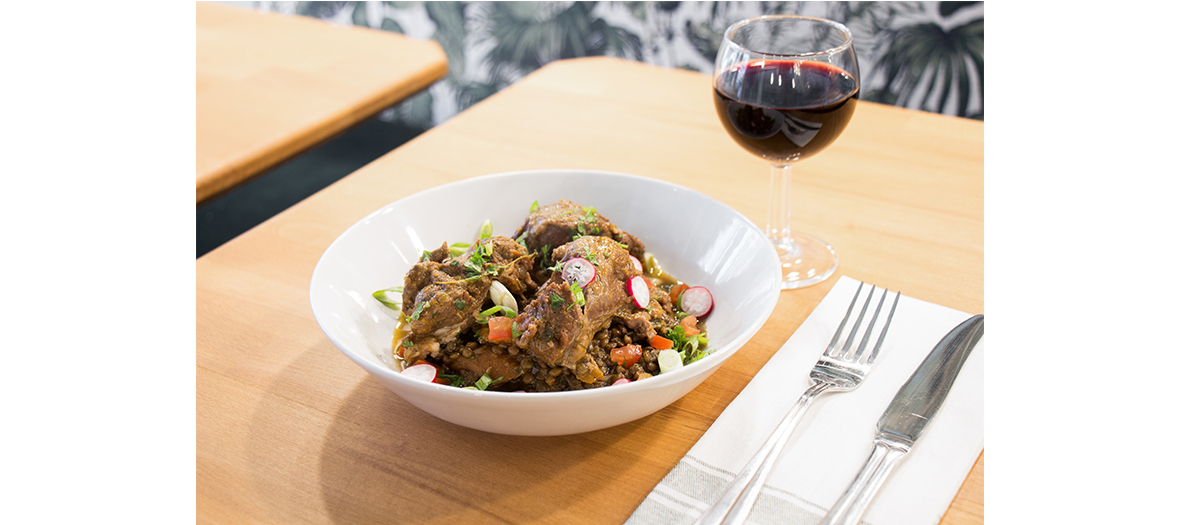 At the helm, chef Anthony Poussel trained in the kitchens of the Elysée, the Plaza Athénée, then worked next to Guy Savoy and Cyril Lignac. In other words his cuisine is heavy duty delicious: leeks with a truffle tarama and radish (€9), salmon in "herring with oil and potatoes" style (9€), a 12h melt-in-the mouth "pulled pork" with mashed sweet potatoes (€19), a tuna steak and ratatouille (€24), well-cooked beef shank (€19), and a homemade tarte tatin (€8 ). All to be washed down with terrifica natural wines
Just one important tip: be sure to arrive with a hearty appetite! Here, the serving portions are particularly generous.
Closed Saturday at lunch and on Sunday.
Also discover the new HQ of refined carnivores and the revival of L'Office.
© Hervé Goluza