Hey do you know the «Big Pletzel Sandwich»? For 7,90 euros, THIS killer from the Marais can be found at Florence Kahn : twelve well-stacked layers of pastrami/pikelfleish/pickle/caviar of pepper, then stuffed into a wonderful home-make poppy bread. To be eaten outside and with your fingers !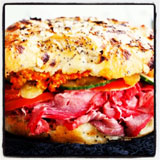 In the delicatessen space of this adorable little Yiddish shop, you will find the best pickles in Paris (19 euros per kilo), an amazing pastrami (45 euros per kilo), a horse radish with zip (3,70 euros for 100g), enchanted strudels and lots of variations of the Polish cheesecake (blueberries, raspberries, dry raisins and pistacchio… 3,70-4,50 euros a share).
We love : the little «Apfelstrudel» cart in front of the boutique, that makes the entire street smell of warm cake and caramel when cut up… (3 euros a slice)
We also like : the David butcher shop, at 6 rue des Ecouffes, where Pierre Hermé himself comes to pick up his meat !
Picture credit : Facebook Florence Kahn