Few dishes give you the feeling of getting to know the chef from the very first bite! His name is Benjamin Schmitt, and at Hectar, his bistro in South Pigalle, he serves plates full of character, where surprising condiments and seasonings are discovered with every bite. All of this in a carefully crafted setting of wood and velvet, with the unexpected guest of the former pizza oven from Polpette. The verdict? Flavors that never get dull and a relaxed atmosphere, just the way we like it.
Hectar: A Call to Earth
On his resume, Benjamin Schmitt boasts an impressive experience as a sous-chef at L'Oiseau Blanc, the Peninsula's two-Michelin-starred restaurant, as well as at Taillevent. With a mischievous touch, Benjamin Schmitt presents us with a cassoulet as the dish of the day. In the midst of spring? "I know, but I love it!" That's the introduction to this chef with a strong and genuinely friendly character, whose plates reflect his mischievousness, revealing secret condiments under vegetables and hidden juices under those same condiments.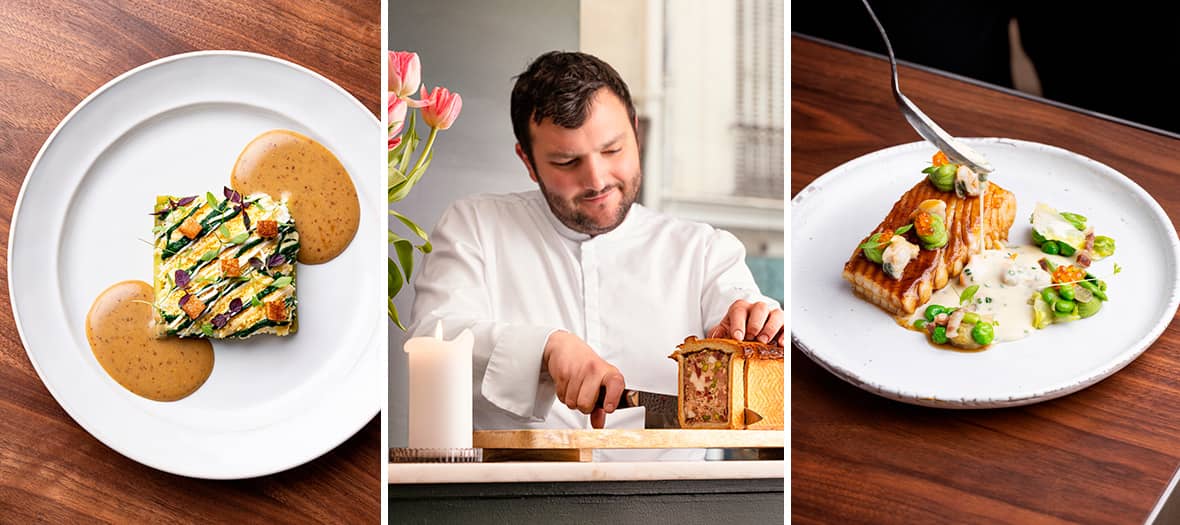 For starters, the duck pâté en croûte with foie gras and pork, bitter shoots, pickles, and grape must mustard is a small bombshell (€17), just like the sustainable peach crudo with nigel yogurt, poivrade artichoke, smoked soy, and trout eggs (€16). Next, there's the incredibly tender and crispy-skinned poultry with guanciale, flame-grilled asparagus, and fino jus (€45), followed by a delightful surprise for dessert: strawberry and rhubarb pavlova with herb sorbet and crispy meringue, which wakes up your taste buds with its acidic touches (€11). Our advice? Opt for the weekday lunch menu (€26) or the 4-course menu (€69).
To Drink
The chef's other passion, and indeed his Italian wife's profession, is wine. As a result, the basement houses a treasure trove of references in biodynamic, natural, and other types of wines. A must-try by the glass is La Java, an effervescent Chardonnay (€8). For the non-alcoholic enthusiasts, the astonishing fig leaf kombucha is a refreshing delight (€6).

Open from Tuesday to Saturday for lunch and dinner.
Also discover The new bistronomic address in Saint-Germain-des-Prés and The lively bistrot to book immediately