It's the most enjoyable and comforting drink of winter! Our best Parisian addresses to indulge in the cream of hot chocolate and gulp down a bit of happiness.
The most popular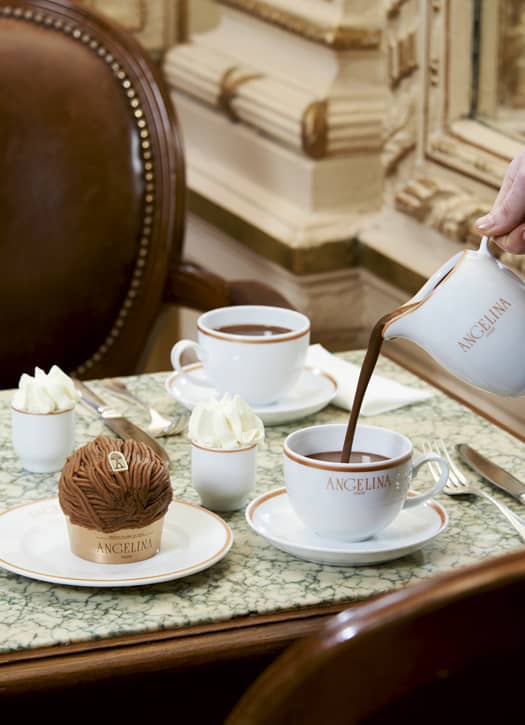 The mythical old- fashioned hot chocolate from Angelina retains its top spot on the podium with a secret recipe that has remained unchanged for 100 years. It owes its uniqueness to the blend of three cocoas of African origin from Niger , Ghana and the Ivory Coast , dosed with extreme care to balance the bitterness and the fruity notes. On the palate, a devastating little vanilla taste and a crazy velvety texture (€8.20).
Angelina, 226 rue de Rivoli, Paris 1er, open Monday to Thursday from 8 a.m. to 7 p.m., Friday from 8 a.m. to 7.30 p.m., Saturday and Sunday from 8.30 a.m. to 7.30 p.m.
the most intense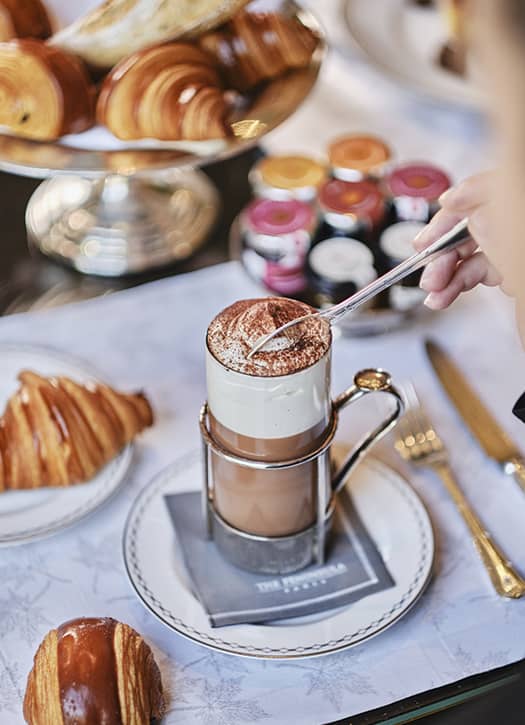 At the Peninsula Hotel , pastry chef Anne Coruble has taken charge of the hot chocolate recipe. His secret? Timut pepper which she infuses for 20 minutes in cream and milk before adding dark chocolate and milk chocolate. And for the wow effect: the Viennese version with the dome of whipped cream on top (€15 and €18).
The Kléber bar at the Peninsula Paris , 19 avenue Kléber, Paris 16th, open Sunday to Sunday to Wednesday from 12 p.m. to 12:30 a.m. and Thursday to Saturday from 12 p.m. to 1:30 a.m.
The sweetest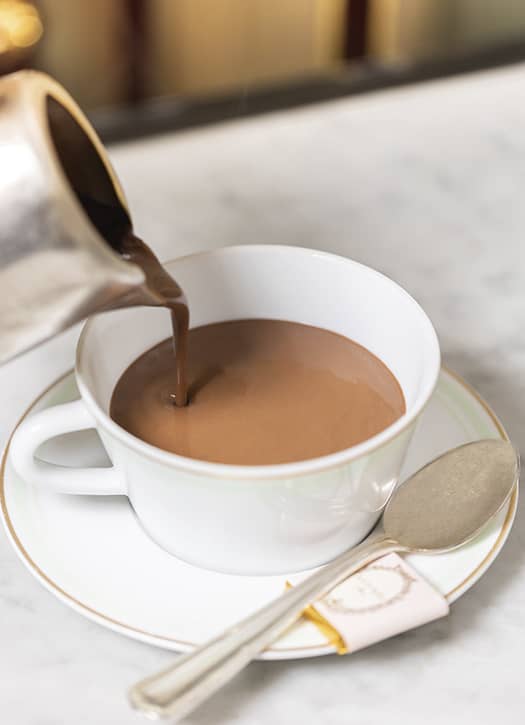 As irresistible as its macaroons that have made it famous, Ladurée 's hot chocolate offers a great moment of tenderness and celebrates gluttony with delicacy. Made with intensely flavored Valrhona chocolate , it perfectly balances powerful aromas, density and sugar. A chic ritual par excellence served in the magical Second Empire room of this utterly Parisian address (€7).
Ladurée , 75 avenue des Champs-Elysées, Paris 8th, open Monday to Sunday from 8am to 9.30pm.
the most regal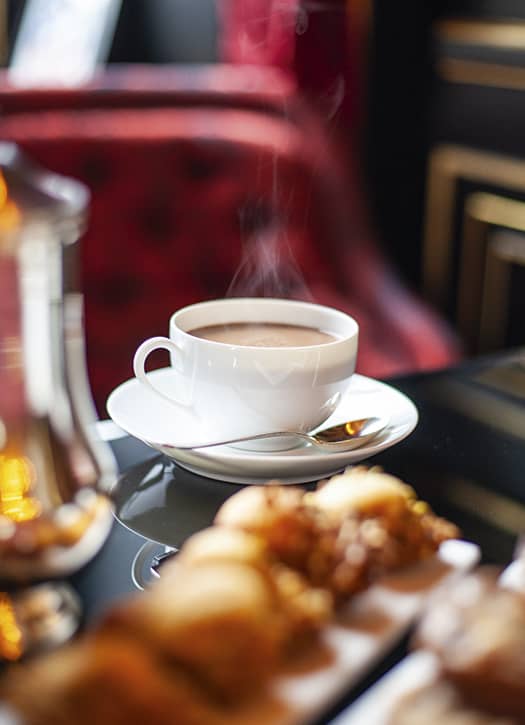 In the cozy atmosphere of the Le Gaspard bar at the La Réserve hotel , the hot chocolate moment can be savored with elegance by the fireside . Castle atmosphere with a drink concocted by the pastry team, which adds cocoa paste to its recipe to intensify its taste and make it even smoother (€20).
Le Gaspard at Hôtel La Réserve Paris , 42 avenue Gabriel, Paris 8 th , open Monday to Friday from 12:30 p.m. to 1:30 p.m. and from 7:30 p.m. to 9:30 p.m.
The most urban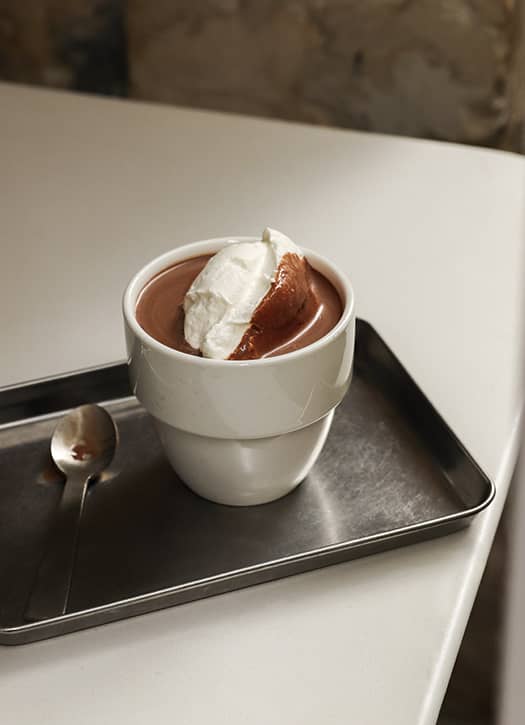 Nestled in the most foodie street in Paris, the Plaq factory perfumes and intoxicates hearts throughout the day. Here, hot chocolate can be grabbed on the fly or savored on the small bench planted in front of the shop. Its irresistible fragrance and intense taste are due to the purity of its chocolate, Maya Mountain 76% dark being one of the brand's best sellers. With a pinch of organic blond cane sugar and, as an option, a small cloud of whipped cream to add a kick to the kif. The plus: a light version with water (small €4, medium €8).
PLAQ, Manufacture de chocolat , 4 rue du Nil, Paris 2 nd , open Monday from 11.30 a.m. to 7.30 p.m., Tuesday to Friday from 11 a.m. to 7.30 p.m., Saturday from 10 a.m. to 7.30 p.m. and Sunday from 10 a.m. to 6.30 p.m.
The most palace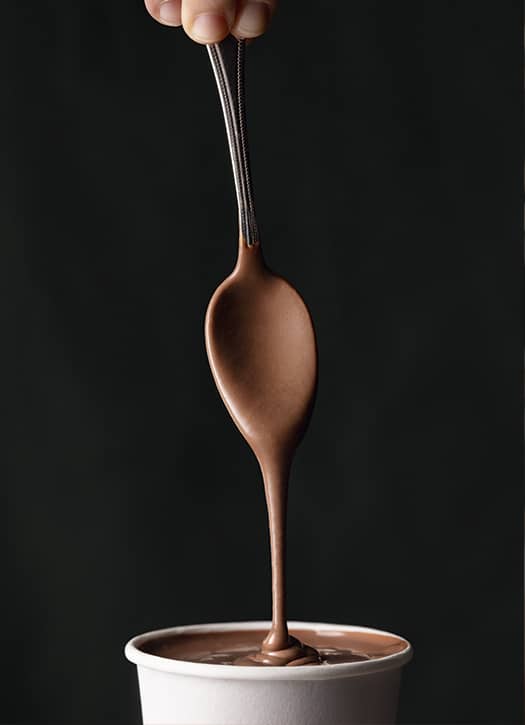 Beneath the gilding of the Jardin d'Hiver nestled between the walls of the ultra-chic Hôtel de Crillon , the hot chocolate is pricked up with great indulgence. Matthieu Carlin , the pastry chef of the house, has put all his love into creating a devilishly naughty drink mixing whole milk, cream, 66 and 70% dark chocolate and 40% milk chocolate. A delight (€15).
Jardin d'Hiver at theHôtel de Crillon, A Rosewood Hotel , 10 place de la Concorde, Paris 8 th , open daily from 7 a.m. to 11 p.m.
The smartest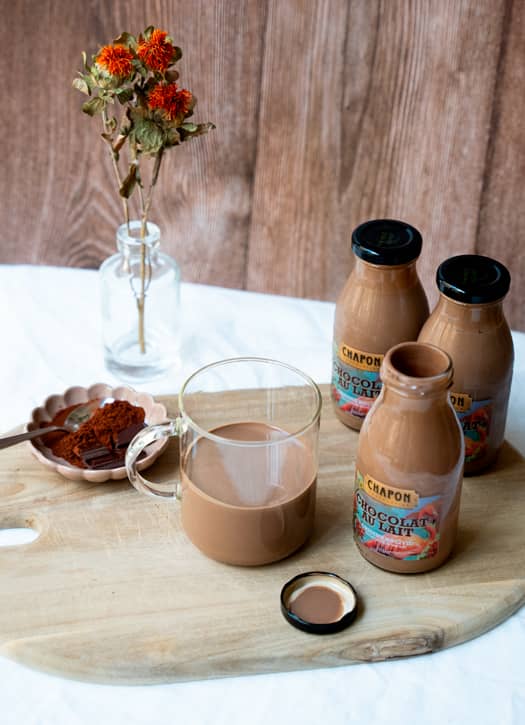 This is the best plan we have found to reproduce at home the kif of a master's tea party: the Chocolaterie Chapon offers ultra-gourmet hot chocolates with milk from the Alps and chocolate from Bolivia, in the form of small bottles. to reheat (1L €15.90, 250ml €5.90). Clever!
Chapon 69 rue du Bac, Paris 7th / 52, avenue Mozart, Paris 16th / 34 rue de Saint Sulpice, Paris 6th, open every day, hours vary according to addresses.
The most vegan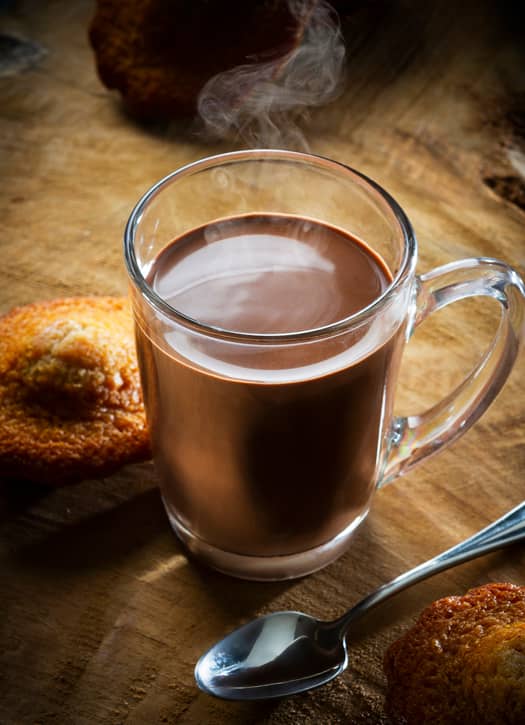 The extraordinary artisan Michel Cluizel is changing the game with a creamy oat milk beverage and organic Mokaya with notes of grilled cocoa and dried fruit, served in pretty take-away cups in front of all his factories in the Marais, in Madeleine , Neuilly or in the tea room of the 16th. Starbucks better watch out.
Petite Manufacture Cluizel , 43 rue des Belles Feuilles, Paris 16th / 201 rue Saint-Honoré, Paris - 1st, open Monday to Saturday from 10 a.m. to 7 p.m.
The most spicy
In the " Wellness Latte" category , I ask for the one from Abattoir Végétal , the coolest veggie bistro in Paris that plays the elixir based on cocoa, almond milk, maple syrup, chilli. Spicy but too good.
Abattoir Végétal , 9 rue Guisarde, Paris 6th, open Tuesdays and Wednesdays from 7 p.m. to 11 p.m., Thursday to Saturday from 12 p.m. to 3 p.m. then from 7 p.m. to 11 p.m., Sunday from 11 a.m. to 4 p.m.
The lightest
Powerful anti-depressant in the heart of winter, the Infiniment Chocolat served in all the Pierre Hermé cafés is one hell of a Proust madeleine, where the Paineras, a grand cru from Brazil, is whipped up in hot water. The result is as frothy and comfort food as your childhood, fewer calories. Yallah!
Le Café Pierre Hermé , 126 boulevard Saint-Germain, Paris - 6th / 86 avenue des Champs-Élysées, Paris - 8th, open daily from 10 a.m. to 7 p.m.

Also discover the best French toast in Paris and the best cakes in Paris