It only has 5 bedrooms (suites, by the way) and has slyly welcomed Brad Pitt and Angelina Jolie , Cameron Diaz and even Johnny Depp who completely privatized it for a week all to himself (probably the best idea ever). he has had in recent years).
Nestled in a hidden alley of the mythical avenue Junot and former residence of the Hermès family , the Hôtel Particulier Montmartre is the address that we would not want to publicize too much as its charm lies in its secret aspect. No need to stay there to enjoy its divine garden: Sunday lunches prove to be the ideal option to treat yourself to a slice of the dream.
Bucolic lunch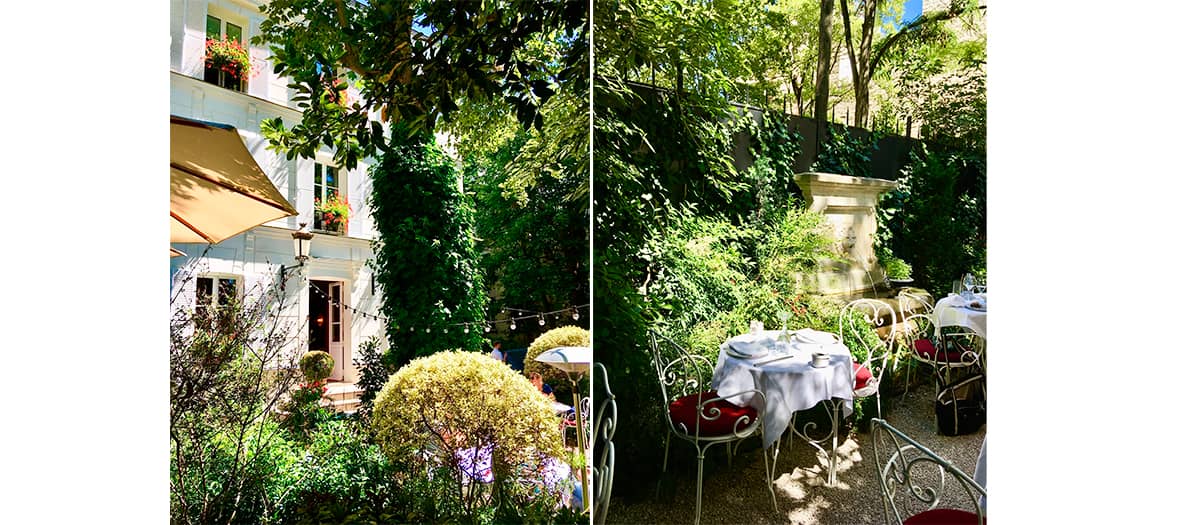 It's like being propelled straight into an aristocratic garden party or a painting by Monet ... Every Sunday from 12:30 p.m., a specially prepared menu awaits the guests on the white tables in the garden, between the trees, the flowers and the the fountain, in the shade of the parasols.
Be careful, the portions are more than generous! Choose from the menu: Breton clams au gratin with garlic (€21), pressed old-fashioned tomatoes, fresh goat cheese curd and homemade pesto (€17) and a pleasant boiled free-range hen egg, summer truffle, smoked salmon (€18).
For main courses, it's hard to resist the beefy sole meunière and its mashed potatoes on spring onions (€55) or the roasted yellow free-range poultry from the Landes, fries and homemade jus (€65 for two people). Ultimate summer joy: the cup of fresh strawberries and whipped cream. One question remains: when are we coming back?
Reservation required on 01 53 41 81 40 or on hotelparticulier.com .
Also discover a hidden terrace a stone's throw from the Tuileries and Justine Piluso's superb terrace at the Palais Galliera.