This summer on Rue des Gravilliers, SAIN bakery, renowned for its homemade yeast bread and special recipes, transforms into a stunning family restaurant. Code name: La Courtille. Chef Anthony Courteille, formerly with Guy Martin, brings his talent to this new countryside-inspired establishment, where guests share large plates of homemade dishes accompanied, of course, by delicious and uncomplicated freshly baked bread. Let's take a closer look at this new gourmet gem!
Just like home... but better!
This still-secret address is already delighting bakery enthusiasts. It's no wonder, as the tables adorned with candles and little flowers instantly transport you to the countryside. It's only natural: "courtilles" used to refer to gardens in the provinces and have evolved over time into places of gathering and cabarets where people enjoyed eating together alongside beautiful bottles. It's precisely this spirit of sharing that appeals to Anthony, who aims to bring groups of friends together at modular tables, enjoying good wine and hearty food.
For a romantic date, there are also secluded tables with a caring team and a breathtaking view of the bakery's cakes... And let's not forget the significant bonus: the fresh bread with homemade butter, mmh!
Menu highlights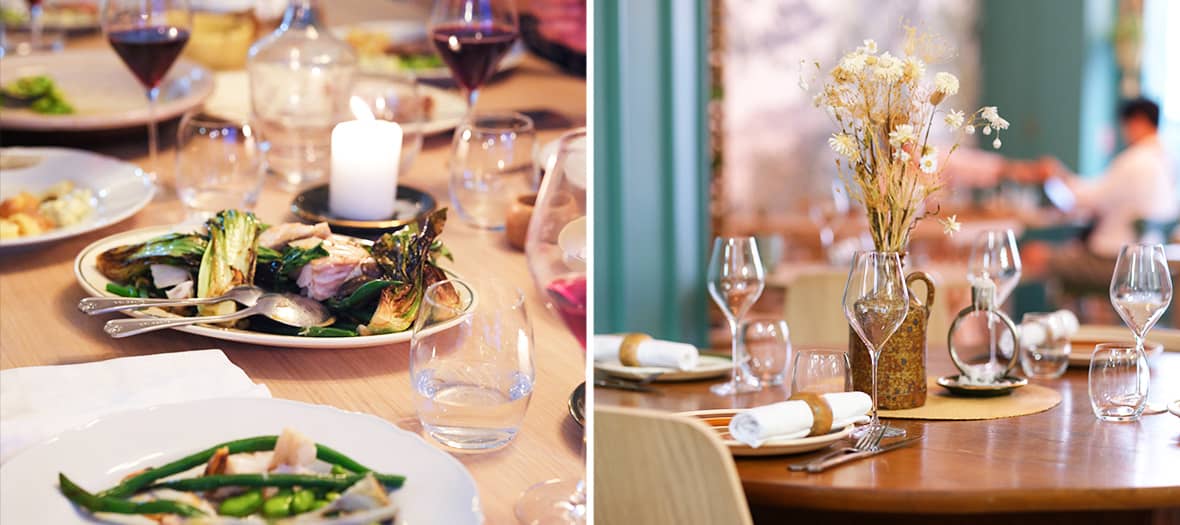 © La Courtille
Fitting on a single sheet, the menu consists of various shareable starters, including an amazing country-style terrine with homemade mustard (€10) or a Cavaillon melon with port sorbet, blackcurrant, and fresh herbs (€14 for 2). A unique twist is brought by precise Japanese influences, showcased in the deconstructed ramen with confit pork belly and charred pak choi (€24), or the hazelnut butter-infused pollack with reduced sage cream and spicy cucumbers (€25).
For dessert, head to the pastry counter (€8)! Our favorites? The tangy lemon tart with a light meringue or the decadent mille-feuille, featuring a luscious vanilla mousse and a crispy puff pastry that will keep you up at night.
Spotlight on...
Anthony's workshop at Chefsquare: In addition to two bakeries and this new restaurant, Anthony offers 3-day immersive workshops that allow participants to experience the daily routine of a true baker. These workshops, bookable individually with the chef's team, start bright and early, teaching participants how to make bread and classic SAIN bakery items (cookies, apple turnovers, pastries...) with expert guidance and the opportunity to taste their creations after each session. An address full of surprises!
La Courtille Restaurant at SAIN Boulangerie. Open every evening from 7:30 PM to 10 PM until July, with reopening in early September. Workshops can be reserved through Chefsquare at €690 for three days.
Discover also Riviera Fuga: The Trendy Barge and Super Son and Super Food at Superflu.