Don't say anything to your friends and take them near République in front of this « Lavomatic » … A flashy neon sign, ready to roll washing machines, « are you sure that's the place » ?
Go first, push the secret door and climb up the few steps that separate you from the most well-hidden bar in Paris. This is it!
Nestled above a laundromat, an intimate and comfy speakeasy, to sip drinks, comfortably settled on a detergent pouf or balancing on a swing, totally wild.
A few shakers later, you will be ready for a Basilic Instinct (cucumber and lemon juice, fresh basil, egg white, elderflower, Hendrick's gin), a Mojito and a Cherie Cherry (horseradish, amarena cherry, lemon juice, grenadine, Cherry Brandy, Vodka).
For eats? Dry farmer ham (8€) and goat cheese (7€).
We adore: waiting until the next day to do our laundry, YOLO (You Only Live Once)!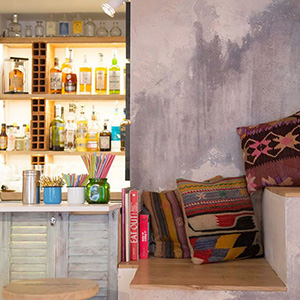 Open Tuesday to Saturday 6pm to 8pm. Cocktails 9-12€.
Also discover Bô, the new caribbean bar that is making Paris dance the "zouk".