Café de Flore is not only one of the most famous address in Paris, it is also one of the most imaginative ! If you're in a detox phase, might as well give in to funny spiritual foods that only chic Parisiennes are capable of inventing. Here is the very peculiar story of « Rykiel », a club sandwich that will probably change your life and help you during a filthy diet
Ô drama, ô dispair, ô fatal calories…A true dilemma it is when we are forced to choose between a greasy sandwich and a simple salad to stay fit.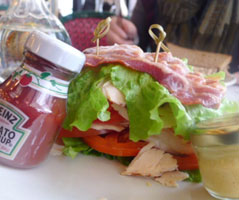 It was Sonia Rykiel's dream to be able to have a sandwich with no bread and no mayo... Le Flore did it, called it its "bare sandwich club" or the "Rykiel sandwich", a funny tribute to one of the most iconic fashion designer of our time.
What does it look like? It tastes like a club sandwich, looks like it, and it's crunchy because of the sizzled bacon. Imagine two wooden spikes that keep together bacon, chicken, tomato, salad and hard boiled egg, with mustard and ketchup. It looks great, it hits the spot and it's fills us with joy.
Price of the club : 19.50€
Picture credit: Facebook Page Café de Flore