THE PLACE
Located right near the Gare de l'Est, large window displays proudly display good vibes messages: "What you eat becomes your medication" —"happiness is here and now."
This coffee-shop landed straight from California displays a tropicool palette of colours: tropical plant, blond wood and luminaries in bamboo, without forgetting an idea terrace for sun-filled nibbles. At Maison Nomade, everything revolves around a promise of well-being, down to the small good vibes messages you pick when you go to pay.
ON THE PROGRAMME OF TREATS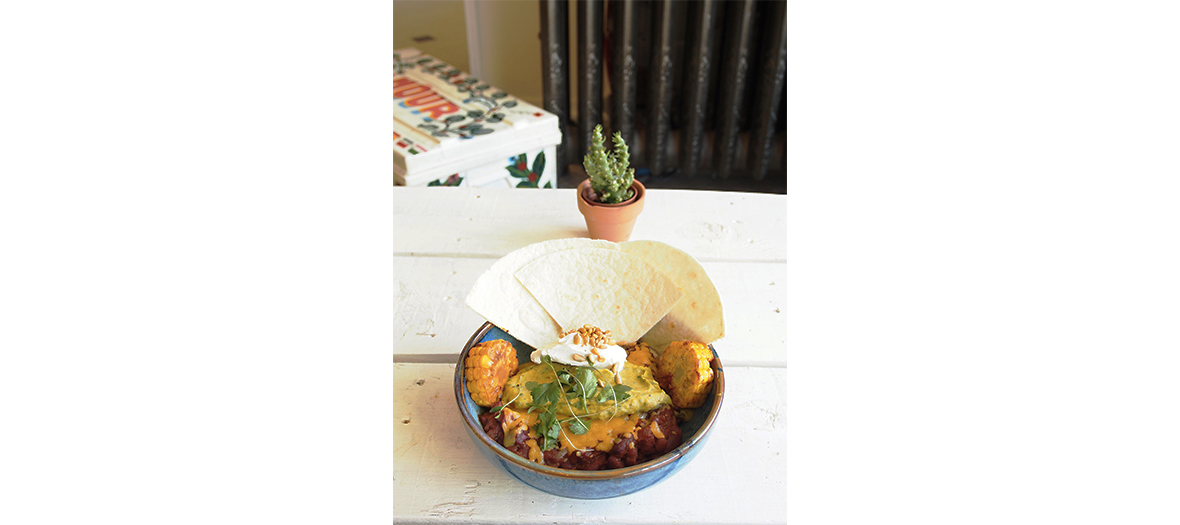 A vegan cuisine, gluten-free, promising medication eats and a reconnection to earthy beauty.
On the menu, freshly squeezed fruit juices: Vitaminasana (apple, carrot, ginger), Greenasana (apple, lemon, cucumber, parsley, spinach, ginger), Beetasana (beet, pineapple, apple, ginger). Then get ready for a terrific bowl: the Mexico with black rice, chili sin carne, tortilla, corn, guacamole, labneh, jalapenos, sunflower seeds with paprika), the Nomade with radish, red cabbage, mango, cucumber, avocado, glazed ginger, red rice, fresh herbs, fried rice leaf, peanut miso sauce.)
The alternative? A delicious salty waffle with scrambled eggs, kimchi, guacamole, spinach sprouts and halloumi or the burger made with whole wheat bread, pancake of tempeh and sweet potato, glazed onion, radish pickles, tomato, lettuce, vegan mayonnaise with aniseed, sweet potato fries and salad.
Land softly with a pastry (carrot cake, banana bread, chocolate delight, cookies), all for €25 and a vegan option for each dish.
To be noted: for those who are extra hungry, complete the brunch by ordering fab pancakes made with banana, buckwheat, seasonal fruit, maple syrup and coconut whipped cream. The summer body will have to wait.
THE ADDED PLUS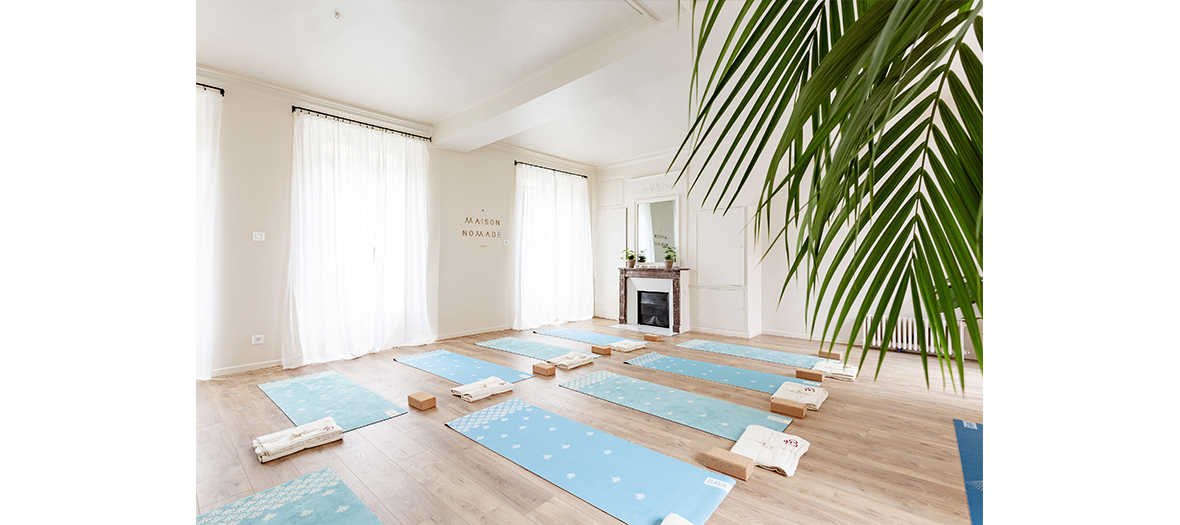 After taking the tiny spiral staircase, you find yourself in a XXL yoga room with the charm of a Haussmannian apartment: fireplace, parquet, mouldings… Everything is there for a small session before or after treats!
Saturday 11am-12pm/12:15pm-1:30pm/4pm-5:15pm
Sunday 11:30am/12:30pm/ 5:15pm-6:30pm
€20 / per class
On the other side of the stairs, cabins dedicated to holistic medicines: sophrologist, hypnotherapist, masseur, life coach alternate in turn Monday to Friday.
Brunch on Saturday and Sunday from 11am to 4pm.