Discover the "Aimer. Rompre" exhibition at the Musée de la Vie romantique, which reimagines Romanticism through the eyes of contemporary artists like Françoise Pétrovitch. Located just in front of the Sacré-Cœur, the exhibition explores the 2.0 romance in the post-COVID and disconnected era, offering a fresh take on the movement that was once perceived as cliché and kitschy. Don't miss out on this amazing exhibition!
The Musée de la Vie Romantique, located in a beautiful 19th-century mansion at 16 rue Chaptal, invites contemporary artists to showcase their work in the historical studios of Ary Scheffer. Currently, Françoise Pétrovitch is exhibiting her versatility in exploring the theme of love, after being invited in 2020 for the "Cœur" exhibition.
Love is at the heart of the exhibition."Aimer. Rompre" is designed as a post-romantic installation, mixing different characters with pop and offbeat colors, inspired by today's youth culture. Visitors can explore the house and studios of Ary Scheffer, where the figures with absorbed faces perfectly resonate with the romantic paintings of the place.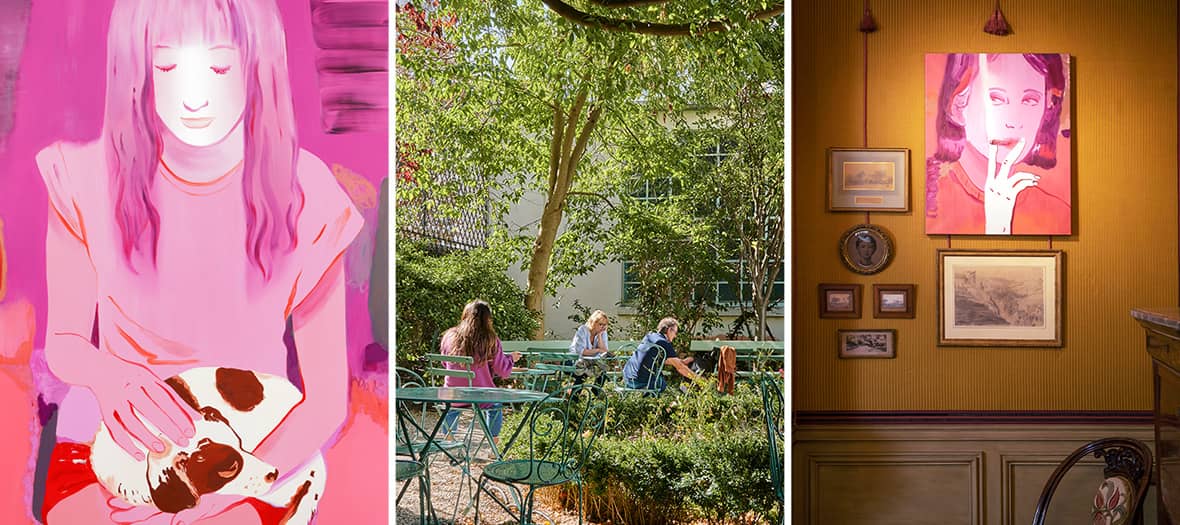 One of the highlights is the salon, where a portrait of George Sand from the period and a pink portrait of the writter, created for the exhibition, come together in perfect harmony between different era.
An immersion into the emotions of love
The exhibition takes visitors on a journey through the tumultuous emotions of love. The large-format paintings overwhelm us with their depictions of faces overtaken by a higher force, reminding us that love is "as much about holding on as it is about letting go." In a room entirely created by the artist, the artworks seem to overflow from their canvases, immersing us in a dreamlike world filled with long hair and islands that seem to flow to the ground. A marshy carpet, also created by the artist, creates a destabilizing atmosphere and almost makes us forget the notion of time.
This universe is perfect for moments of introspection and relaxation, suggested by the figures with closed eyes painted by the artist. After the exhibition, visitors can enjoy a romantic snack at the Rose Bakery tea room.
The exhibition "Aimer. Rompre" by Françoise Petrovitch is open from April 5 to September 10 at the Musée de la Vie romantique. Tickets range from 8 to 10 euros and can be reserved online, with free access to the permanent collections.

Also discover must-see exhibition at the Montmartre museum and our thoughts on the Basquiat / Warhol exhibition at Louis Vuitton.