We have good news for pasta-lovers! Italian chefs are going all out in the capital of gastronomy… A quick tour around Paris to taste the best spaghetti and taglilini that would delight all the mammas of Sicily, Tuscany, Rome and Calabri.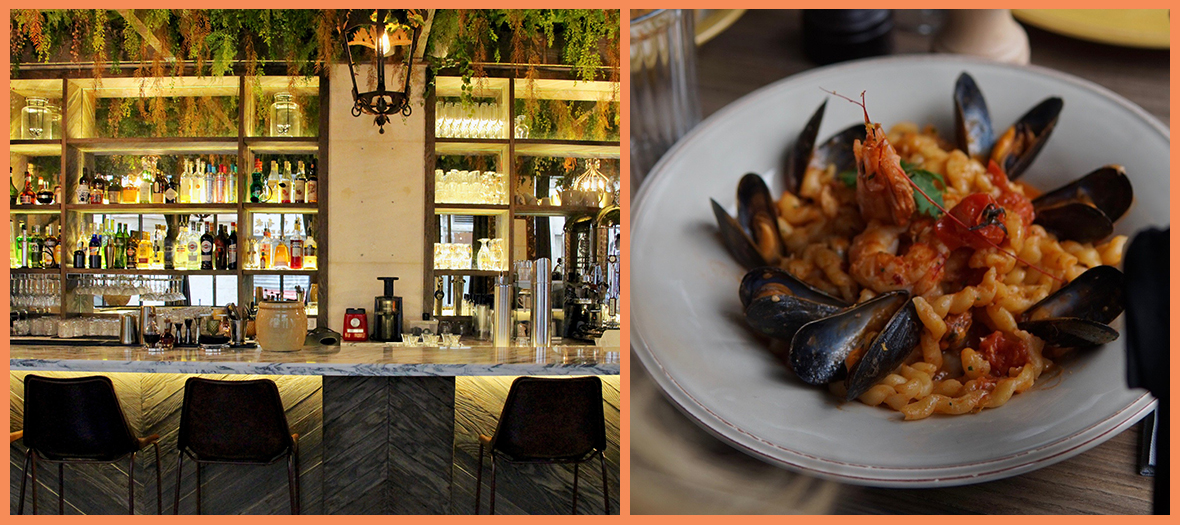 After the La Massara pizzeria and the Russida grocery store, the family has grown with the pasta factory baptized Norma. Installed on the same block of the High-Marais, this new table with a wildly Sicilian decor arrives like a ray of sunshine: lemon fresco, hanging plants, marble bar.
To be tested: the signature maccheroncini alla norma (tomato sauce, eggplant, salty ricotta €13), the spaghettone with gambas, mussels and poutargue fish eggs (€21) as well as the amazing braised veal raviolini, brunoise of veggies, butter and sage (€17). While you are there, don't bypass the Milanese-style egg (breaded and dipped in melted gorgonzola and black truffle, €14.50).
75 Rue de Turbigo, 75003 Paris. 01 77 32 67 82.
Open every day, lunch and dinner.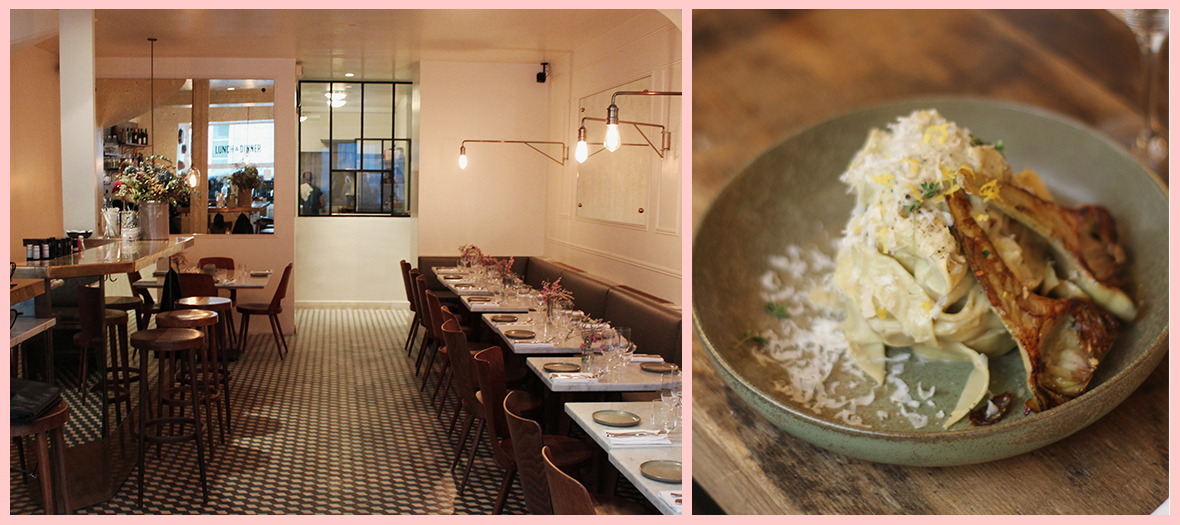 The gang from the ex-Petite Table is back again in this lovely dining room of the Marais (cement tiles, marble tables, bucolic bouquets) now dedicated to home-made fresh pasta. Hands on, the very seductive chef Diego Cores creates his own pasta shapes.
To be tested: the stunning pappardelle with artichoke cream from Sicily, lemon thyme, zest of citron (€18) and the tagliolini alla puttanesca, whose name was passed down from the pasta that  prostitutes ate between two rendezvous (€15). Tops, the slate displays the pastas of the day for €12 at lunch: ravioli with langoustines, bolognaise, gnocchi...
27 Rue de Saintonge, 75003 Paris.  01 74 64 00 36.
Open lunch and dinner every day, closed on Monday.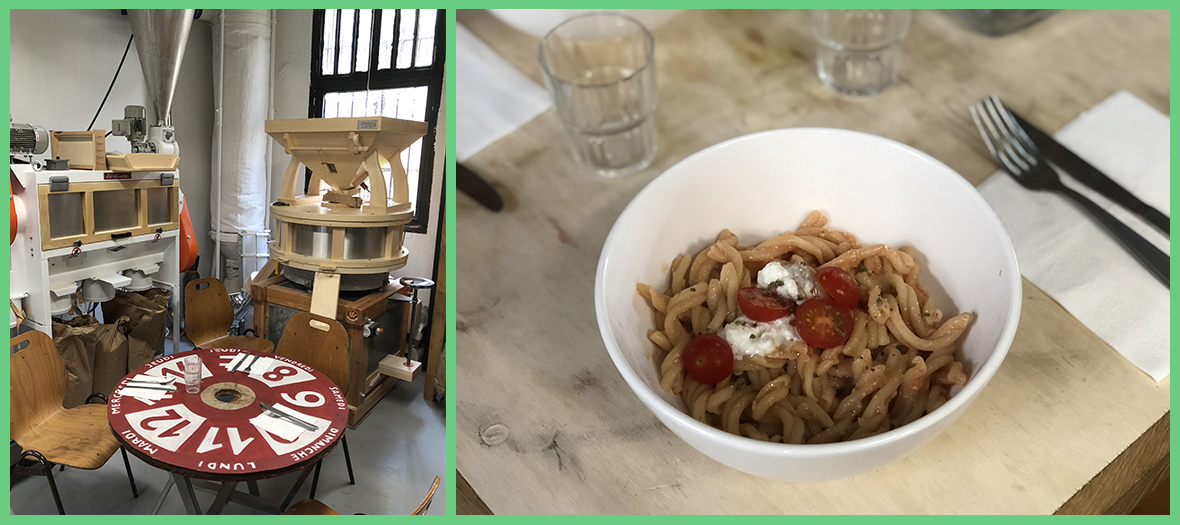 You are never as well served as when you do it yourself, such is the motto of Cédric Casanova (La Tête dans les Olives), who set up his organic flour mill in this pocket-sized restaurant at the heart of Belleville to make his own 100% house pasta. Old-fashioned wheat is cultivated in Italy on the lands of his partner, farmer Marco Mulè. Chef Roberto Rispoli (ex-Royal Monceau) completes the squadra.
To be tested: the pasta of the day, a choice of two recipes at lunch €10 flat. Example? Casarecce with tomato sauce /ricotta or pesto/arugula/pecorino, followed by a divine panna cotta with pistachio (€6). In the evening, a single menu at €30 € for 3 starters and the pasta.
25 Rue Sainte-Marthe, 75010 Paris. 09 54 75 92 07.
Open non-stop Monday and Tuesday, and from Wednesday to Saturday lunch and dinner.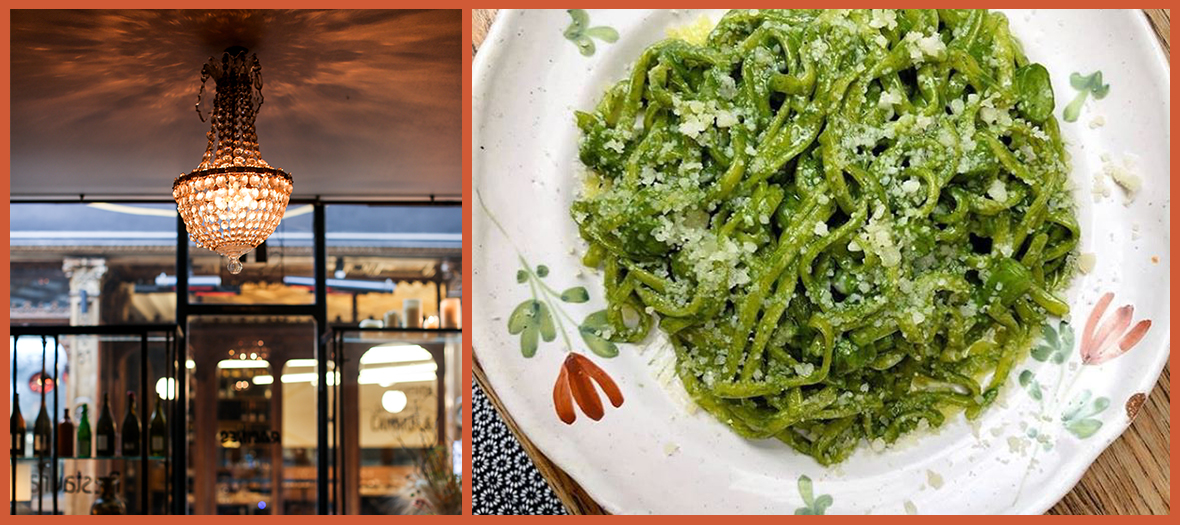 ©Pauline Chatelan

Recently starred, Simone Tondo is officially considered as the most SWAG Italian Paris. And with reason. She whips up like nobody a transalpine bistronomic version with a menu that changes every day and excellent natural wines. Totally wild.
To be tested: the garganellis of the moment, her fresh penne served with a saffron sausage stew and seeds of fennel and pecorino. Ultimate! Her gnocchis are devilish, just like her fantastic carbonara, sometimes à la carte.
8 Passage des Panoramas, 75002 Paris. 01 40 13 06 41.
Open every day lunch and dinner.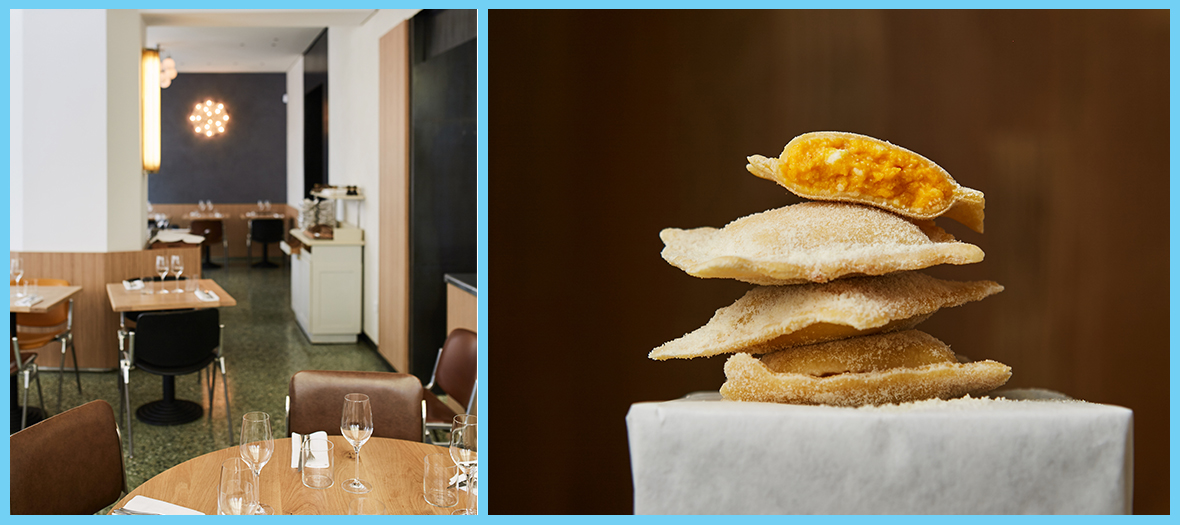 No need to present the Roman prodigy installed since two years near the Marché d'Aligre in a contemporary, streamlined and classy decor (terrazzo floors, wooden tables, design hanging fixtures). Spotted by the Fooding, saluted by the Michelin, adored by all the foodies, Giovanni Passerini remains one of the uncontested maestros of pasta in Paris. He makes them every day in the back of his neighbouring grocery shop boutique.
To be tested: the lunch formula with starter + pasta at €26 with mezze maniche of chicken liver and water cress. In the eveinng, lamb stew casarecce (€22), linguine alla puttanesca with smoked eel (€24).
65 Rue Traversière, 75012 Paris. 01 43 42 27 56.
Open from Wednesday to Saturday lunch and dinner and only at night on Tuesday. Closed Monday and Sunday.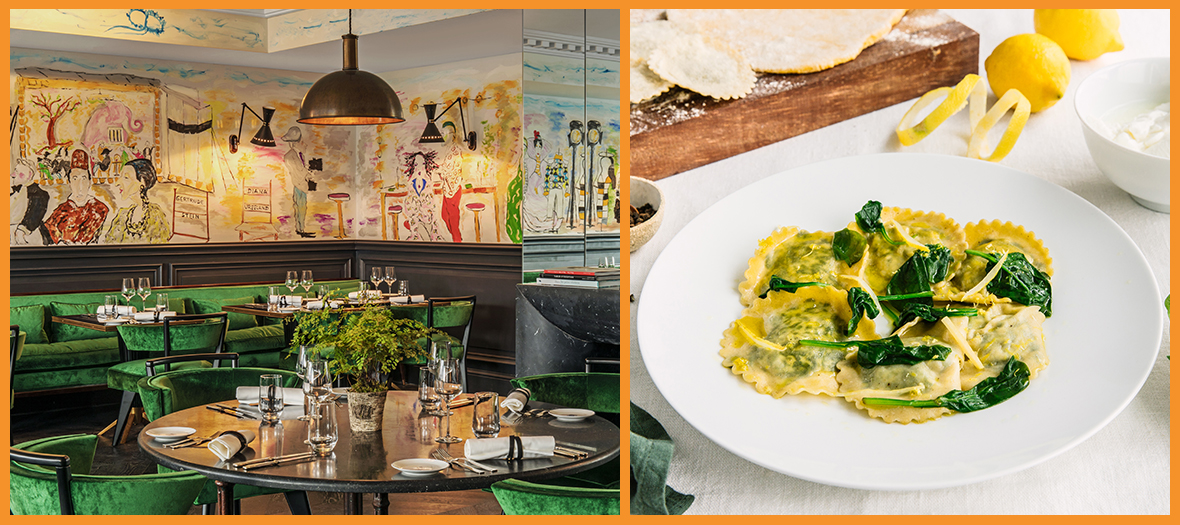 Baptized Le Schiap in homage to Italian haute couture designer Elsa Schiaparelli, the restaurant of the Hotel de Berri is always full since its opening last summer in a fabulous decor animated by the fresco of artist Hyppolite Romain. In the kitchen, Tuscan chef Michele Dalla Valle (ex-Caffè Emporio Armani, Plaza Athénée, Sasso Tondo) reproduces the specialties of the Boot with elegance and delicacy.
To be tested: the pumpkin and taleggio ravioli (21), the gnocchi with girolles mushrooms and parmesan (€19). More deluxe, the tagliolini with lobster and basil (€42) and the tagliatelle pimped with caviar (€55). Yum also, the vitello tonnato (€17) and the affogato twisted with orange blossom, a pure marvel (€11)
18-22 Rue de Berri, 75008 Paris. 01 76 53 77 70.
Open every day.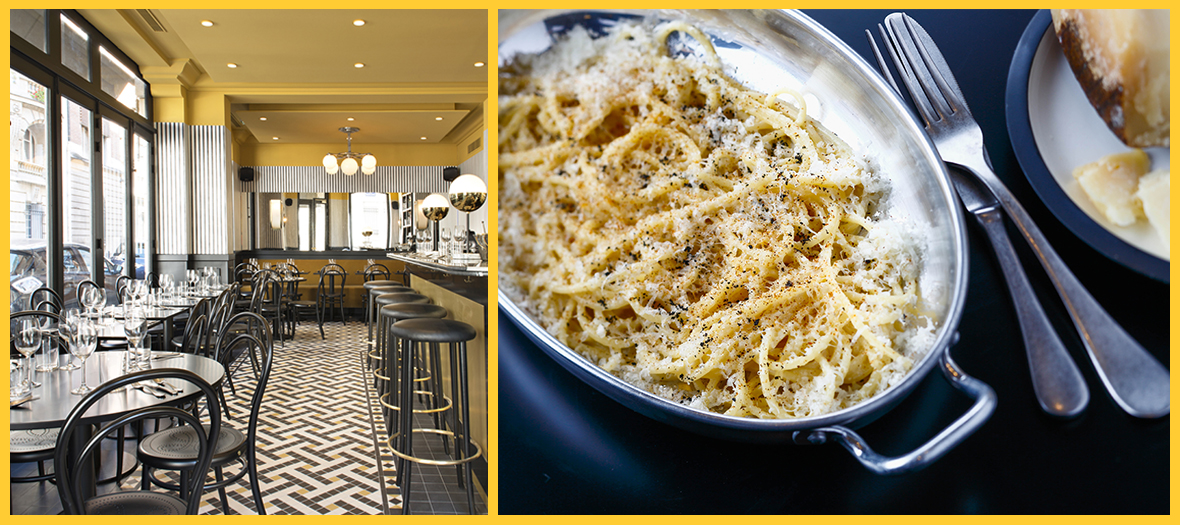 At Chez Ida, his first restaurant, Denny Imbroisi officially serves the best carbo in Paris. Chez Epoca, the Art Deco bistro with a very Cinecittà decor by Emilie Bonaventure, ex-Top chef, whips up the best traditional recipes from the four corners of the Boot.
To be tested: cacio e pepe, the Roman dish of spaghettoni with ewe chees and black pepper is without a doubt the signature foodporn of the house (€18). Another snobbism to roll in the pasta: the lemon linguini and the poutargue fish eggs sourced from Memmi (€23).
17 Rue Oudinot, 75007 Paris. 01 43 06 88 88.
Open every day lunch and dinner, closed on Monday.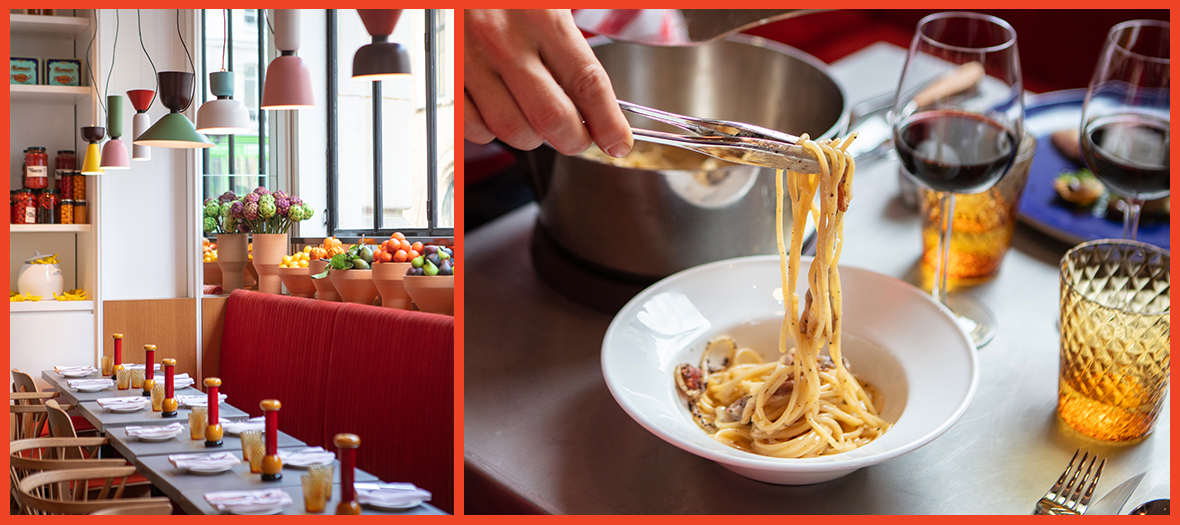 Alain Ducasse is taking up Italian! The oven godfather has transformed the Maison de la Mutualité into a wildly baroque dining  room: Ferrari red banquette , hanging charcuterie, XXL portrait  of Catherine de Médicis. His young protégé Matteo Lorenzini (ex Hôtel de Paris in Monaco) ensures the accent and the plates.
To be tested: ravioli with Mantua squash, ricotta and black truffle (14 €), the tagliolini with turnip greens cime di rapa and poutargue fish eggs (€24) and melt-in-the-mouth paccheri with beef cheek and farmer lard, amazing (€18). Cool also, pizzette to share (€6) and the frosty lemon of our childhood (€8).
Maison de La Mutualité, 20 Rue Saint-Victor, 75005 Paris.
01 44 31 54 54.
Open every day lunch and dinner.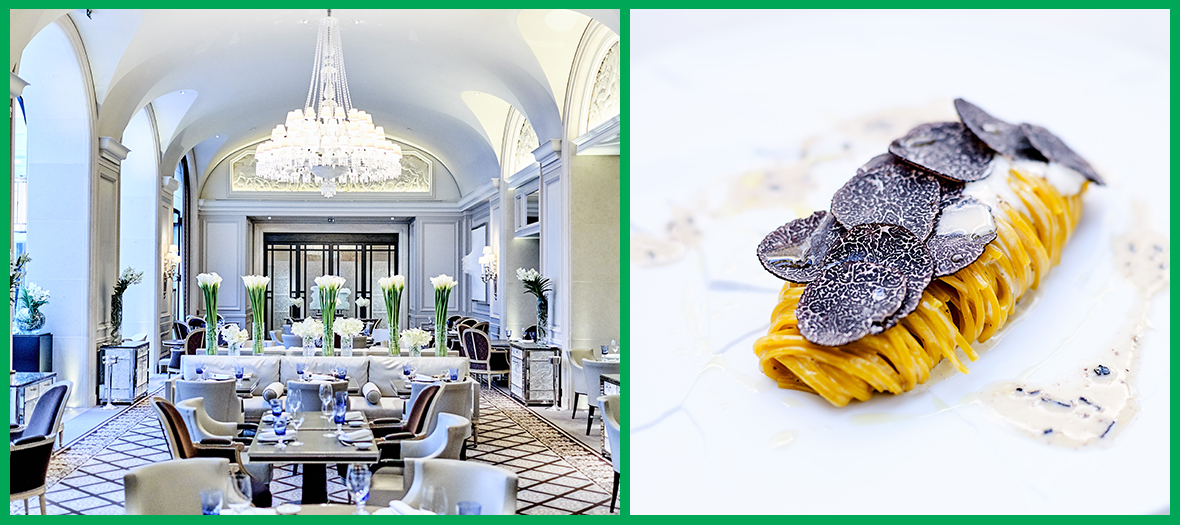 Everyone is talking about it. Simone Zanoni (ex-Trianon palace) is creating the buzz at the Georges V in his starred gastronomic salon where he plays a sophisticated and relaxed partition. He distillates his cuisine by serving small plates as tapas and nibble sized. Even the pasta is to be tasted like sashimis to be shared. An ode to lightness. Grand art.
To be tested: "dul-plin", guinea fowl raviolis with truffle and cream of parmesan (€34), tortelli of ricotta, lemon from the chef's garden and fresh mint (€34). The must? A fork of fresh tagliolini with truffle. Tasting lunch menu at €65 (2 starters + dishes)
31 Avenue George V, 75008 Paris. 01 49 52 70 00.
Open every day lunch and dinner.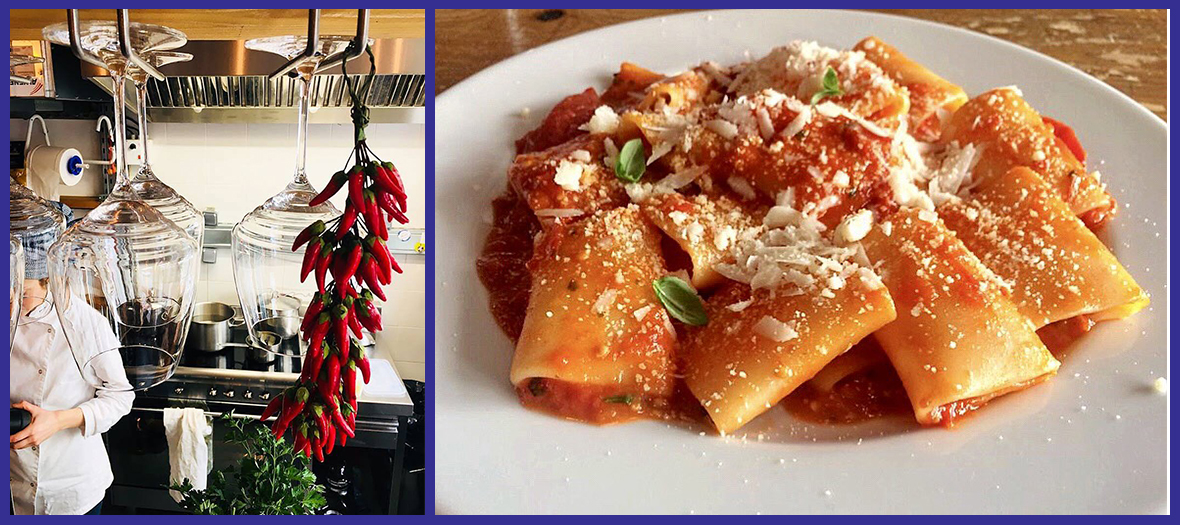 Even if it's hard to guess, this delicious Neapolitan Saint-Germain-des-Prés trattoria is 100% gluten free. Suffering herself from celiac
issues, chef Giulia Guarino makes her own gnocchi, ravioli and tagliatelle with rice and corn flours. She also has her dry pasta supplies delivered directly from Italy.
To be tested: the maccheroni with a pesto of dried tomatoes and lemon, the casarece with mushrooms or the paccheri peperoni and olives. The menu changes every week—count €13-17.
105 Rue du Cherche-Midi, 75006 Paris. 01 83 89 52 85.
Open for lunch Tuesday and Wednesday, lunch and dinner from Thursday to Saturday. Closed Sunday and Monday.

Also check out our favorite crêperies in Paris