Notice to pasta-lovers! Italian chefs are having a blast in the capital of gastronomy. A little tour of Paris of the best spaghetti and other tagliolini to make all the mamas of Sicily , Tuscany , Rome and Calabria pale .

The George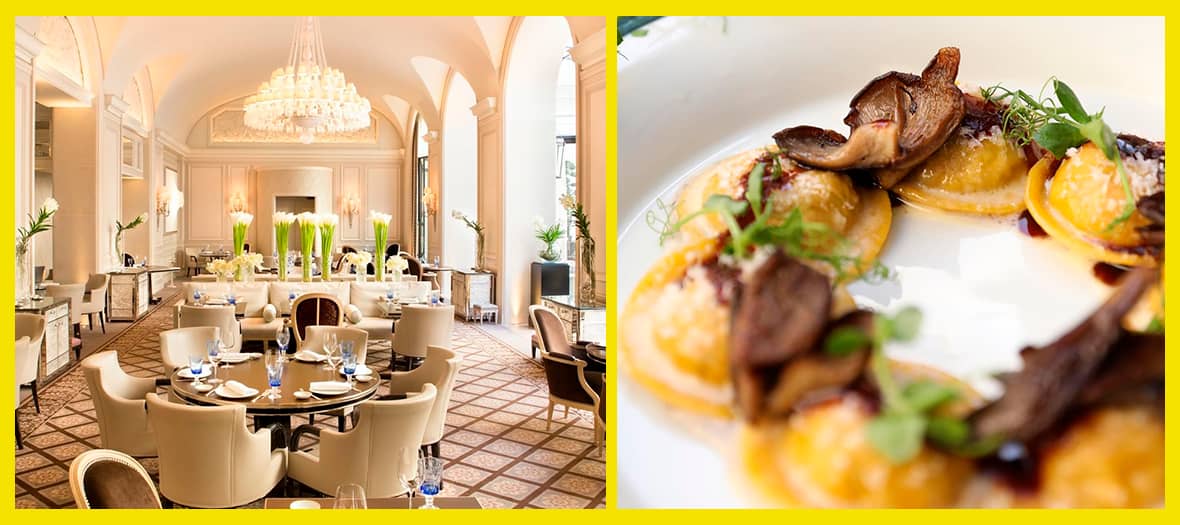 Everybody talks about it. Simone Zanoni (ex - Trianon Palace ) caused a sensation at the George V in her starred gastronomic salon where he played a sophisticated and relaxed score. His cooking, he distills it over small plates served in the form of small tapas -style bites . Even pasta tastes like sashimi to share. The praise of lightness. Great art.
To be tested : the braised veal agnolotti, oyster mushrooms, full-bodied juice (€38), the octopus caramel, red wine sauce (€38) or the ricotta, lemon and fresh mint tortelli (€36).
Le George , 31 avenue George V, 75008 Paris. 01 49 52 70 00, open every day from 12 p.m. to 2.30 p.m. and from 7 p.m. to 10 p.m.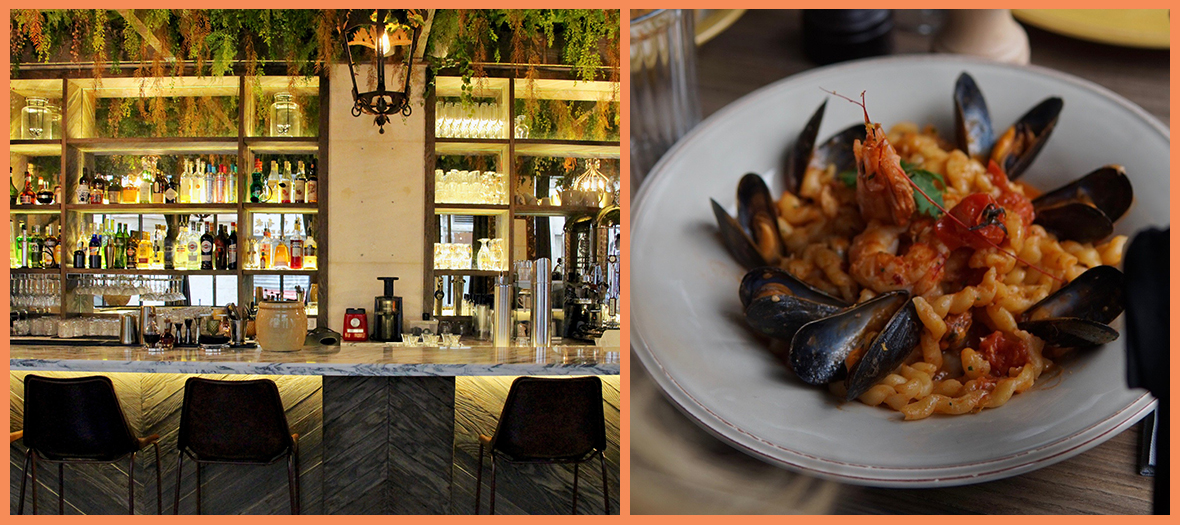 After the La Massara pizzeria and the Russida grocery store , the family grew with the pasta factory called Norma . Installed in the same block of the Haut-Marais , this new table with a wildly Sicilian decor arrives like a pretty ray of sunshine: lemon fresco, hanging plants, marble bar.
To be tested: the paccheri à la Norma (organic Sicilian tomato sauce , fried aubergines, refined salted ricotta, €15.50), the extraordinary ricotta and spinach ravioli ( Syracuse anchovy butter and parsley bread crumble flavored with lemon 16.50 €). While you're there, don't miss the perfect alla Milanese organic egg (breaded on a bed of smoked aubergine caviar €14.50).
Norma Pastificio , 75 rue de Turbigo, Paris 3e, 01 77 32 67 82, open from Monday to Sunday from 12:00 to 14:30 and from 19:15 to 23:30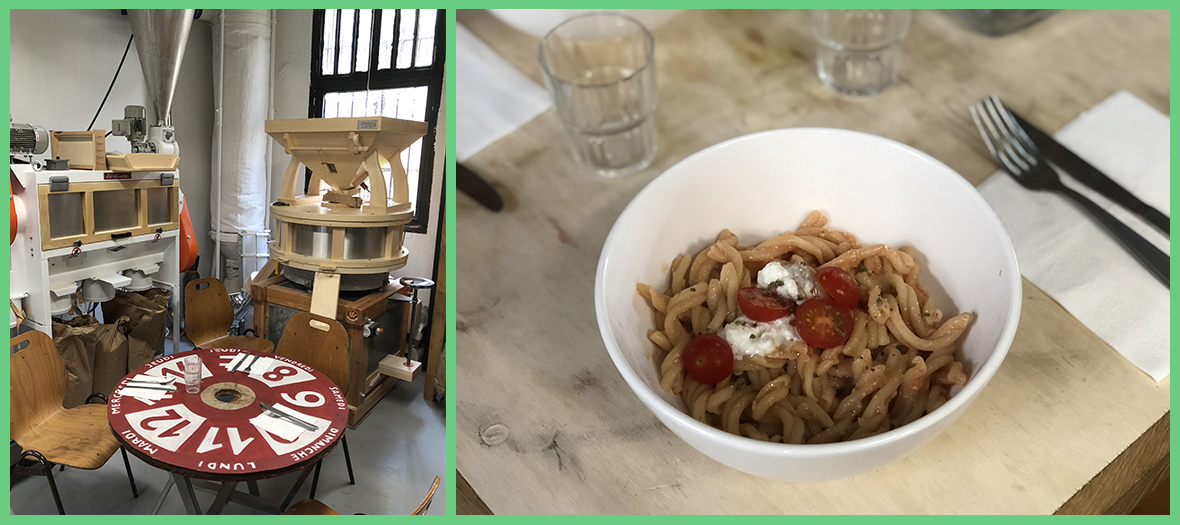 You are never better served than by yourself, such is the credo of Cédric Casanova ( La Tête dans les Olives ), who installed his organic flour mill in this pocket restaurant in the heart of Belleville to make his pasta . 100% homemade . Ancient wheat grains are grown in Italy on the lands of his associate, farmer Marco Mulè . Chef Roberto Rispoli (ex - Royal Monceau ) completes the squadra .
To be tested: the pasta of the day, two recipes to choose from for lunch at €12. Example ? Linguini alla puttanesca (€20) or beef meatballs (€35 for a pot for 2 people). The desserts alternate between tiramisu , panacotta , all of Italy is found there in the choices of dolci .
Mulino Mule , 25 rue Sainte-Marthe, Paris 19th. 09 54 75 92 07, open Tuesday to Saturday from 12 p.m. to 2.30 p.m., Thursday to Saturday evening from 7 p.m. to 10 p.m.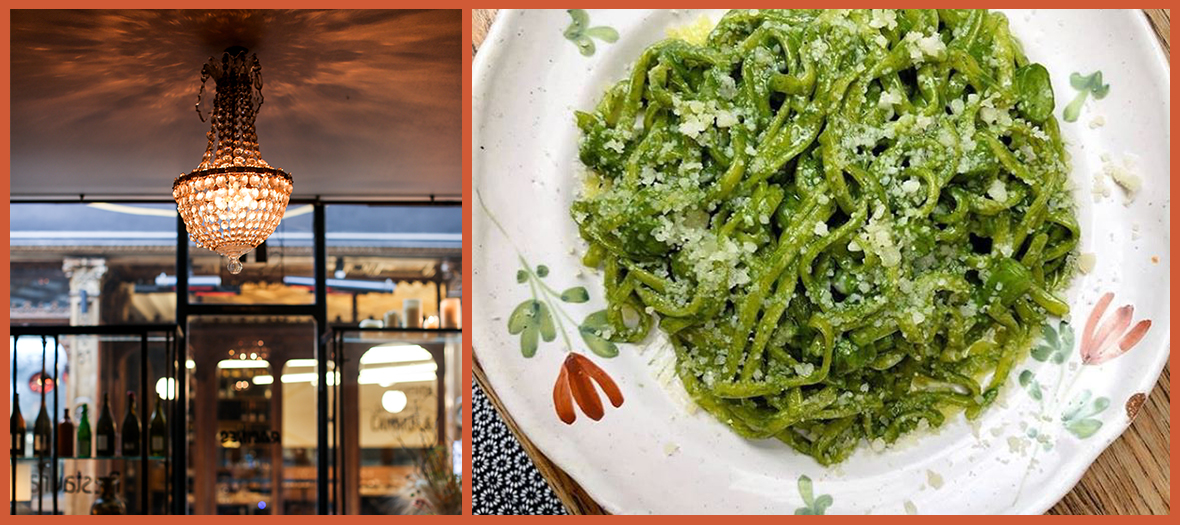 ©Pauline Chatelan
Freshly starred, Simone Tondo is officially considered the most swag Italian in Paris. And for good reason: he heckles like no other a transalpine bistronomy with a menu that changes every day and very good natural wines. Madness.
To be tested: the garganelli of the moment, its fresh penne pasta served with a stew of saffron sausage and fennel and pecorino seeds. Ultimate ! His gnocchi are demonic, as are his fantastic carbo, sometimes à la carte.
Racines 8 passage des Panoramas, Paris 2nd, 01 40 13 06 41, open every day from 12:15 p.m. to 2 p.m. and from 7:30 p.m. to 10 p.m.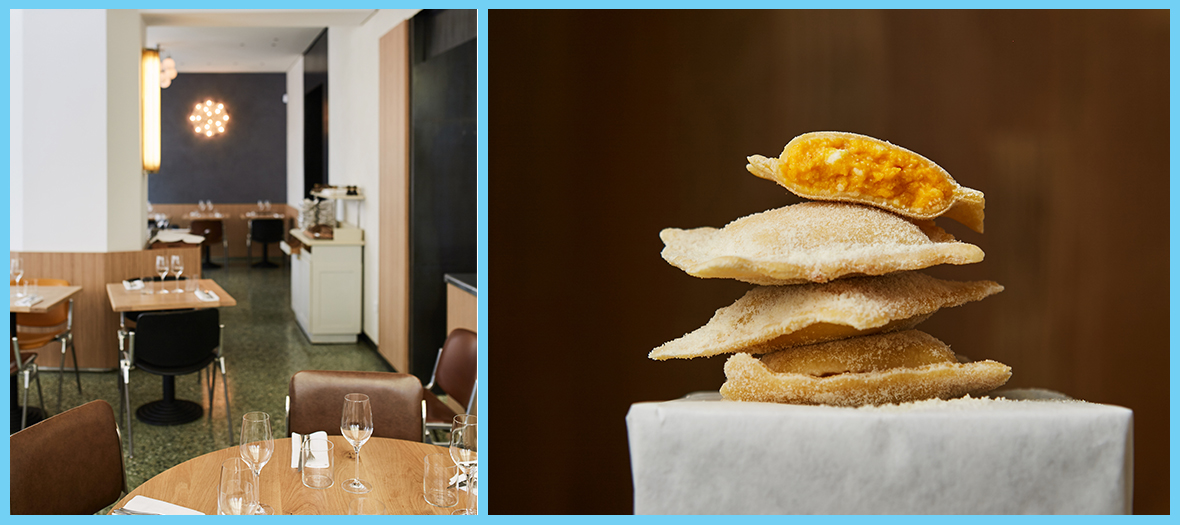 We no longer need to introduce the Roman prodigy installed for two years near the Aligre market in a contemporary, refined and classy decor (terrazzo floor, wooden tables, designer pendant lights). Awarded by the Fooding , hailed by the Michelin , acclaimed by foodies, Giovanni Passerini remains one of the undisputed masters of pasta in Paris. He makes them every day in the back shop of his nearby grocery store.
To be tested: the starter + pasta lunch formula at €28 with maniche mezze with chicken liver, watercress and mole. In the evening, casarecce with lamb ragout (€22), linguine alla puttanesca with smoked eel (€24).
Restaurant Passerini , 65 rue Traversière, Paris 12th, 01 43 42 27 56, open Wednesday to Friday noon from 12 p.m. to 2:15 p.m. and Tuesday to Saturday evening from 7:30 p.m. to 10 p.m.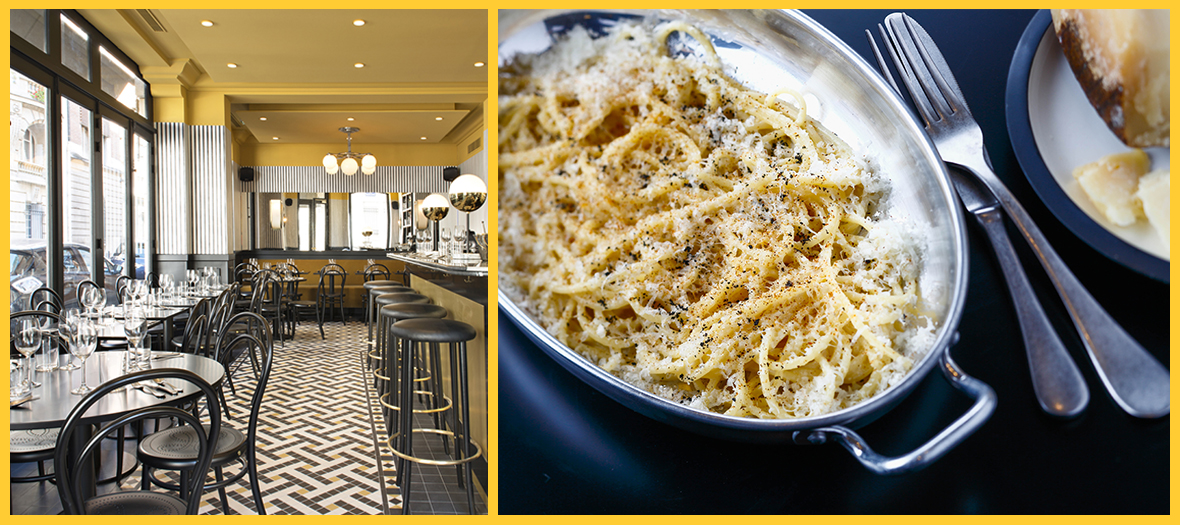 At Ida , his first restaurant, Denny Imbroisi officially sells the best carbo in Paris. At Epoca , the Art Deco bistro with a very Cinecittà décor by Emilie Bonaventure , the former Top Chef is having a field day bringing out the best traditional recipes from the four corners of La Botte.
To be tested: the cacio et pepe , the Roman dish of spaghettoni with sheep's cheese and black pepper, is undoubtedly the house's signature foodporn (€19). Another snobbery to roll around in pasta: the linguine coated in a shellfish, lobster and bottarga sauce sourced at Memmi (€26).
Epoca 17 rue Oudinot, Paris 7th, 01 43 06 88 88, open Tuesday to Sunday from noon to 2:30 p.m. and from 7 p.m. to 10:30 p.m.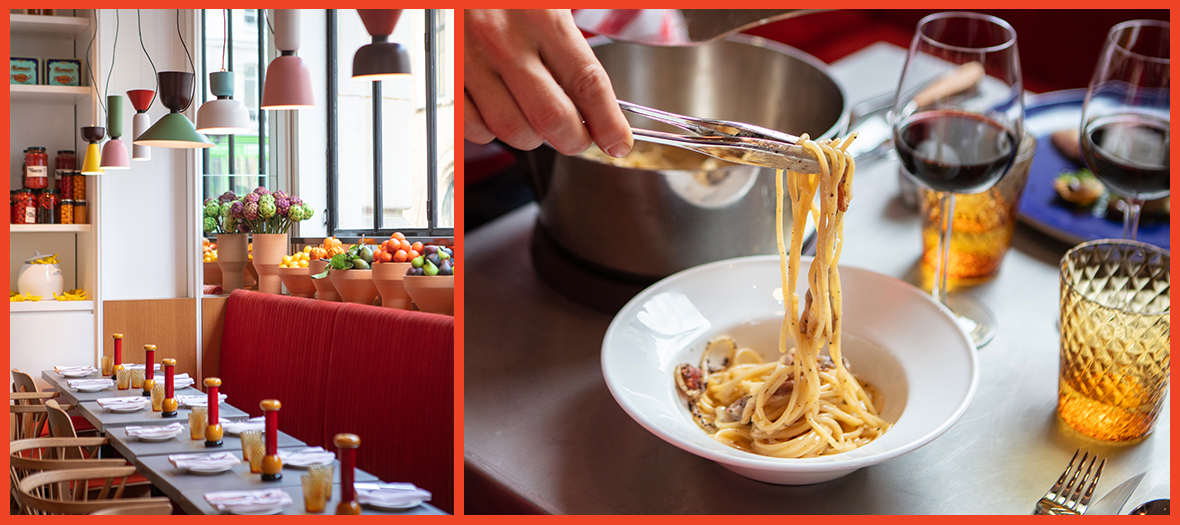 Alain Ducasse goes Italian! The godfather of the stoves has transformed the Maison de la Mutualité into a wildly Baroque transalpine dining room: Ferrari red bench , suspended knitted charcuterie, XXL portrait of Catherine de Medici . His young foal Matteo Lorenzini (ex Hotel de Paris in Monaco ) provides the accent and the plates.
To try: as an antipasti , you can't miss the roasted porcini mushrooms with romaine lettuce and hazelnuts from Piedmont (€16). To follow, the rigatoni with red squash, sage and pecorino (€14), the tagliolini with autumn truffles (€16) and the paccheri with melting beef cheek and country bacon, absolutely crazy (€22).
Kitchen Maison De La Mutualité, 20 rue Saint-Victor, Paris 5th. 01 44 31 54 54, open every day from 12 p.m. to 2 p.m. and from 7 p.m. to 10 p.m.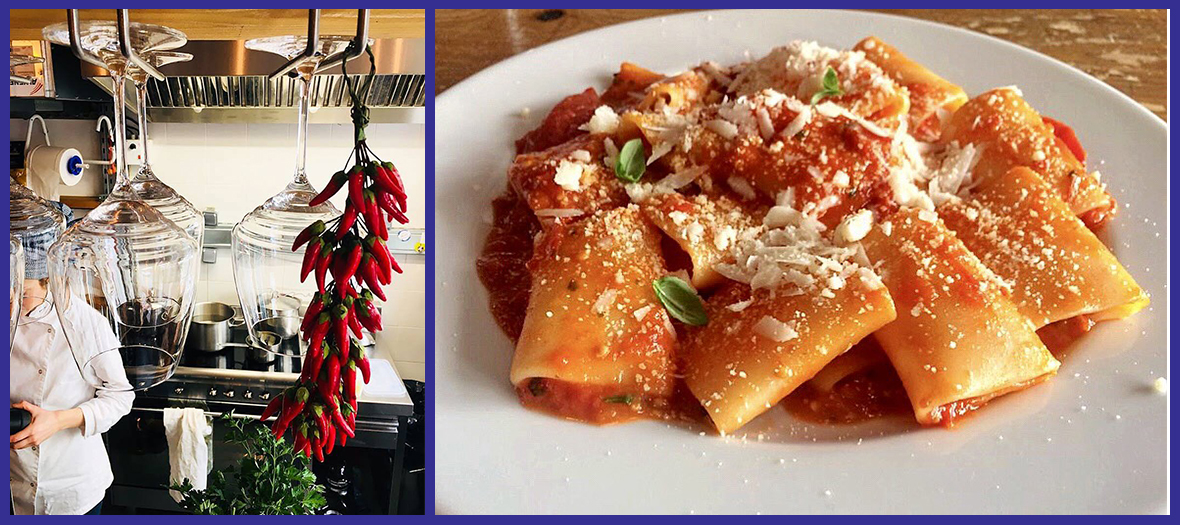 Even if nothing suggests it, this delicious Neapolitan trattoria in Saint-Germain-des-Prés is 100% gluten free . A celiac herself, chef Giulia Guarino makes her homemade gnocchi, ravioli and tagliatelle from rice and corn flour. It also sources dry pasta delivered directly from Italy.
To be tested: the potato and spinach gnocchi , walnuts and vegetable broth (€17) and the Sunday polpette (€19). For dessert, we taste the Giulia tiramisu (€8), homemade and more than delicious.
Mimi cave à manger , 105 rue du Cherche-Midi, Paris 6th, 01 83 89 52 85, open Tuesday to Saturday from 12 p.m. to 2 p.m. and from 7:30 p.m. to 10 p.m.

Also discover where to have the best couscous in Paris and Daroco, a highly trendy italian