From the new ultra-trendy bakery to the chill address in Lyon cork mode, including the darling table / grocery store of bobos in the Marais, follow our list of new brunches to try this fall.
Liberté: the most baker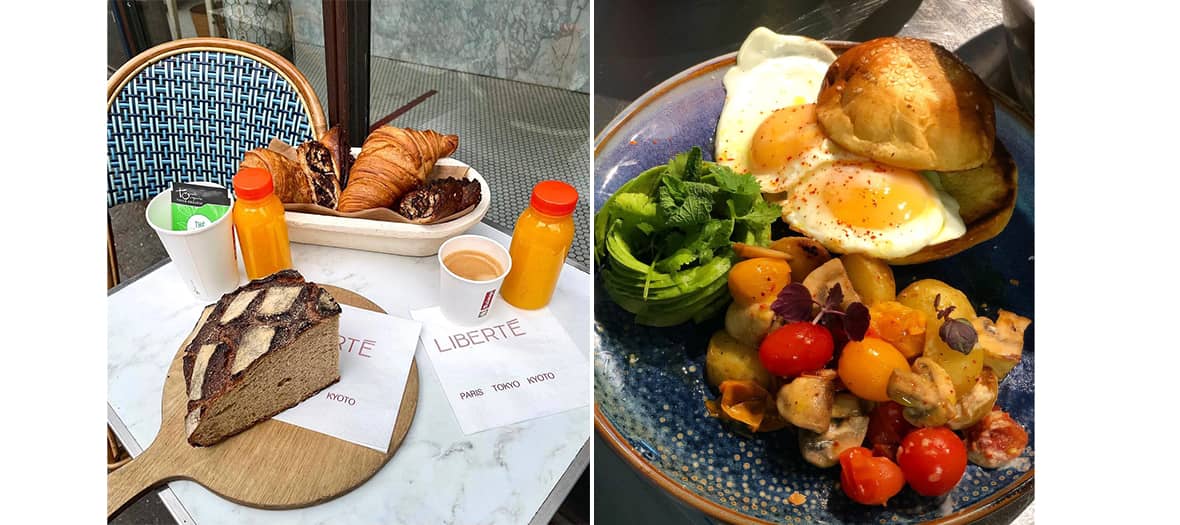 The place. This is the latest baby in the Liberté success story, which has just opened its 5th signature bakery in South Pigalle and where we find the house's best-sellers (vegetable charcoal baguette, chocolate tradition, babka). With this new address, Mickael Benichou goes further by entrusting Dorothée Meilichzon with the decor of his boutique-workshop with a bright Scandinavian-style tea room where you can comfortably come to brunch on weekends, curled up on the benches. caramel.
The brunch. Table service is required with a very bakery Parisian brunch that pays homage to the signature breads and artisanal specialties of the house: baskets of breads and pastries galore, homemade granola with honey and seasonal fruits, obviously accompanied by fresh smoothies , lattes and other specialty coffees. To add a delicious flavor to your bun: an egg hollandaise sauce served with a fresh salad, new potatoes, cherry tomatoes and mushrooms, figs. Or a magnificent chakchouka with roasted tahini cauliflower in which to dip your hallah bread. And for those who prefer sweetness, there is always the option of pancakes with roasted apples and maple syrup on the plate or waffles with salted butter caramel. If after that you are still hungry ...
Brunch € 29, served Saturdays and Sundays from 11 a.m. to 3 p.m., without reservation
Liberty Paris , 1 rue Hippolyte Lebas, Paris 9th
Aux Lyonnais: the most terroir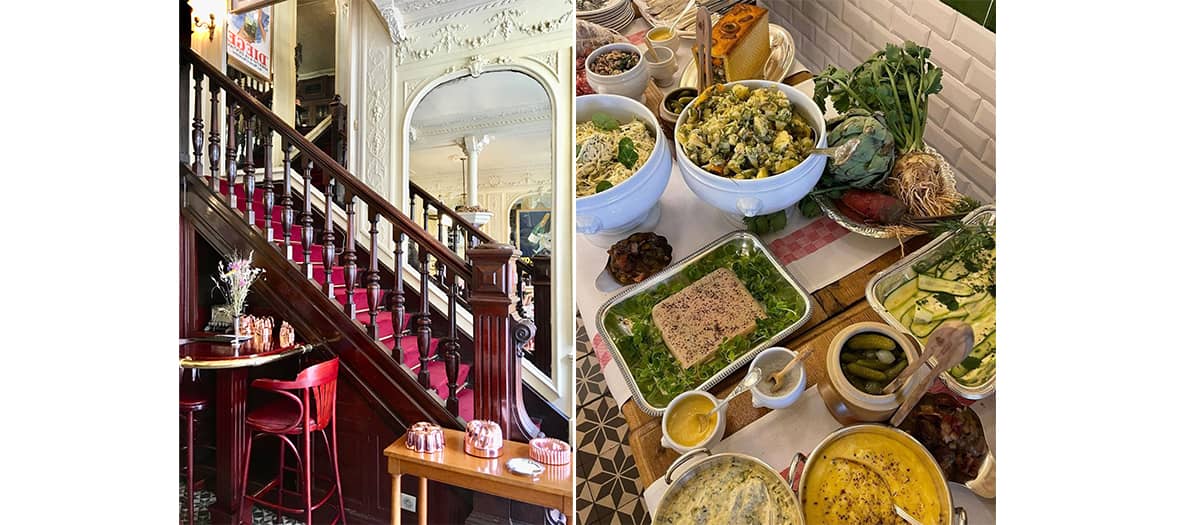 The place. True guardian of the temple of Lyon gastronomy (as its name suggests ...), Aux Lyonnais has been delighting Parisians since 1890, a stone's throw from the Drouot auction house, in a film set with earthenware and red benches. Alain Ducasse has just entrusted his kitchens to Marie-Victorine Manoa (ex-Top Chef), a young local chef, sympathetic and very talented, whose father himself treats the Lyonnais in his cork . On weekends, lunch takes on the air of brunches with the " mâchon ", this local feast where the local charcuterie and bistro specialties reign as a buffet.
The brunch. On a large table, we serve these witticisms not at all healthy but so, so good: celery remoulade , lentil salad, onion pie, cheeses, eggs mayo, brioche or garlic sausage, potato salad and others. So much for the non-exhaustive entry. All you have to do is order your meat, pork or poultry dish, served directly in the sauté pan filled with juicy vegetables. We still salivate. To the dessert ? Chocolate cake, baba , rice pudding and many more, if there is room. We doubt it!
Mâchon € 45, reservation at 01 42 96 65 04, served every Saturday for lunch and Sunday from 10 a.m.
Aux Lyonnais , 32 rue Saint-Marc, Paris 2nd
Plisson Beaumarchais: the most at will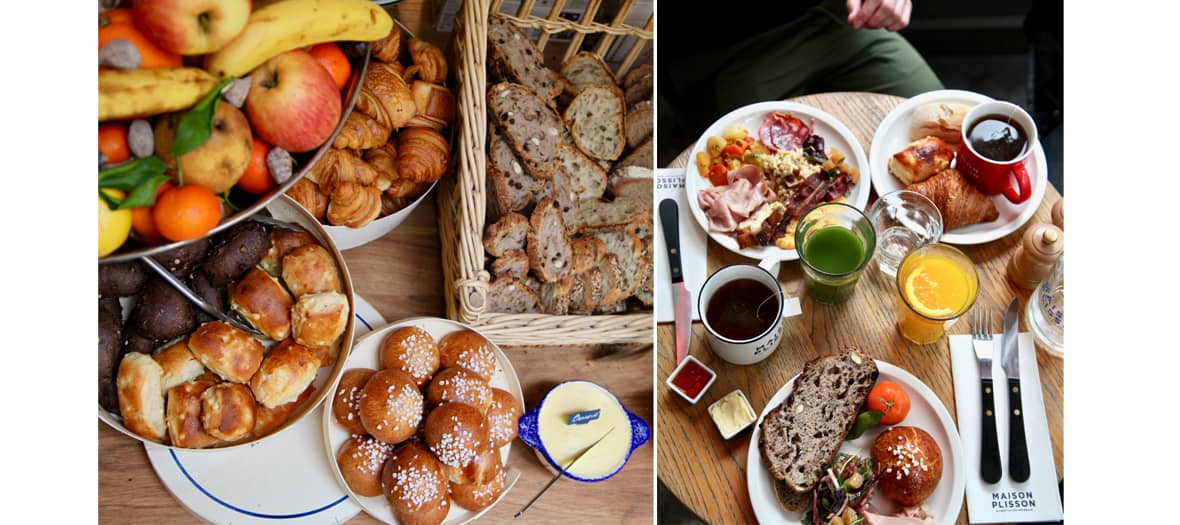 The place. We no longer present the first visionary address opened by Delphine Plisson in 2015 in the 3rd, attached to the concept store Merci . It's very simple, the entrepreneur has reinvented the codes of the grocery store with the 2.0 trade of bobos between table d'hôte, café, butcher, market gardener, bakery, cheese dairy, mini-market, caterer with a sourcing of excellence among most demanding producers to offer a selection of all the best products. After inaugurating its successful brunch at Place du Marché Saint-Honoré, Maison Plisson is finally launching its " gluttonous " formula in the 3rd district and offering the brunch that the Marais has been waiting for, obviously kids friendly.
The brunch. This is the opportunity to test the cream of the house products with the same winning formula " at will " as that offered in Saint-Honoré: chubby pastries, fresh breads, artisan jams, fresh fruit juices, the essentials. scrambled eggs with bacon, soup of the day, blanquette, small salted lentils with other stews, super-quiches, crunchy salads, cheese and signature charcuterie boards, rice pudding, crumble, chocolate mousse and tiramisu, among the other phew desserts.
Brunch € 29 for adults with reservation on 01 71 18 19 09. Between € 1.50 and € 13.50 for kids depending on age. Served Saturdays and Sundays from 10:30 a.m. to 3 p.m.
Maison Plisson Beaumarchais , 93 boulevard Beaumarchais, Paris 3rd
and also
All-Paris at Cheval Blanc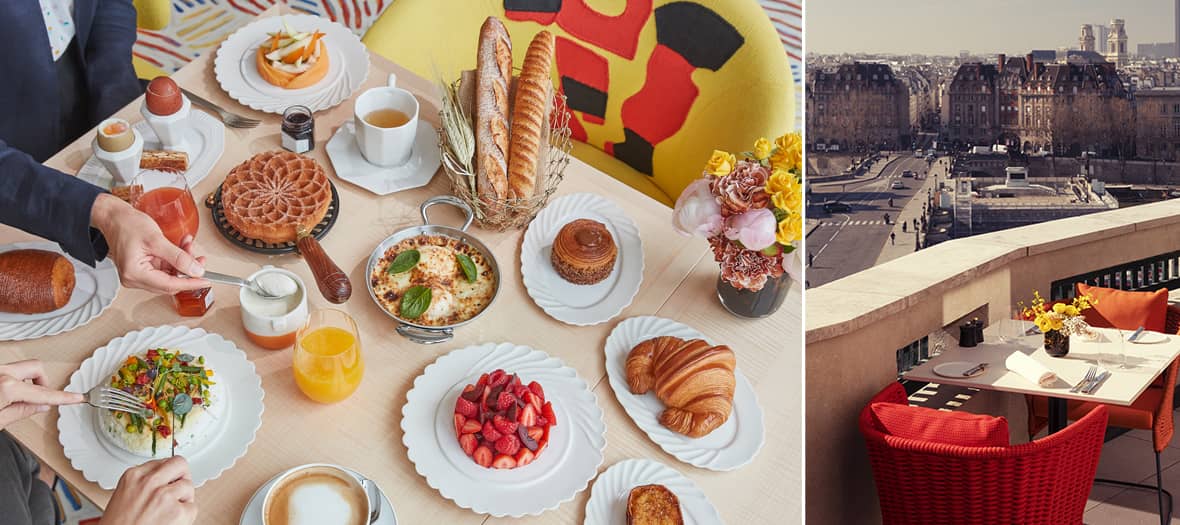 The place. Tout-Paris is the social brasserie assumed by Cheval Blanc with the most beautiful view of the capital in the tradition of these vibrant addresses that live from morning to night. Clearly, THE table to be seen and to see, from the energy of the breakfast to the rascal or romantic evenings. A la carte, classics that stick to the neighborhood as well as a very special menu, " Dimanche à la folie ".
The brunch. A spectacular formula which also makes it possible to test all the signatures and excellence of the great pastry chef Maxime Frédéric (ex-George V): French toast, author's pastries, granola, pancake cake, clafoutis with seasonal fruits or vanilla flan around tea, specialty coffee and fresh juices and of course any style haute couture eggs (Florentine, scrambled…). Great art!
Brunch served on Sunday, € 95
Tout-Paris at Cheval Blanc , 8 quai du Louvre, Paris 1er
© Alexandre Tabbaste
Tigermilk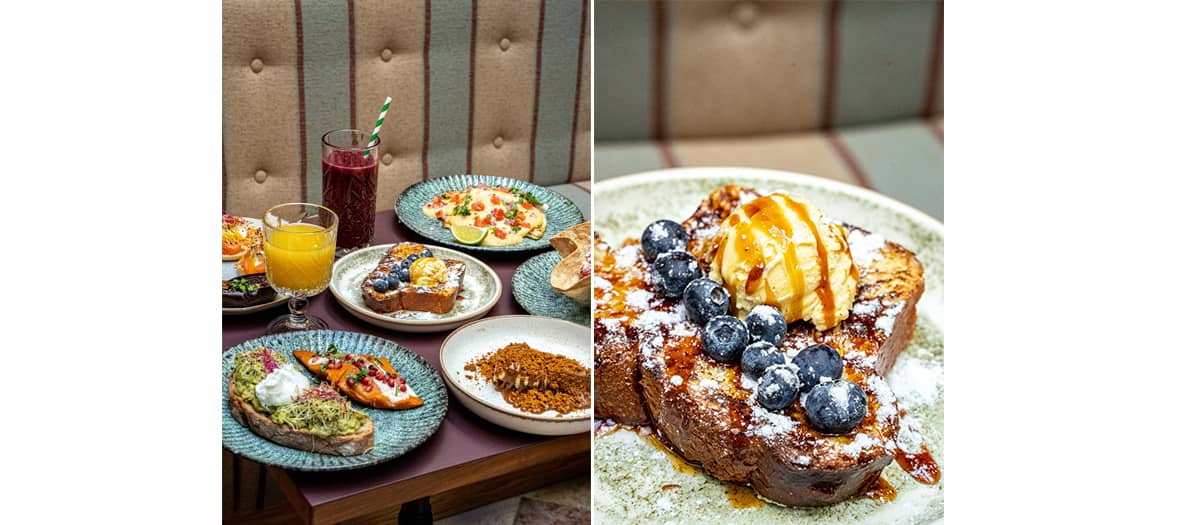 The place. In addition to its places in Le Sentier and the youngest in SoPi, Tigermilk also has its tacos, quesadillas, ceviches and other Latin treats swinging along the Canal Saint-Martin, where the Mexican canteen has just launched its Sunday brunch muy caliente. in a tropical setting with a great atmosphere.
The brunch. The deal includes a homemade iced tea, a hot drink, a sweet and a savory plate. Namely huevos rancheros - scrambled eggs served in a tortilla, an avocado toast escorted by ultra-tender roasted sweet potato, a Chimi Carnitas bun with pulled farm pork and chimichurri sauce but also on the sweet side a dulce de leche cheesecake, a brioche perdue or fluffy pancakes, maple syrup and blueberries.
Brunch 24 €, served Saturday and Sunday from 11:30 am to 3:00 pm
Tigermilk canal Saint-Martin, 37 quai de Valmy, Paris 10e
Sunday in Soho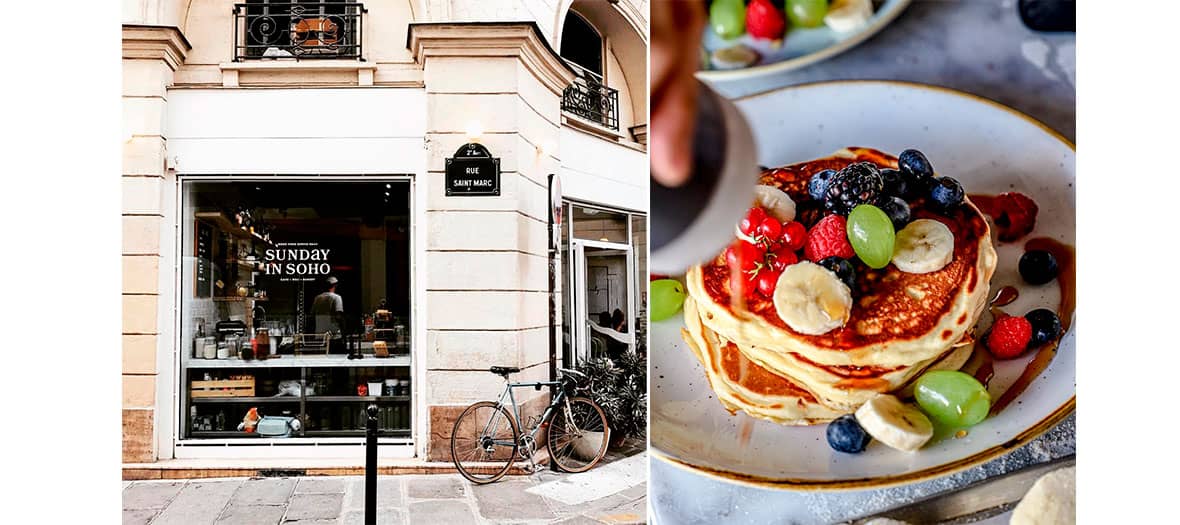 The place. Soho comes to Paris on a small square at the end of the Passage des Panoramas . New York couple Isabelle and Ali have recreated their dream address with healthy but generous, ultra-colorful and reasonably priced dishes.
The brunch. Choose a la carte from the comfy specialties of the typical Sunday brunch: English muffin bacon & potatoes (€ 13), avocado hashbrowns and fried eggs (€ 15.50), sweet pancakes with fruit and whipped cream (€ 13) or savory with bacon and maple syrup (€ 15), fruit salad (€ 5) or even crispy cheddar chicken (€ 16), with of course an army of lattes (matcha, chai, charcoal ... € 5), smoothies (6 €) or a mimosa (€ 6).
Brunch served on Saturday and Sunday from 10:30 a.m. to 4 p.m.
Sunday in Soho, 7 rue Saint Marc, Paris 2e
Fitzroy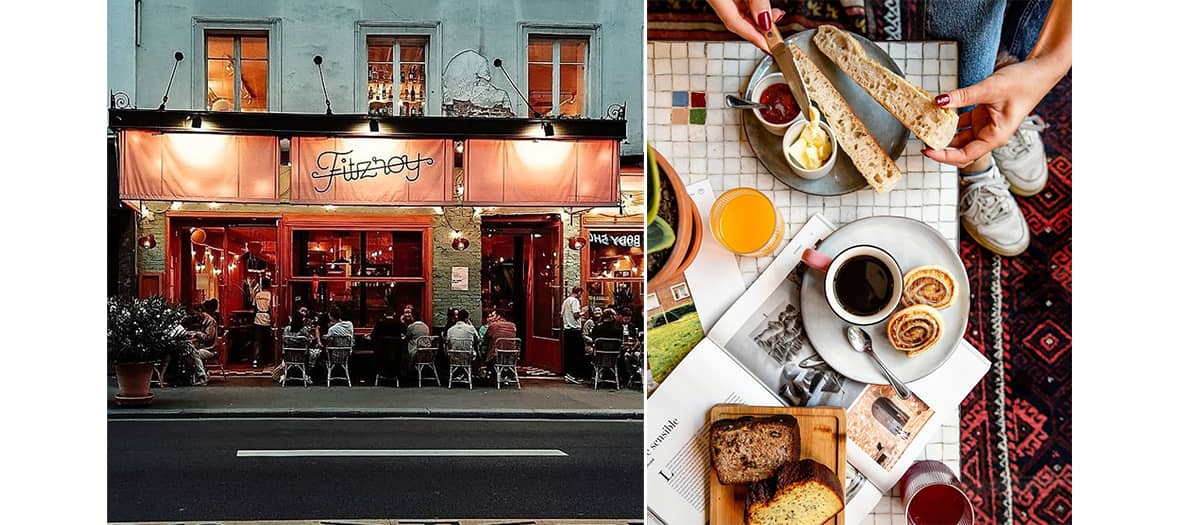 The place. This is the new address that makes the rue du Faubourg Saint Antoine in Bastille vibrate, whose name is directly inspired by the ultra-trendy "public houses " found in the heart of Melbourne's arty district: Fitzroy where the trendy fauna comes to chill, telecommute or meet up with friends from morning to night. Coffee shop during the day, bar in the evening, this XXL place with bar, concert, pétanque court and unlimited wifi has it all!
The brunch . No formula, strictly speaking, but a menu that has it all. Lovers of Australia know that coffee is a religion there: filter , cold brew , creamy cappuccino , crazy latte art and other lactose-free alternatives will delight coffee-lovers. You just have to choose your happiness among the best-sellers of brunch like in Melbourne: avocado toast ( € 16), Mexican huevos rancheros , hyper popular in Melbourne ( € 16), gluten-free club sandwich (€ 16), burgers (€ 17) ) or fish & chips ( € 18), gluten-free banana pancakes (€ 10), carrot cake with a delicious icing ( € 8) or speculoos cheesecake (€ 7). Special mention also to cold pressed juices .
Every weekend and public holiday from 11 a.m.
Fitzroy , 49 rue du Faubourg Saint-Antoine, Paris 11th
Khayma Rooftop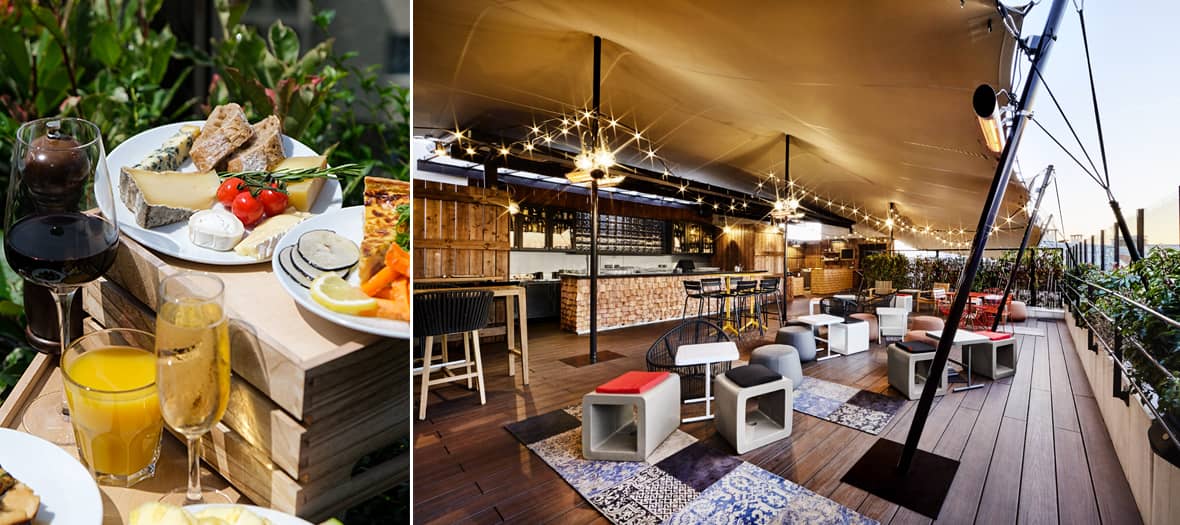 The place . A stone's throw from the art galleries, indie boutiques and romantic cafes of the Canal Saint-Martin , you go up to the 9th floor of the Hostel General to access the Khayma Rooftop, a super trendy spot with its breathtaking view of the Sacré-Coeur and Montmartre. .
The brunch . The concept is user-friendly and hassle-free: a self-service buffet with homemade dishes. Delicious mini pastries, good bread, pancakes, French toast, scrambled eggs bacon / sausages, seasonal salads, a wonderful vegetable quiche and a selection of cold cuts / cheeses. As a bonus, the chef prepares a different dish of the day every Sunday, including an insane gratin dauphinois . As for the desserts, the apple pie is divine, like the floating island.
Brunch from Khayma Rooftop to Generator , every Sunday, € 27 excluding drinks.
9-11 Place Du Colonel Fabien , Paris , France , 75010
The Faubourg Gardens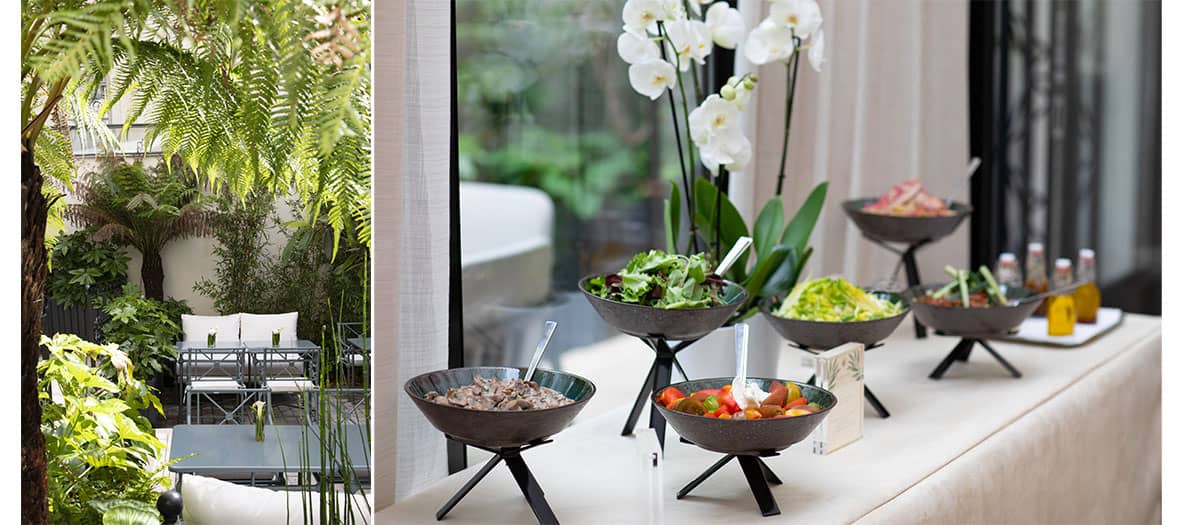 The place. We have already praised the merits of the superb 5-star hotel Les Jardins du Faubourg , nestled near the Elysée Palace in an elegant setting hiding an incredible tree-lined courtyard. This car-free space is the ideal spot for a refined and peaceful brunch with all the service of a luxury hotspot, white tablecloths and silverware included.
The brunch. We bring you a hot drink at the table (at will) and we order our egg, then head to the salad counters (the quinoa tabbouleh, mmhh), hot dishes, raw meat and fish, fresh fruit and juice, pastries, breads and pastries, desserts (chocolate mousse, canelés…).
Les Jardins du Faubourg brunch € 79, children € 45, every Sunday from 12 p.m. to 3 p.m.
Les Jardins du Faubourg 9, rue d'Aguesseau Paris 8th, 01 86 54 15 15 www.lesjardinsdufaubourg.com
© Yvan Moreau
Maison Bréguet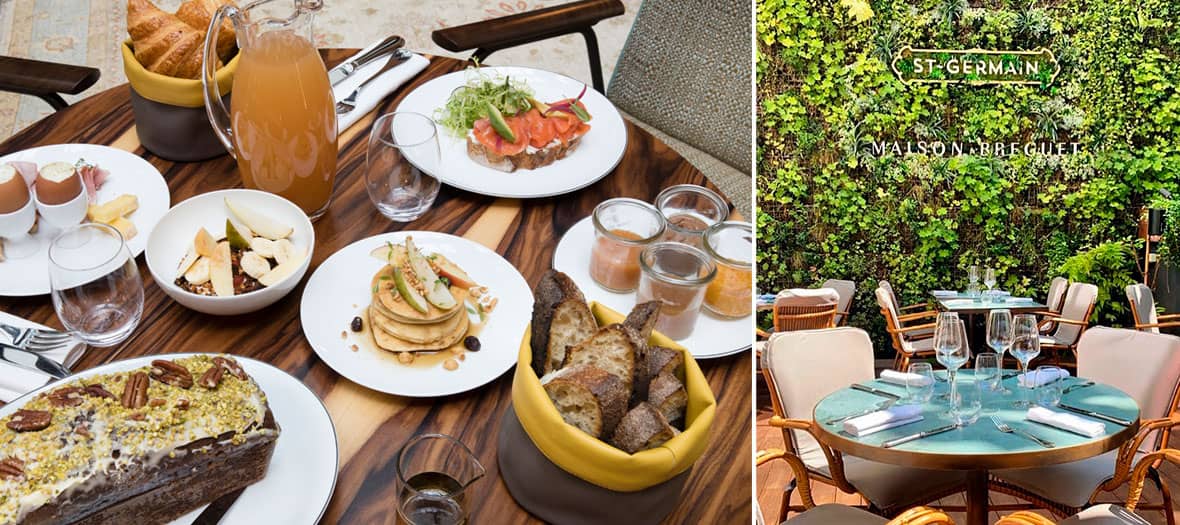 The place. Refined atmosphere, warm atmosphere, friendly but punctilious service ... We are pampered in this trendy East Side boutique hotel , nestled in a small Haussmannian house with a decor completely revised by the studio of Archi British Sagrada with glass roof and green terrace .
The brunch. A simple but tasty formula. We order our hot drink, then head to the seasonal and 100% homemade sweet / savory buffet. Viennese pastries, cheeses, pickled vegetables, salads, grilled zucchini with parmesan, tuna carpaccio… We nibble while waiting for our hot simmered dish: eggs, gnocchi with terribly melting cream, ultra-gourmet vegetable tian. For dessert, the strawberry and the chocolate tart are a must.
Every Sunday from 12 p.m. to 3 p.m., formulas on p. from 45 €, 25 € for children under 11
Maison Breguet , 8 rue Breguet, Paris 11th
Also discover the best kids friendly brunches and Jean Imbert's perfect brunch