Being able to quietly have brunch with the family, chat with friends or simply take care of a drunken dinner while the children have fun and live their lives without getting bored... Joy! Small list of the best kids friendly addresses .
Café de la Paix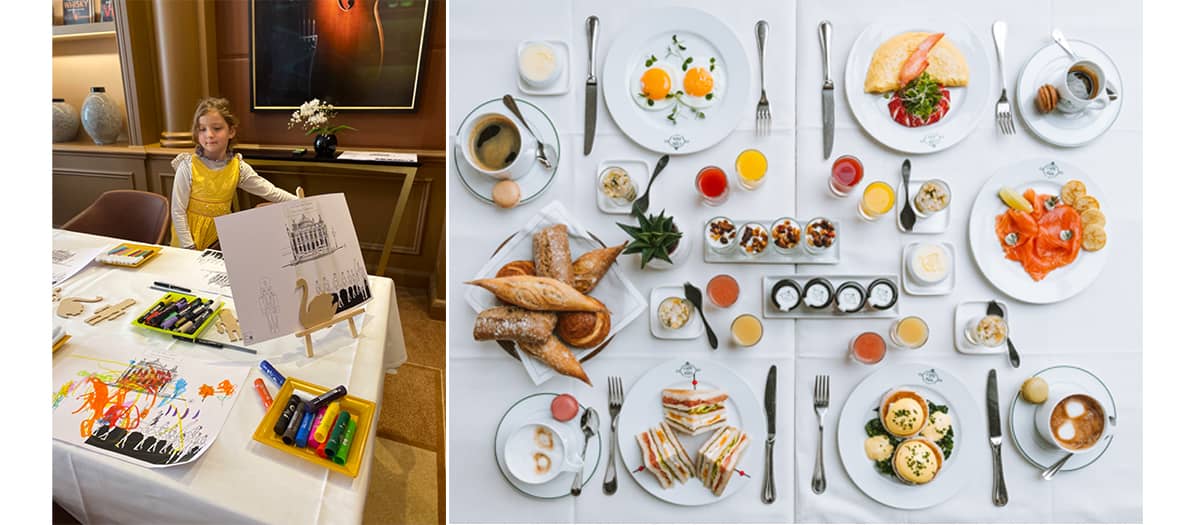 It has lost none of its superb Belle Epoque. A historical monument , a place of all social events, the Café de la Paix appears as a lush dream setting to celebrate a great family occasion around a brunch-feast. Next to the extraordinary Downton Abbey buffets , children find a corner for them with haute couture comfort food (baby burger, croque monsieur, club, homemade nuggets, fruit juices, etc.) before rushing to raid fruit, sweets and chocolate donuts on the dessert buffet for adults.
The extra thing? Playful workshops carried out by Macha Brodsky in a very special place. As soon as you arrive, she offers to pick up the young class at the table and to manage everything from A to Z according to their age (drawing, constructions, coloring) and to have her dessert on the kids side.
And the parents during this time? Champagne! There is an exquisite atmosphere of splendor, starting with the coupette served as soon as it arrives and the attentive service. Chef Laurent André deployed the exceptional know-how of his brigade to celebrate: extraordinary bench of scales (oysters, langoustine, whelk, cakes, smoked salmon, etc.), sushi stand and spring rolls, eggs " as we wants "prepared minutes straight from the kitchen, salads, a pasta-party of fresh pasta, a Lebanese corner with hummus, tabbouleh and Lebanese bread, cold meats and cheeses, breads, pies, cakes, pastries. In short: we no longer know where to turn.

Brunch every Sunday, from 12 p.m. to 3:30 p.m. €98 per adult. 48€ for 6 of 12 years old. Free for children under 3 years.
The Café de la Paix 5 place de l'Opéra, Paris 9th
Yaya Secrétan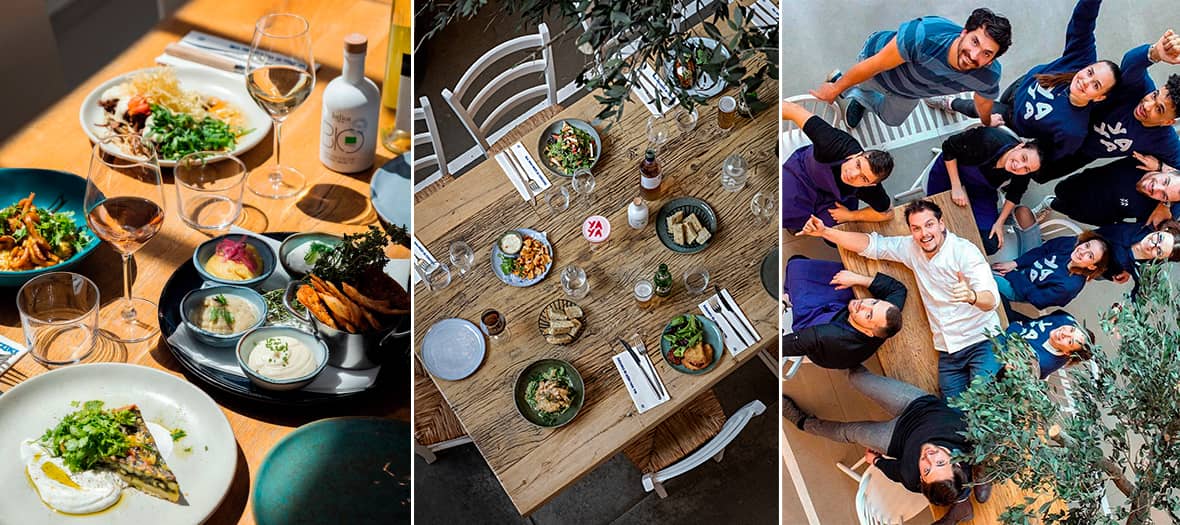 Ultimately trendy stronghold opened by the Chantzios brothers (the Kalios olive oil team ) with chef Juan Arbelaez , Yaya Secrétan stands out as the most popular Mediterranean restaurant on the East side. On Sundays, their family-only brunch slot hits the spot . The appointment is made at noon sharp to come and supply his clan without complex until 2 p.m. in ruthless mode, before the next service.
The extra thing? Concretely, you are in paradise for kids with coloring and colored pencils available on all the tables. Here, no one will blame you for coming across kids on the buffets or the youngest who squeals. We help ourselves at ease: good family dishes to pick up yourself in the kitchen: roast chicken and good potatoes before attacking the counters which are overflowing with delights: tarama, scrambled eggs, meatballs, spinach puff pastries - feta or salad of lentils, orange cake, chocolate cake, Greek yoghurt to pimp with granola and cut fruit like on vacation. To " play at the restaurant ": fresh juice, coffee and drinks straight from the bar.
And the parents during this time? They sun themselves on the south-facing terrace between the olive trees with their friends or the JDD while their offspring play a revival of Petit Nicolas .
Family brunch at noon to 2 p.m. every Sunday. On reservation . €36. Children: 16 €
Yaya Secrétan , 33 avenue Secrétan, Paris 19th.
Le super café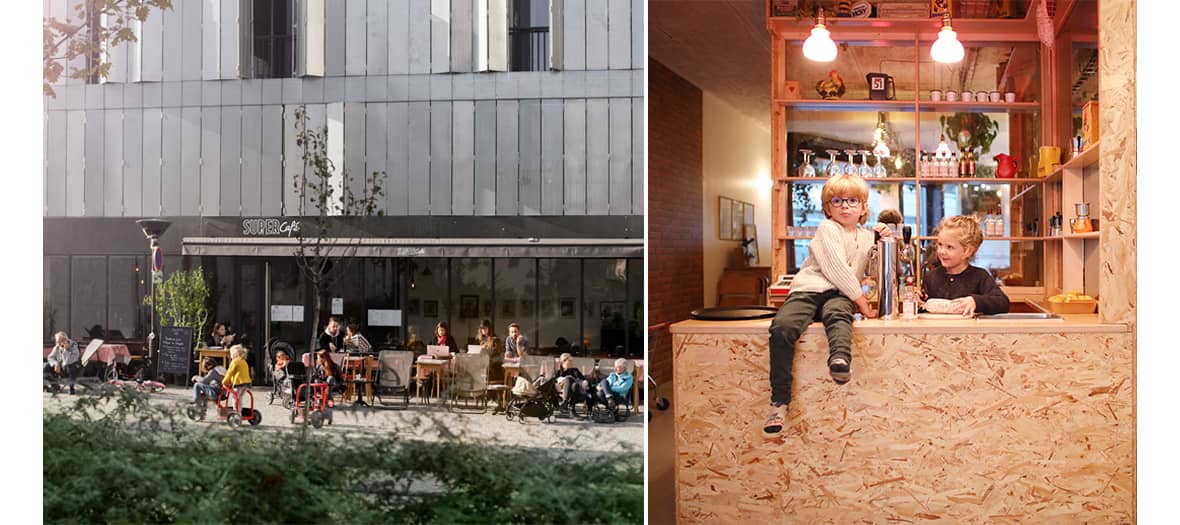 Imagined as a friendly cocoon by Sarah, the Super Café claims to be the meeting place that bobo families dreamed of. Understand the presence of a real toy library , a hidden reading cabin , board games with free access and a replica mini-bistro on a child's scale and the library accessible to all ages.
The extra thing: the SUPER Sunday brunch, with fresh and organic dishes, available in two versions. The Classic , English style with eggs and bacon, and the Flexi' veggie , with mousses, sweet potato and salmon waffles... Yum!
And the parents during this time? They chill on the benches, rid of their kids and take advantage of the many spaces available: inside in the mini and large bistros for the hen parents, or outright on the terrace for those who want to have peace.
The must ? The possibility of reserving tables of 10 to 20 with preferential rates to enjoy with your group of friends and their offspring.
Open Wednesday to Sunday, 11 a.m. to 7 p.m., until midnight on weekends. Brunch €26 per person.
Super Café , 16 rue de Fontarabie Paris 20th. 09 81 94 44 98
Le Comptoir Général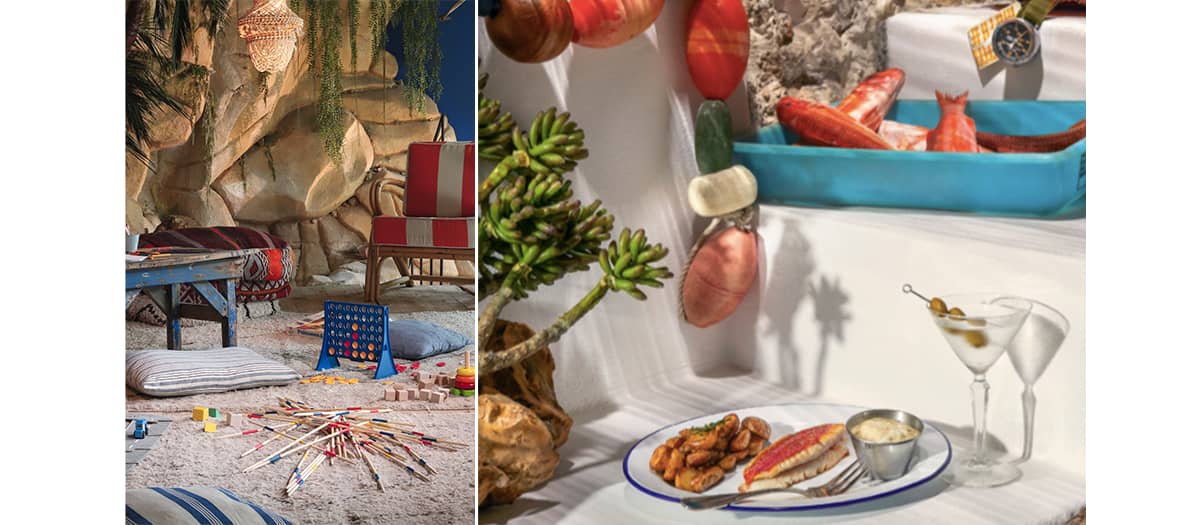 Le Comptoir Général is a grandiose address on the Saint-Martin canal in a Hollywood universe directly inspired by Pirates of the Caribbean or Peter Pan . A giant fountain, beaches on a desert island or mountains like in the Rockies: here is a wow scene to swallow a special pirate menu at the tables of the grown-ups (fish and chips + mini-pastries + apple juice + salmon + egg + fruit granola) before heading to the room dedicated to kids.
The extra thing? The two crazy animators who take everything in hand, from the age of 1, around creative workshops : treasure map and pirate hat before putting on makeup and playing with them. Available for those who prefer to stay on their side: coloring, mikado, Connect 4 and all the best board games .
And the parents during this time? Here, we like to make the tribes happy. They live their best life curled up in the big sofas without their kids around a very good seafood brunch (from €25): marinated salmon, baskets of croissants and pains au chocolat, fresh juice, scrambled eggs, with main options cold (ceviche) and comfy (cod brandade).
The must ? Take a trip to the cellar-grocery to do its Sunday market (fish rillettes, preserves, incredible crisps, breads, cheeses, rums, etc.).
Brunch on Saturdays and Sundays, from 12 p.m. to 3:30 p.m. 15 € for children all inclusive.
Le Comptoir Général , 84 quai de Jemmapes, Paris 10th
Drouant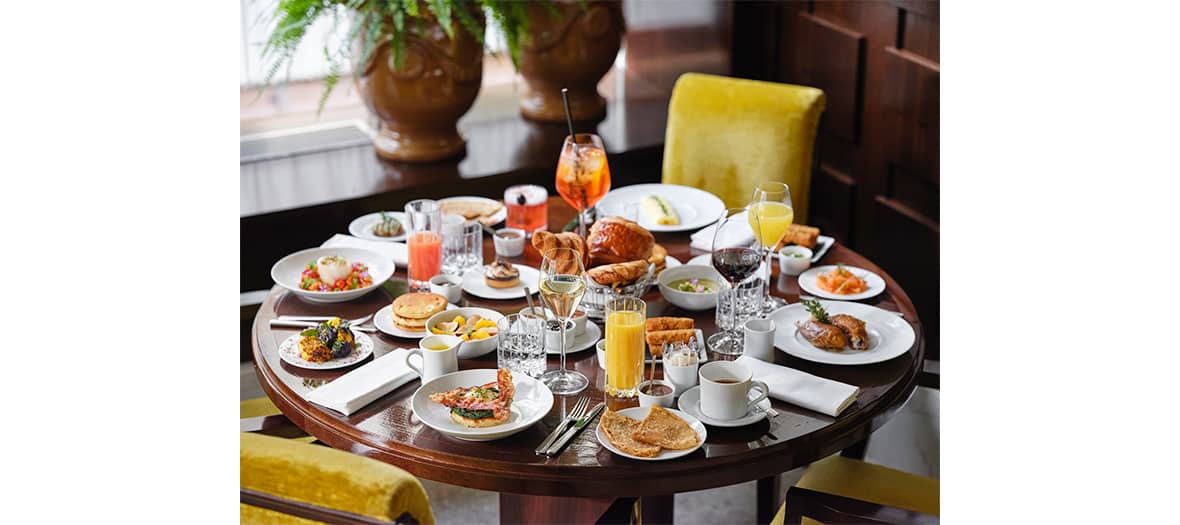 A veritable institution of the new Parisian art of living, the legendary Drouant house is having a chic and cool revival on Place Gaillon, particularly on weekends with a brunch that suits all tastes. From 12:45 p.m., the children go to the private rooms on the first floor to have fun, with de Macha , the popess of the creative and arty workshops for children. The concept: to recreate the drawings of Saint-Exupéry 's Little Prince or the sculptures of Niki de Saint-Phalle through colouring, cutting and co .
The added plus: the little writers' brunch , developed by the chef for the young class. At the table with the parents, they enjoy: juice and hot chocolate, roast chicken or haute couture fish and chips with fries, green beans or rice pilaf... Special mention to the dessert buffet set up with the workshops upstairs to taste chocolate cookies galore with milk, chocolate tiger, chouquettes, rock, baby madeleines and mini fruit skewers.
And the parents during this time? They don't see their children, and that allows them to enjoy the young chef's feast spent with the older ones ( Guy Savoy , Gérald Passédat , etc.). Let's go for a gastronomic and relaxed waltz with a nice introduction: haute couture pastries from Maison Meunier , eggs any style (truffle Benedictine, cheese omelet , fried eggs with mushrooms, etc.) before picking between hors d'oeuvres and catered dishes served at the table (green bean salad, panisse de Nice, oysters, plate of homemade charcuterie, pesto soup, smoked salmon, etc.). Time for serious things with a real dish : special mention to the traditional Black Chicken from Challans with fries, the house's iconic dish. Proustian desserts to end on a high note: pancakes with chocolate praline sauce, Liège waffle or plate of fresh fruit.
Brunch on Saturdays and Sundays, from 11 a.m. to 3:30 p.m. €68 per person, €35 for children
Drouant , 16-18 Place Gaillon, Paris 2nd. Reservations recommended on 01 42 65 15 16
fitzroy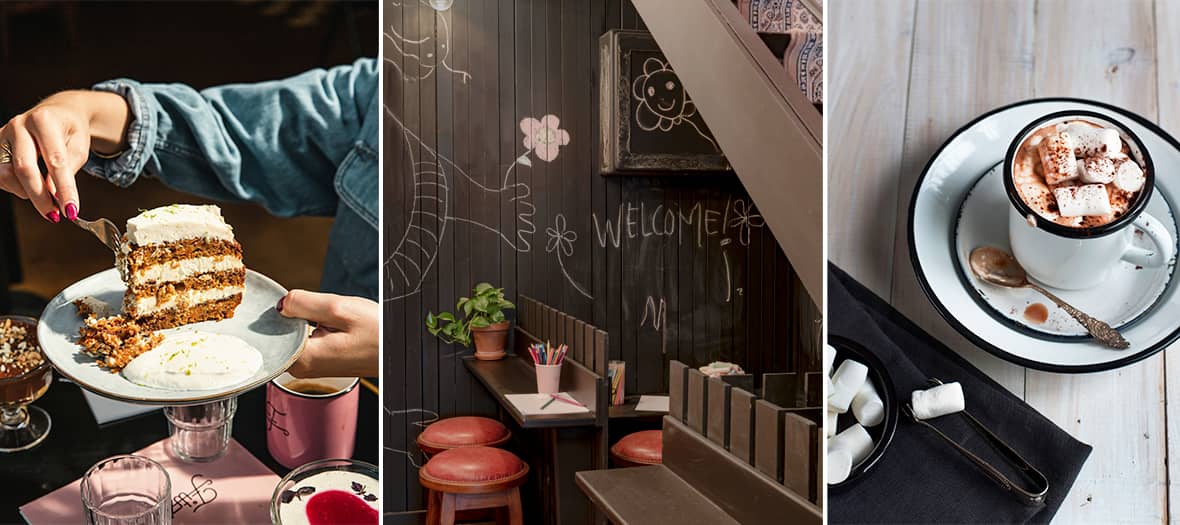 As in the trendiest public houses in Melbourne , at Fitzroy , children are treated like little princes, and at the height of adults, with high chairs available. Long live the babyccino (€2), this latte for kids, the star drink for kids in Australia : chocolate powder and milk froth served in a shot with a little latte art design and a marshmallow, to sip with a cheeseburger ( €17), fish & chips (€18) or pancakes (€10). Before and after, a hut is completely dedicated to them: we color and draw on the walls with chalk, we play UNO or toy cars, and we read books ( J'aime lire , Tintin , etc.). The chill-out of the little ones, this is where it happens.
The extra thing: the older ones will squat the vintage console on the 1st floor to start a game of Mario Kart , while the teenagers will be delighted to try their hand at the real pétanque court on the first floor.
And the parents during this time? Well settled around large tables, they take advantage of brunch like in Australia where this meal is a " religion " and where specialty coffee , sourced from Coutume , is king (espresso, cappuccino, latte…). No imposed formula but a menu where you can find all the comfort food and healthy best-sellers : egg muffins (€21) , cold-pressed juices (€6) , smash avocado toast (€16) , buddha bowl (€15 ) €) , crazy carrot cake (€8) … You're going to love it.
Fitzroy , 49 rue du Faubourg Saint-Antoine, Paris 11th, open Monday to Wednesday from 5 p.m. to 2 a.m., Thursday from 5 p.m. to 3 a.m., Friday from 5 p.m. to 4 a.m. and Saturday from 3 p.m. to 4 a.m.

Also discover where to find the best pains au chocolat in Paris and the new brunches to try this fall