To be able to quietly brunch with family, to chat with girlfriends or simply to treat an overly watered dinner while the children have fun and live their lives without getting bored ... Joy! Small listing of the best kids friendly addresses.
The comptoir general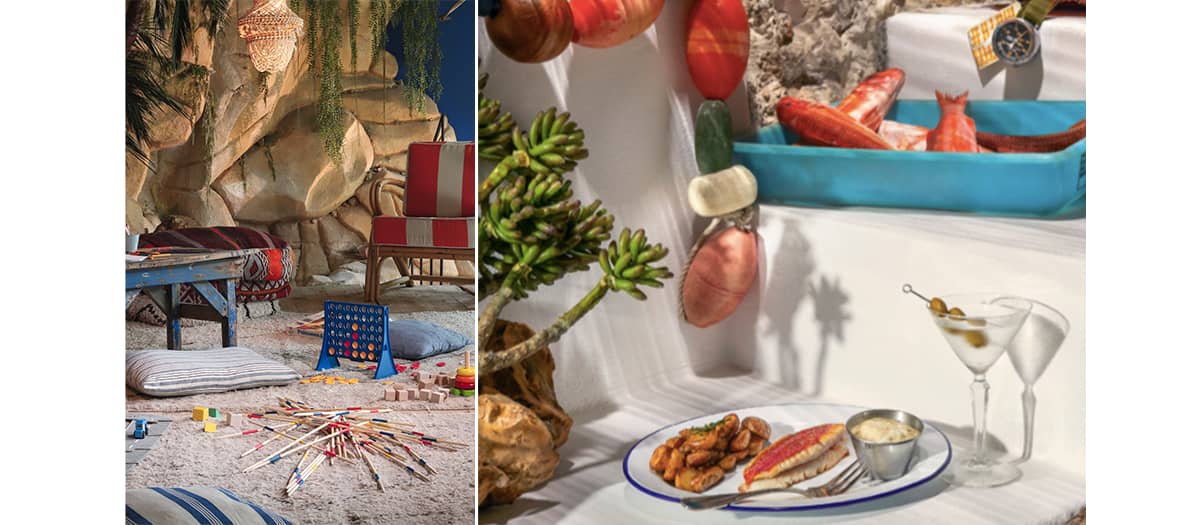 Le Comptoir Général is a grandiose address on the Canal Saint-Martin in a Hollywood universe directly inspired by Pirates of the Caribbean or Peter Pan . A giant fountain, deserted island beaches or mountains like in the Rockies: here is a wow scenario to swallow a special pirate menu at the tables of the grown-ups (fish and chips + mini-pastries + apple juice + salmon + egg + fruit granola) before heading to the kids room.
The extra thing? The two demented animators who take everything in hand, from 1 year old, around creative workshops : treasure map and pirate hat before putting on makeup and playing with them. Available for those who prefer to stay on their side: coloring, mikado, Power 4 and all the best board games .
And the parents during this time? Here, we like to impress the tribes. They live their best life curled up in the big sofas without their kids around a delicious sea brunch (from 25 €): marinated salmon, baskets of croissants and chocolate breads, fresh juice, scrambled eggs, with main course options. cold (ceviche) and comfy (cod brandade).
The must ? Take a trip to the cellar-grocery store to do your Sunday market (fish rillettes, preserves, incredible crisps, breads, cheeses, rums…).
Brunch on Saturdays and Sundays, from 12 p.m. to 3:30 p.m. 15 € for all inclusive children.
Le Comptoir Général , 84 quai de Jemmapes, Paris 10th district
Drouant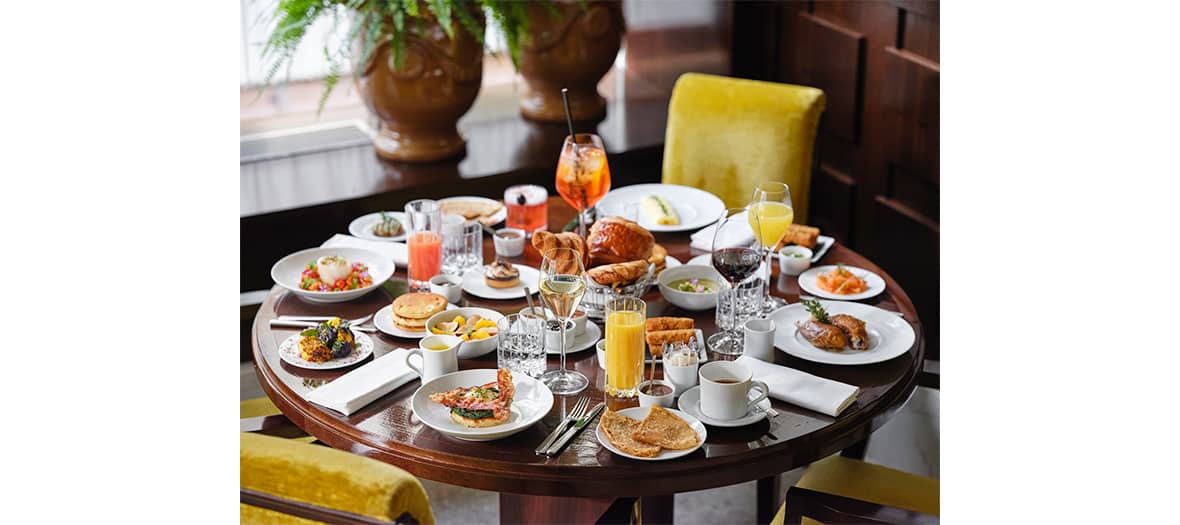 A true institution of the new Parisian art of living, the legendary Drouant house is making its chic and cool revival on Place Gaillon, particularly on weekends with a brunch that fits all tastes. From 12:45 p.m., the children go to the private lounges on the first floor to have fun, with Macha , the high priestess of the creative and arty workshops for children. The concept: recreate with coloring, cutting and cie the drawings of the Little Prince by Saint-Exupéry or the sculptures by Niki de Saint-Phalle .
The added bonus: the little writers' brunch , developed by the chef for the young class. At the table with their parents, they feast: juice and hot chocolate, roast chicken or haute couture fish and chips with fries, green beans or rice pilaf… Special mention at the dessert buffet set up with the workshops upstairs to taste chocolate cookies galore with milk, chocolate tiger, chouquettes, rocher, baby madeleines and mini fruit skewers.
And the parents during this time? They do not see their children, and this allows them to enjoy the feast of the young chef spent with the older ones ( Guy Savoy , Gérald Passédat …). Let's go for a gourmet and relaxed waltz with a nice introduction: haute couture pastries from the Meunier house, eggs any style (benedict with truffle, cheese omelet , fried eggs with mushrooms ...) before picking between appetizers and catering plates served at the table (green bean salad, Nice panisse, oysters, homemade charcuterie, pesto soup, smoked salmon, etc.). Time to get down to business with a real dish : special mention to the traditional Challans Black Chicken with fries, the house's iconic dish. Proustian desserts to finish off in style: pancakes with chocolate praline sauce, Liège waffle or plate of fresh fruit.
Brunch on Saturdays and Sundays, from 11 a.m. to 3:30 p.m. 68 € per person, 35 € for the little ones
Drouant , 16-18 Place Gaillon, Paris 2nd. Reservations recommended on 01 42 65 15 16
Fitzroy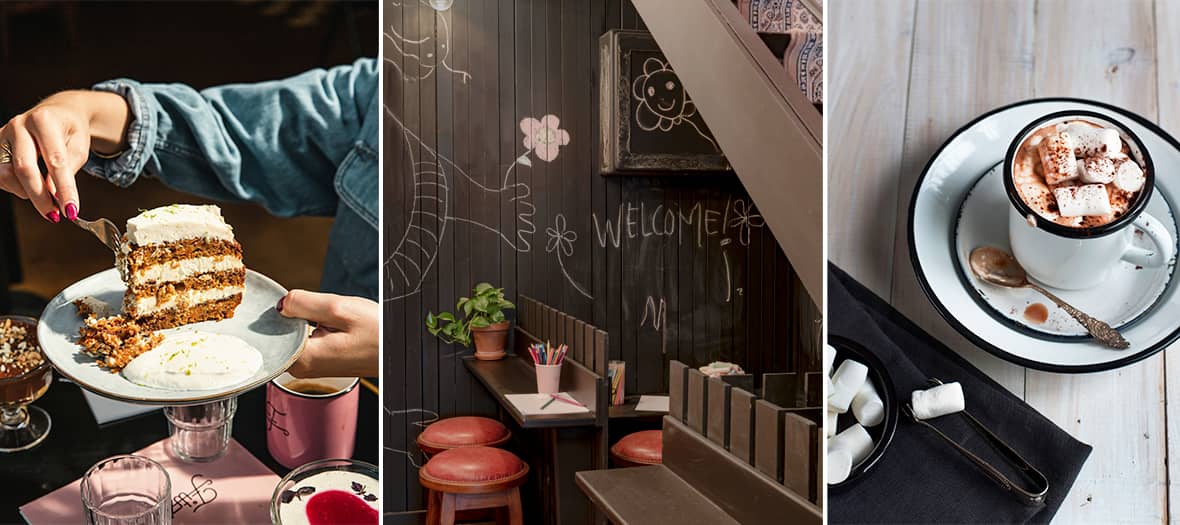 As in the trendiest public houses in Melbourne , at Fitzroy , children are treated like little princes, and up to the grown-ups, with high chairs available. Long live the babyccino (€ 2), this latte for kids, a star drink for little ones in Australia : chocolate powder and milk foam served as a shot with a little latte art design and a marshmallow, to be sipped with a cheeseburger ( € 17), fish & chips (€ 18) or pancakes (€ 10). Before and after, a hut is totally dedicated to them: we color and draw on the walls with chalk, we play UNO or small cars, and we read ( I like to read , Tintin …). The chill-out of the little ones, this is where it happens.
The added bonus: the older ones will take to the vintage console on the 1st floor to get into a game of Mario Kart , while the teenagers will be delighted to try their hand at the real pétanque court on the first floor.
And the parents during this time? Well installed around large tables, they enjoy brunch as in Australia where this meal is a " religion " and where specialty coffee , sourced at Coutume , is king (espresso, cappuccino, latte…). No imposed formula, but a menu featuring all the comfort food and healthy best-sellers: egg muffins (€ 21) , cold-pressed juices (€ 6) , smash avocado toast (€ 16) , buddha bowl (15 €), carrot cake madness (8 €) ... You will kiffer.
Every Saturday, Sunday and public holidays from 11 a.m.
Fitzroy , 49 rue du Faubourg Saint-Antoine, Paris 11th

Also find out how to occupy your children during the holidays and the news brunch to test urgently