All the Parisian influencers drop by here at the moment. And with reason, Noir Gaazol is THE absolute cool connotation. So now you know…
The famous itinerant concept-store has set up its super trendy selection a skip and a hop from République. Result, a condensation of must-know emerging lifestyle labels. Examples? Cactus message pots by Aÿ Cactus (35€), Aurélie Chadaine fringes to pimp your Stan Smiths (35€), enamelled Falcon dishware, big fave of hipster restaurants, Green Barbès DIY beauty kits to make you own body creams at home (40€), fab hemp cushions by Pompon Bazar…
We adore: furniture and objects of Scandinavian inspiration signed HUS concept-store—entirely customisable— and veggie energy balls from the Lolypop Kitchen cantina.
This highly prescriber place, that will disappear in a few days, is open on May 5th and 8th. No excuses!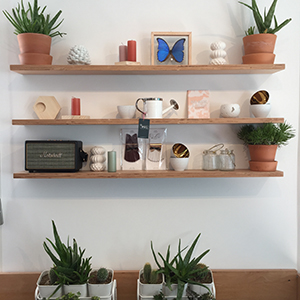 Noir Gaazol Pop-up store, until the 8th of May. Every day from 10:30am to 8pm, late night on Thursday until 9pm.
Also check out the online shop La Seinographe.