Erase everything and start over. The restaurant of Hôtel Nolinski, located in the vibrant Opéra district, has undergone a major renovation. The Brasserie Réjane has been replaced by Nolinski, which will surely create the buzz.
Gold is the new black
British designer John Whelan, already behind the lifting of Bouillon Julien, signs an incredible gold plate scenography, between Art Deco codes and colonial heritage: wicker chairs, marble tables, chandeliers, tropical plants and mural fresco. Hot, hotter, hottest...the chromatic thermometer is on the rise and so is the cuisine.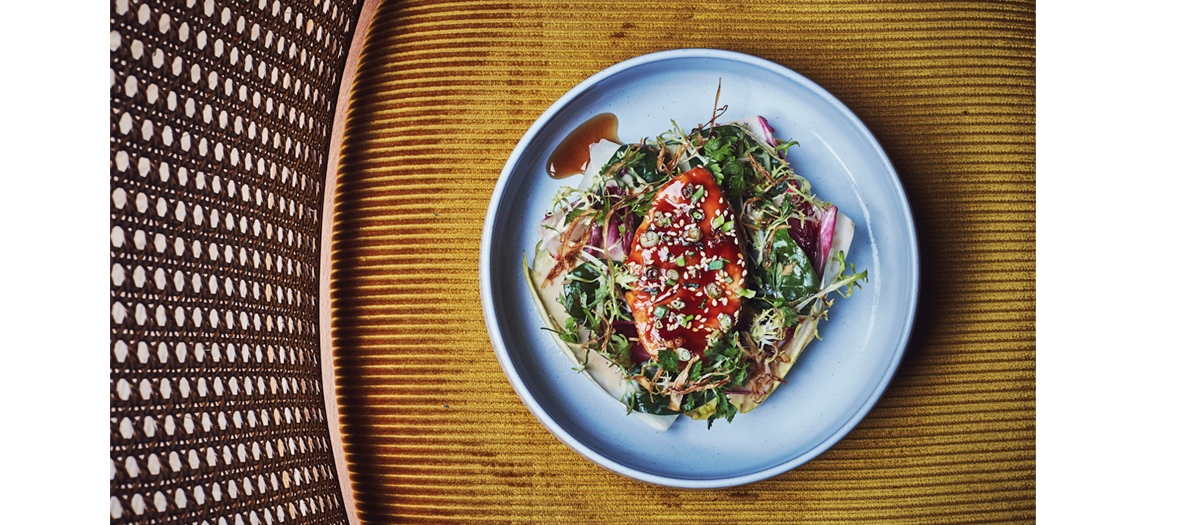 The style of a star chef
Recently promoted executive chef of the Evok group (Brach, Sinner, Cour des Vosges), Philip Chronopoulos, one-star at the Restaurant du Palais Royal, has concocted a vibrant and solar menu highlighting his Greek origins.
Zoom on the already cult braised cauliflower and the burrata with coriander pesto (€14), the fried chicken with paprika (€14), the chicken kebab with ginger served on a house pita with thyme and a heavy coat of tzatziki spread, a killer (€24) or the crunchy ravioles stuffed with chestnuts and feta (€24), a traditional Greek recipe superbly reinterpreted by the chef, who also master the art of the dining room spectacle.
Just check out the filet of beef with a pepper sauce flambéed live with cognac (€47), and the roasted pineapple washed down with rum that catches fire under your eyes (€14). Now is the moment to clink glasses with the signature cocktails of the barman (€21).
And as in all the Evok establishments, Meilleur Ouvrier de France Yann Brys ensures the sweet notes: amazing profiteroles (€12), caramelized millefeuille (€14), Pavlova (€12). Nolinski, the new place to be?
Also check out Coco au Palais Garnier and L'Epi d'Or by Jean-François Piège.