Italian food addicts, get ready to swoon … La Grande Epicerie de Paris is selling as of now tasty panini during lunch break, prepared with love and care. Beware, we are not talking of a standard panino, filled with plastic mozzarella and tasteless ham.
No, this panino is an authentic Italian sandwich, a delight worthy of the best trattorias in Rome or Naples… Just the kind of comfort you need during lunch before heading back to work.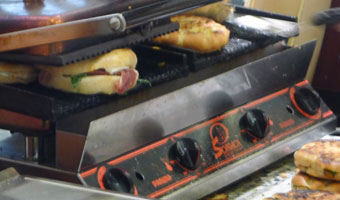 But what makes this panino so unusual? First we love it because it's very good and round. Second, because inside its divine bread, one finds top notch products. Amazing buffala mozzarella, soft and easy to digest pesto, and arugula for the green touch. So all you need to do is choose whether you prefer the veggie eggplants, the version with Parma ham, or ratatouille and chicken. We tried them all and they were all great !