Welcome to Sacha Finkelsztajn, the other Easter European Jewish caterer of rue des Rosiers, named «the little yellow bakery» by the locals in the area.
Here you will find the paradise of Yiddish gastronomy – and really you feel like wolfing everything down just by looking at the boutique's shelves filled with charcuteries, fresh cheese, tarama, golden breads and terrific desserts.
One finds the traditional «rhalla» for Shabbat (we loved the «rhale»,  a mini version of this Friday bread), the classic bread with cumin, the «Rogalik» with onions, the caramel tasting «Rawozy» … And of course the famous «Reine de Saba», this soft and crispy chocolate cake.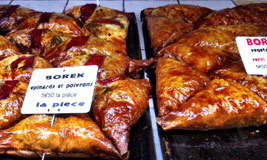 We like : the Bulgarian «Boreks», real marvels with  ewe cheese, peppers/spinach or veggies… (5,50 euros per piece).
We adore : the «Vatroushka light» - a lighter version but with just as much pleasure for this amazing cheese cake ! (3,50 euros per slice).