This is the new go-to spot for foodies on the Left Bank, recently opened near the Butte aux Cailles. Whether you're in the mood for a snack, a locavore brunch, or a fresh produce haul, Solla offers the convenience of a neighborhood grocery store with the charm of a cozy dining table. Look out for the green storefront and follow us.
Trust in superb local products!
Regulars call it Béa. The owner and chef (formerly of Circonstances) has recently launched her innovative concept of a grocery store where you feel right at home, whether you're shopping or looking for a bite to eat.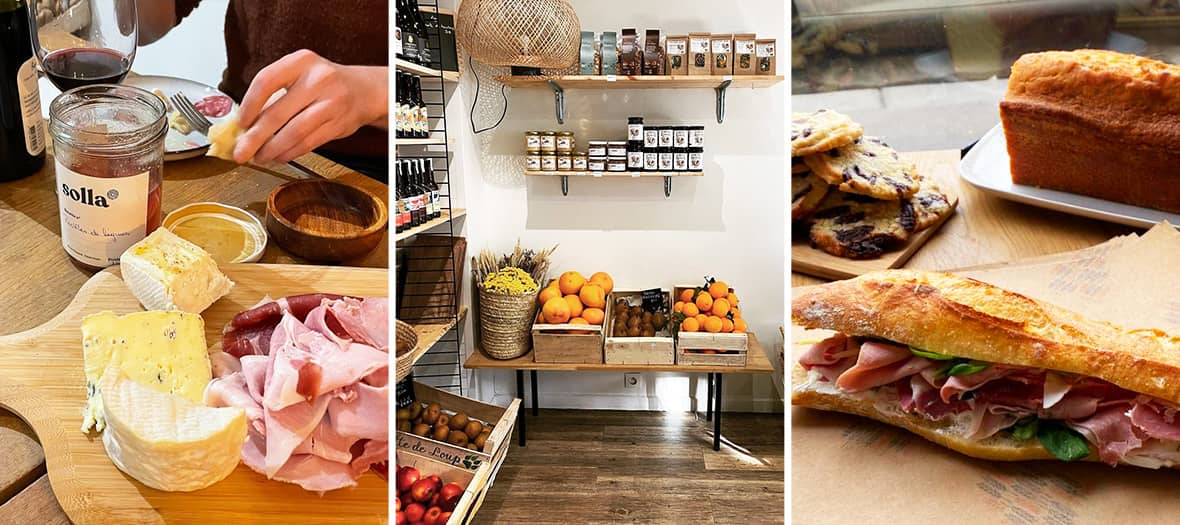 The products at her Solla grocery store are carefully selected and all come from local businesses within 150 km of the capital, ensuring sustainable and eco-friendly production. You'll find chocolate treats from Rrraw Cacao Factory, as well as fresh dairy products from Verneuil, sobacha from Parti du Thé (based in the 12th arrondissement), and coffee from Nibi (produced in the 18th). As a true foodie, Béa also prepares homemade jars to grab on your way home from work, including a delicious pesto to spice up your pasta, a mouth-watering caramel that would make the Bretons jealous, and a super fresh apple compote, all at affordable prices (between €5 and €9).
A spot to hang out all day long!
The real highlight of this place ? The opportunity to sit down and enjoy the products that caught your eye right there in the store. For lunch, Solla offers a daily changing, reduced menu (set menus between €9.80 and €14.80) including a sandwich (€6.50), a quiche (€6.50), a hot dish (€8.80), and a selection of delicious sweets and local drinks. In the afternoon, it's the perfect place for a delightful snack where the chef's cakes, pies, and cookies can be enjoyed with an organic coffee from Brûlerie des Gobelins or one of Béa's secret homemade drinks.
It's also the perfect spot to hang out with friends over a selection of organic beers and wines, and mouth-watering charcuterie and cheese boards made with local products. And the good news is that Béa now offers a brunch (€18) on Saturdays, so make sure to book your table in advance.

Open Monday to Saturday from 11am to 8pm.