L'Improbable carries its name well! This new folkloric and totally unexpected address in the Marais is located in a former underground garage and more than ever takes on a resolutely Brooklyn style where one can come chill quietly.
Imagine a place with a very industrial look where the new buzzing food-truck has come to park and offers the most trendy eats of the moment, signed BIEN FAIT, the up and coming collective right now.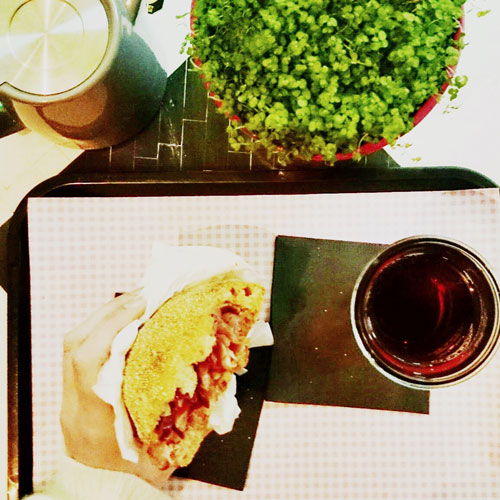 Object of the crime? Les pistolets, the mythical Belgian sandwiches concocted in small round breads.
Here, they are prepared by craftsman baker Raoul Maeder, who won the prize of the best baguette in Paris) and the delicious recipes were concocted by the talented Christophe Aribert, two-star chef at Uriage. The result is obviously amazing.
Degree of monomania? 90%. The very hot "Gaston" with pork shank + deluxe BBQ sauce + red cabbage for 8€ or "Mortimer" with shoulder of lamb + preserved eggplant + parmesan. To sip with a natural blueberry lemonade before going over to the counter to grab a cake or a coffee.
We love: the far-flung change of scenery with sofa, wicker mirror, vegetal wall and a thousand curiosities… It feels like Louisiana.
Monday to Friday from 11am to 4pm. Saturday and Sunday from 11am to 7pm