Is the anxiety of Christmas shopping starting to peak? This is where Do It In Paris steps in. Here is the perfect way to transform what you thought was going to be a terrible ordeal into a pleasurable shop-op… yes, yes we promise.
Follow the guide.
Step number 1 : go directly to a concept-store of the East Side of Paris, Vill'Up, that gathers all the new concepts and the most stylish labels of the moment.
Step number 2 : follow and find the perfect gift for each person (snob Parisiennes and difficult mother-in-law included) totally hassle free and without worrying about your piggybank. The good news, we have made a selection for you of 150 ideas to pamper and impress your family, the man in your life and your boss . So just stroll down the alleys of this unusual place conceived like an industrial loft…
For decorating buffs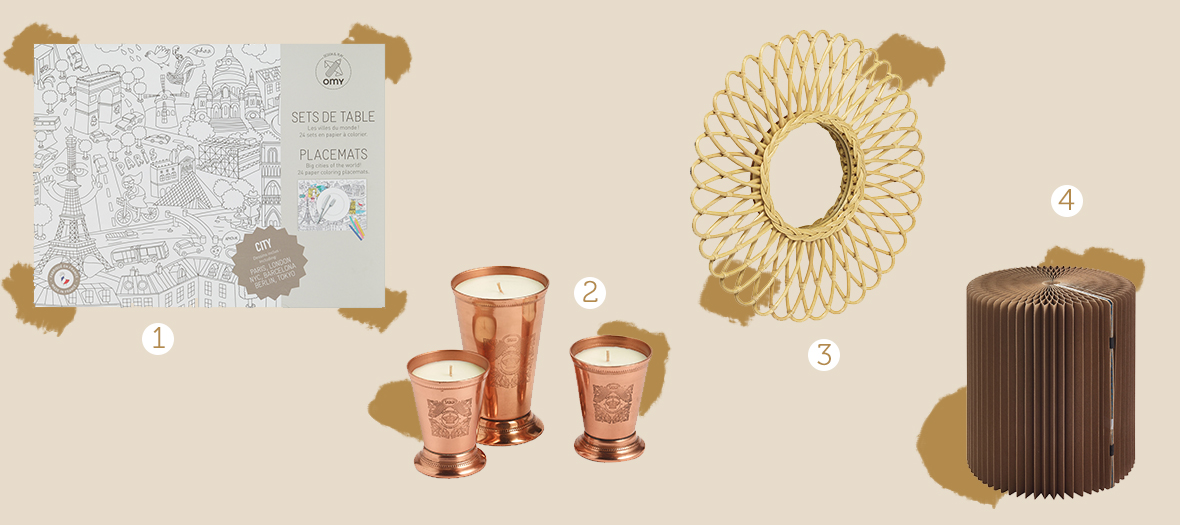 Sets signed OMY for Bensimon, the most instrgammed colouring label of the moment. Your 10 year old god child will adore it, trendy Parisiennes will also be tempted ...
1.Table mats to be coloured, Bensimon Concept store, €15.
A book to stach in your bookcase, that folds out as a furiously stylish extra stool when friends drop by the. Its the new hot design phenomenon.
2.Stool-book, Flying Tiger, €7.
The wicker mirror, it's the most successful design piece this year, to give to your mother-in-law or BFF eyes-closed.
3. Miroir, Miles Away, €61.
When it comes from a craftsmanship and desirable house such as Sabon, a perfumed candle is always a hit.
4. Cabdles, Sabon, €small 45, large €69.
For Healthy Girls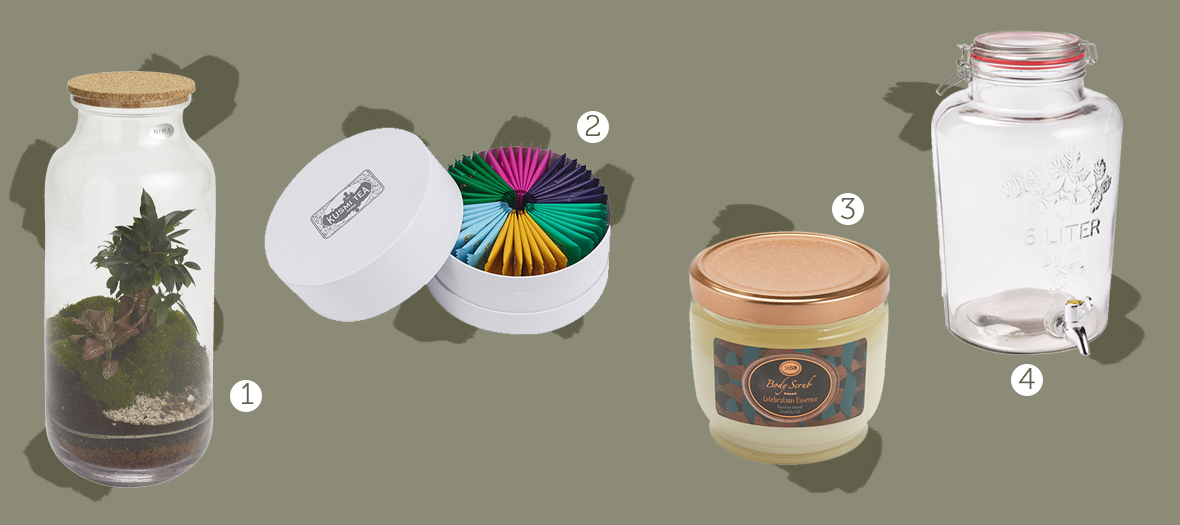 Like a mini-jungle that you don't have to upkeep. This curiosity is the new obsession of green-girls…
1. Ephemeral Terrarium Boutique of creators, €149.
A super chic hat box filled with Kusmi teas, that brand that continues to appeal to Parisiennes in the know, and always a big success. A must for your mother-in-law or your new sister-in-law.
2.Well-being box, Kusmi Tea, 49 €.
Careful cult product ! The favourite beauty ritual of all the pretty girls in Tel Aviv and New York ? A fab scrub signed Sabon that a scent and softness… addictive for your skin.
3.Body scrub, Sabon, 30 €.
How to make a vitamin juice and smoothies buff really happy? By treating her to the Drink dispenser of Flying Tiger.
4.Drink dispenser, Flying Tiger, €20.
For fashionistas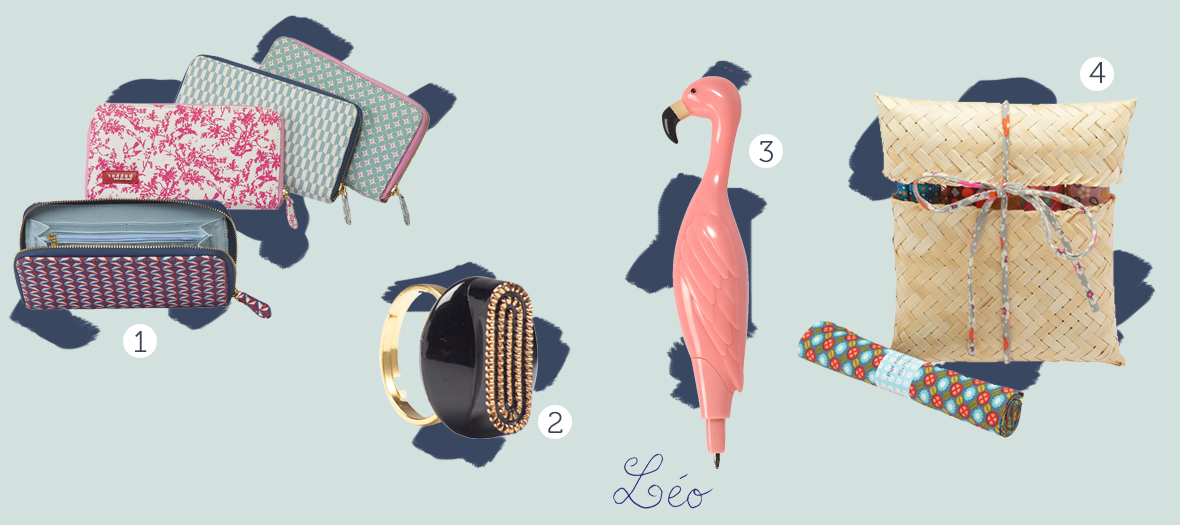 Because any self-respecting Parisian must have a Pink Flamingo accessory, the new mascot to adopt.
1. Pink flamingo pen, L'univers de Léo, €5,90.
For a wowie effect with a small budget, this design wallet.
2. Wallet, Miles Away, €35.
The indispensable kit for DIY addicts.
3. Sewing kit, Petit Pan, €28.
Both couture and vintage, this piece has the extra soul that qui Inès de la Fressange or Caroline de Maigret might not resist to. A sustainable ring made with discarded buttons.
4. Boutique éphémère de créateurs, €25.
For stylish Parisians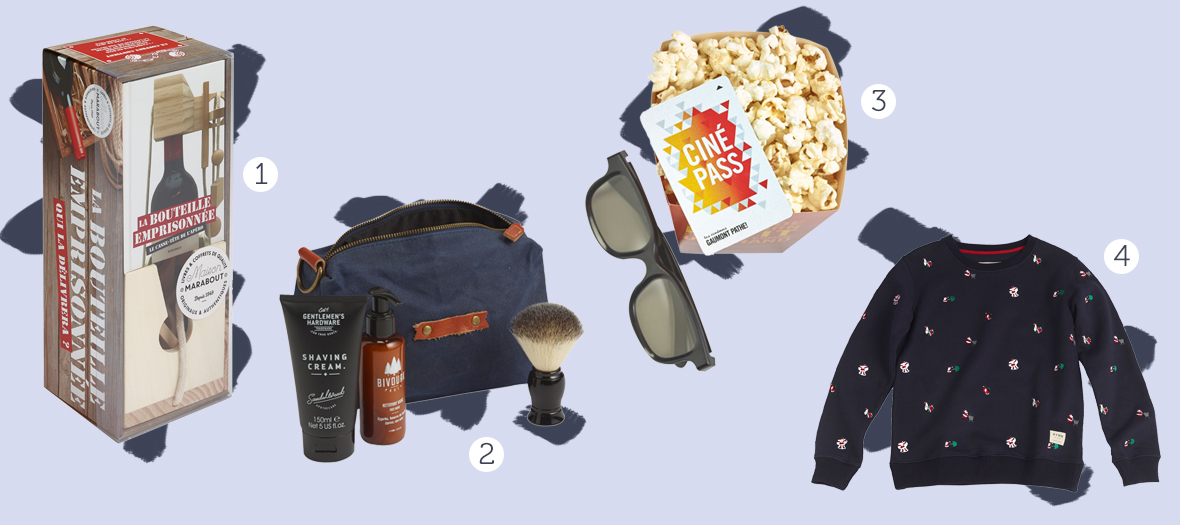 The stylish set to tame the beard of your man.
1.The essential man's kit (shaving cream, brush, toiletry kit, face cleanser) , Sauver le monde des hommes, €118.
No ideas for your godchild / kid brother who both love going to the movies ? Nothing is more cool than a year pass for unlimited cinema sessions.
2.The Pathé Cinéma Pass, €16,90 /month.
Because men are always on the lookout for a nice pullover… and expect that their mothers / sisters / wives might have the good taste of getting one for them.
3.Xmas pullover, Sauver le monde des hommes, €99.
All those who enjoy rare bottles and small wine producers will appreciate this corkscreaw with a high added value.
4.La bouteille emprisonnée, Cultura, €19,90.
For Sneakers Addicts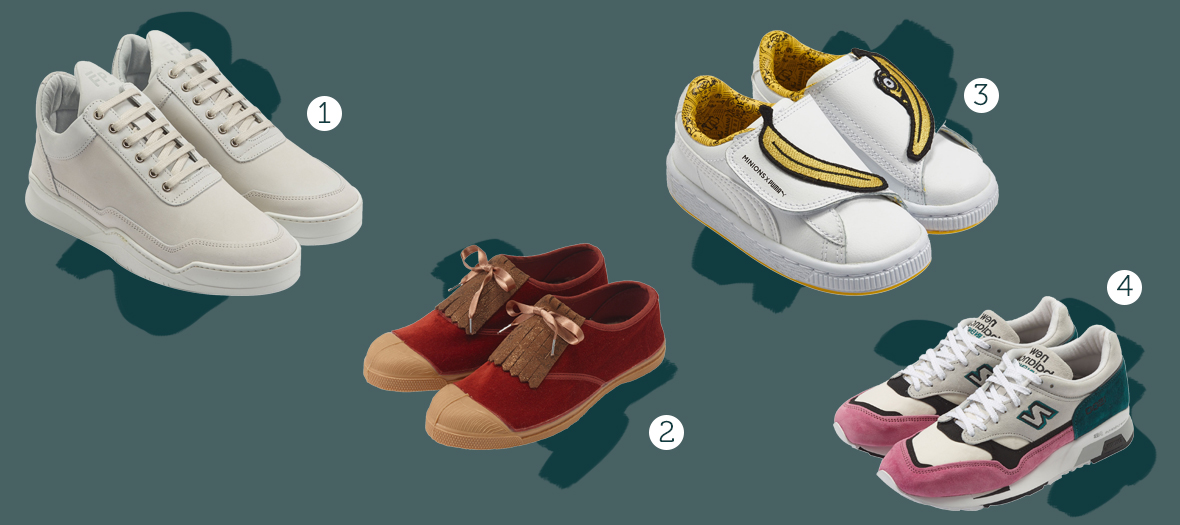 Basic is chic. The white sneaker that works with a pair of jeans or an evening dress.
1. Filling sneakers, Piils, 195 €.
Velvet and satin… The Bensimon trainer becomes more aristocratic to dress up the footsies of the Parisienne.
2.Baskets tennis velvet, Bensimon Concept store, €49.
The most stylish collab even invented to give your kids some punch.
3. Puma X Minions (banana) trainers, Piils, €55.
Cult. If you had to own only one pair of sneakers, this would obviously be the perfect pair.
4. New Balance Flamingo, Piils, €180.
For cooking maniacs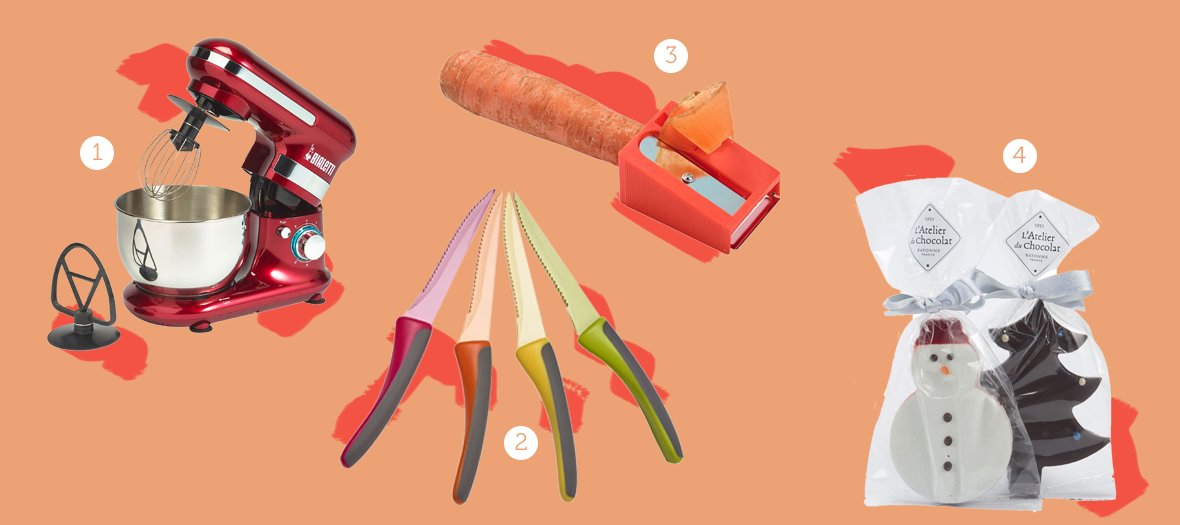 The hot gadget … Very funny, the pencil sharpener that peels a carrot in a jiffy. The perfect ally of lazy bones who like to eat their 5 veggies per day..
1.Carrot sharpener, Flying Tiger, 3 €.
Good looking knives? It's the new snobbism of foodies. A great gift for a gourmet "who has everything" .
2.Set of coloured knives, Bialetti, 30 €.
The high competition robot that all the leading Italian chefs have at home.
3.Kneader (3 accessories), Bialetti, 139 €.
Good news for cocoa addicts… Here is the cute edible decorating touch from on of the best chocolatiers in Paris.
4.Xmas tree and snowman in chocolate, L'atelier du chocolat, €7,90.
Also check out Vill'Up lthe coolest mall in Paris.