It's the most chic hideaway of the moment. Nestled a skip and a hop from secular parc Monceau, the Hôtel du Collectionneur has set up a huge cocooning bubble in its superb patio.
A setting of circumstance since this huge transparent sphere welcomes each evening… a wildly glamour champagne bar (from 6pm to 11pm). The ideal spot to come enjoy bubbly drinks with the gals in a historic Parisian enclave with a great view of the glitzy gilded decor and the iconic architecture of this real Art Deco gem.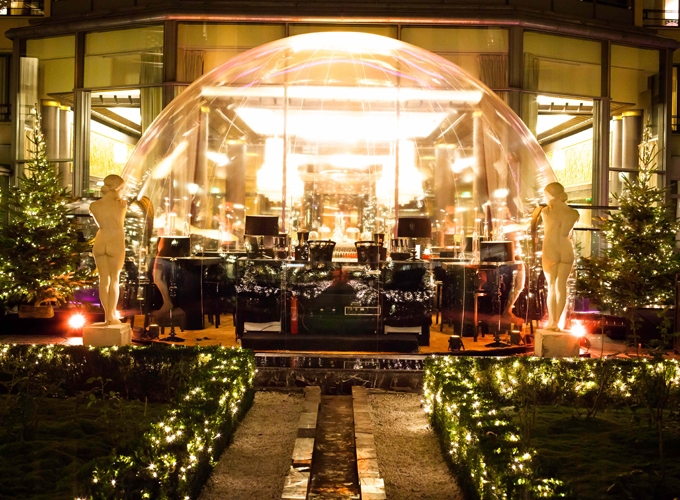 And you can also stop in during the afternoon (from 3pm to 5:30pm), for a magical tea time. On the menu, a selection of éclairs by l'Eclair de Génie , including the one specially created for the hotel. A cute wink to the style of this deluxe hotel inaugurated for the international exhibition of Decorative Arts, with a savory taste of praline chocolate.
We also like: hanging out at the bar for the Harcourt photo exhibition and having our portrait taken in the style of the famous studio thanks to the photo cabin installed at the entrance (10 € per photo).
Careful, the bubble will disappear with the arrival of milder weather and will be replaced by a lovely terrace.
Count 26 € for a glass of vintage Champagne and 12 € for an éclair.