There was definitely a need for such a lovely nugget near place de Clichy. Gold diggers have discovered this authentic small marvel with a bluffing style, made of vintage, XXL old bar, azuelos tiles, accumulation of mirrors, sofa, wooden table...
Explanations: the former second chef at Sergent Recruteur, Shinjo Hiroyuki, a talented young Japanese has just taken over the ovens of this stunning dining room. Each day he concocts a Frenchie menu with a highly Japanese inspiration.
At the table,  the result is a refined goat cheese on a smoked beet, fried chicken, stuffed with ricotta basil tomatoes and Panko breading, Haddock and farmer cheese with herbs or an almond tart...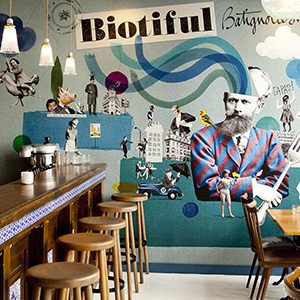 We like: a cuisine worthy of a star at prices still so sweet (23€ the lunch formula). In the evening: 38 € starter + main + dessert. Truly amazing !
Open from tuesday to saturday from noon to midnight.
Découvrez aussi Shaka Poke, the explosive poke bowls of Anthony Denon.