Our little finger tells us this new address near Pigalle could very well become your new headquarters. Want to bet?
A very instagram-friendly decor
For their first address, Anna de Pindray and her husband Francis Boursin created the place they dreamed of in the area where they are installed since more than ten years. Result, a bistro with atmosphere—in their image—stylish but not intimidating, a little like the extension of their living room.
In terms of decor, the couple called on Sophie Louvet (Atelier Louvet), who had a ball picking from the trends of the moment without however falling in the cut/paste syndrome.
A fab terrazzo bar, blond wood chairs with a Scandinavian look, emerald green carpet, XXL bouquets of blowers, wild hanging fixture signed Adriane Aubry.
Bonus: the terrace on the street, with enough withdrawal  from the street so as not to inhale exhaust fumes.
A cuisine with a Southern accent
With a pissaladière almost better than in Nice, there is not much more to be said (€9). At Bonjour Bonsoir, one clearly surfs on the Mediterranean wave.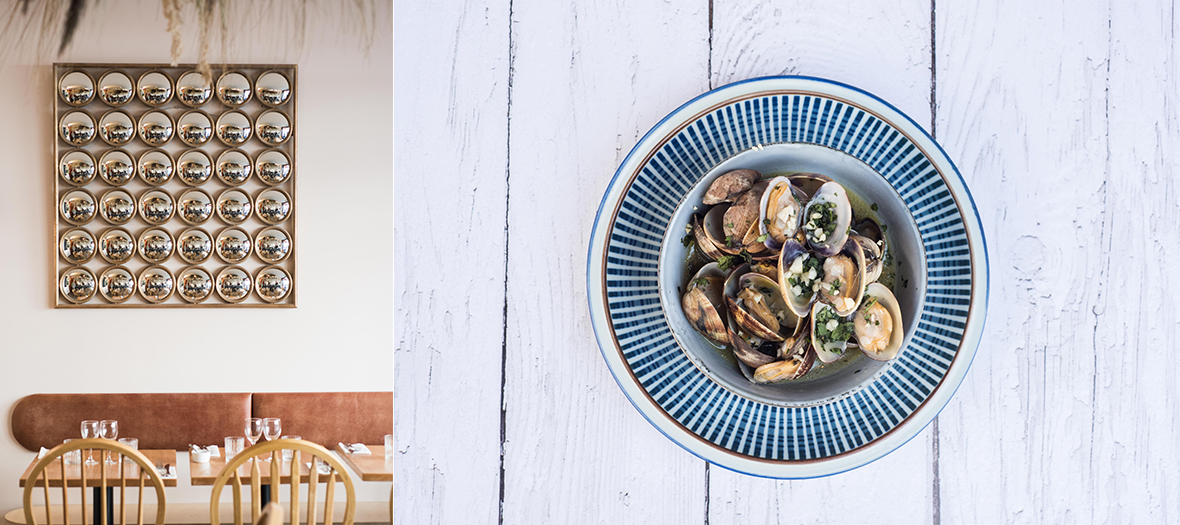 Sent out by the kitchen: garlic clams and coriander (€12), burrata from the Puglia region and glazed veggies (€12), a heavenly arancini au with cèpes mushrooms (€10), house gnocchi with cream of spinach and piperade #foodporn (€23), buttered tuna, capers and piperade (€23), an excellent caramel custard (€7).
Extra asset: in the evening, dishes come in two formats so as to order many small plates.
And of course, the Sunday brunch
Are you looking for an anti-hangover remedy? Rush for the Bonjour Bonsoir plate with its sausage, tomato sauce with fennel, potato fritters, soft boiled egg with mushrooms. Or the veggie special (cream of parmesan, spinach sprouts
mushrooms) with house fries, followed by pancakes with salted butter caramel,
yogurt mousse and caramelized hazelnuts (€14-18 each dish).
They have even thought about kids with irresistible chicken nuggets / fries (€10).
Also check out Brasserie Bellanger and the Grand Café d'Athènes.
© Géraldine Martens