Breaking news! We had naturally told you about Bouillon Pigalle. The gang from the Hôtel Providence and Jeannette had picked up the challenge or reviving the inexpensive bouillon concept in Paris—these famous XXL bistros at very affordable places, serving typical dishes.
Bouillon Service
But owners Pierre Moussié and Jean Vedrenne went one step further providing Parisians with a Bouillon Service. The principle is simple. Every day, an ultra-sexy menu is offered for ten euros. No kidding.
How does it work? Just order on line in the morning… and come pick it up in click and collect mode at Bouillon Pigalle without queueing up. Joy. Now all you need is to heat it up a little in the microwave. Ideal for lunch at the office, a Netflix platter… or a yummy romantic dinner when nobley feels like cooking.
In delivery mode...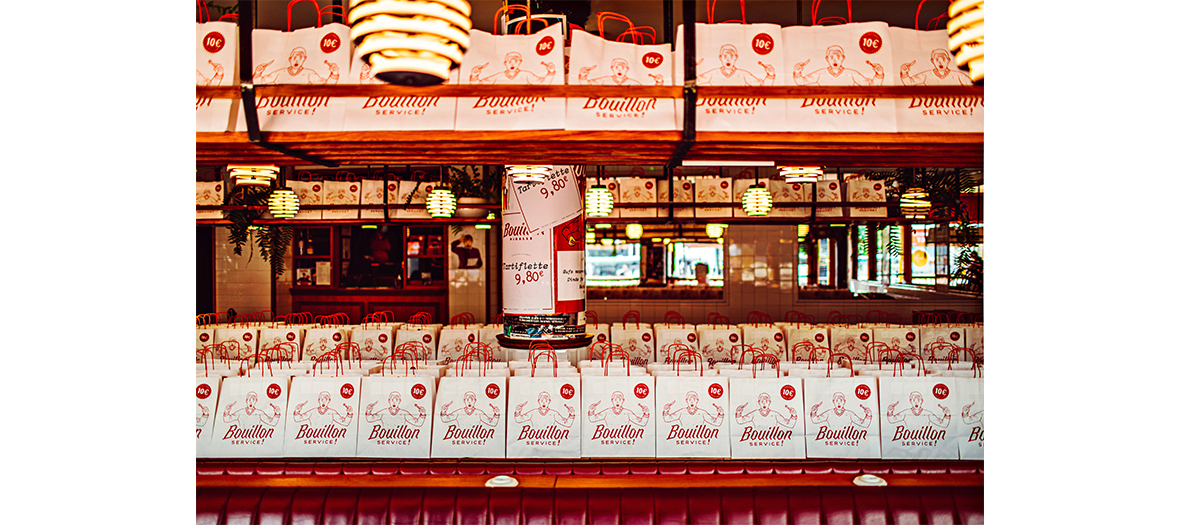 #lazy: We can hear you from here. If one does not live near Pigalle, it's a little far to go fetch lunch on the metro. Except if! The clever gang cut a deal with a delivery op anywhere in Paris for €5 flat…
Because honestly, messengers and delivery star are not the new urban slaves, but workers travailleurs who deserve to be paid a real price.
An irresistible weekly menu
A sudden hunger pan? Impossible to resist: everything is delicious, and served if you wish with a half loaf of Poujauran (€3.50),baker of starred venues. And let's not forget the Bouillon bottles : €10 for a bottle of red, rosé or white.
On Monday, velvety soup of peas and fresh goat cheese velouté + roast beef mayo and potato salad + chocolate cake.
On Tuesday, it's artichoke à la romaine + lamb stew with spring veggies et + rice pudding.
On Wednesday, it's leeks vinaigrette + sausage-mashed potatoes + Paris-Brest.
On Thursday, it's tomato tart + chicken with sauce poulette +cherry custard.
On Friday, it's céleri rémoulade + buttery saumon and green beans+ lemon tart.
On Saturday, it's terrine de campagne + blanquette de veau + cream puff.
On Sunday, eggs mayo + bœuf bourguignon coquillettes + chocolate puff. A must-eat anti hangover.
Also discover Pharamond, the other buzzing bouillon and the must-reserve terraces to go back to the restaurant.